Charge That Windmill
Alex Gambotto-Burke stands up for the Romeros, Molyneuxs and Cages of gaming.
But still! Romero's spirited approach to games design has led him down some dark alleyways, but also towards indisputable triumphs, and I sincerely believe that despite recent setbacks, his new MMO will be every bit as unique and innovative as he's promised. (Judging from his Twitter account, he plays World of Warcraft enough to know exactly what's wrong with it.) If it isn't, well, I guess I could play Dragon Age again and see what it's like to be a nancy elf or a dwarven inebriate. Or go outside.
It's not just Romero, though. Remember poor old Trespasser, that Jurassic Park-themed, physics-oriented shooter that came out long before Half-Life 2 was a twinkle in Gabe Newell's eye? Various Valve personnel have complained over the years that Trespasser's critical and commercial (and technical) failure terrified them like Swiss schoolchildren locked in a room with Roman Polanski, and so they didn't dare to dabble in real-time physics until years after Trespasser's release.
I don't buy that, though: Trespasser, the tragic brainchild of Looking Glass vet and all-round smart-guy Austin Grossman, set the template for everything you see in modern physics-based shooters. Stacking puzzles, physical object manipulation (think the Gravity Gun), ragdoll corpses, inverse kinematics instead of scripted animations (think Spore), vast open-ended environments - anything you've seen in everything from Crysis to Penumbra was premièred here.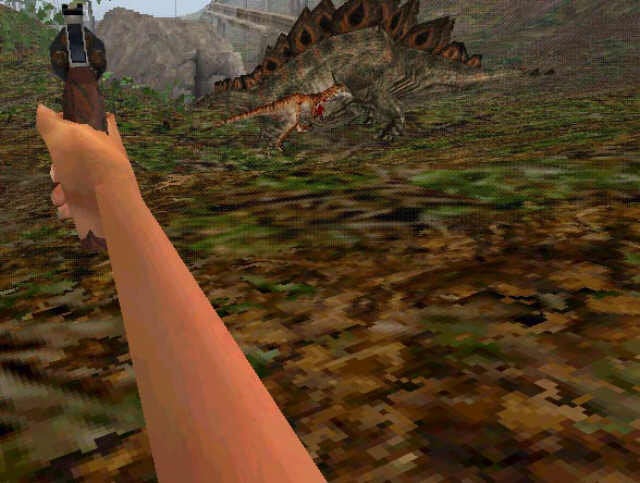 Trespasser also featured innovations that have, thus far, yet to be repeated. A "Real-Time Foley" system allowed the game to mix sound files in real-time, facilitating the sound of any imaginable object collision. Christ, it even featured bump-mapping - which wasn't particularly well-received by mid-range and even high-end gaming PC users back in 1998.
None of this stopped Trespasser from becoming a terrible, badly-stitched, fried perch-scented gimp-suit of a game at the time, of course. The player character's arm, for example, was required to manipulate any object in Trespasser (including weapons), but was apparently boneless and thus wont to wobble disconcertingly (and counter-intuitively) at crucial moments.
Crates were frustratingly bouncy, making any attempt at staircase-building a bit like stacking balloons. But despite all this, it's hard not to play the game - over a decade on, is my hair falling out darling - and see everything that was so astonishingly innovative about it. And I refuse to believe that when Valve was readying Half-Life 2 they didn't at least take a passing glance at the wonderful ideas hidden beneath Trespasser's mangled veneer.
A case of biting off more Blutwurst than is nutritionally advised? Certainly, but I maintain to this day that if I ever develop breasts I will tattoo a health bar on them as a tribute.
You can see Trespasser's spirit live on in a few special games designers: it's that restlessness; that frustration with the current industry status quo; that desire to, say, make a Dante's Inferno game a cerebral and largely non-violent exploration into the concepts of sin and punishment, rather than a despicable, testicular God of War clone. (Oh, I went there.)
Will you support Eurogamer?
We want to make Eurogamer better, and that means better for our readers - not for algorithms. You can help! Become a supporter of Eurogamer and you can view the site completely ad-free, as well as gaining exclusive access to articles, podcasts and conversations that will bring you closer to the team, the stories, and the games we all love. Subscriptions start at £3.99 / $4.99 per month.