Let Sleeping Dogs Die
An obituary for Cavedog
Cavedog recently died in its sleep, aged 5, after a long and painful illness. Its death was announced in passing in a fiscal report from owner GT Interactive on February 11th 2000...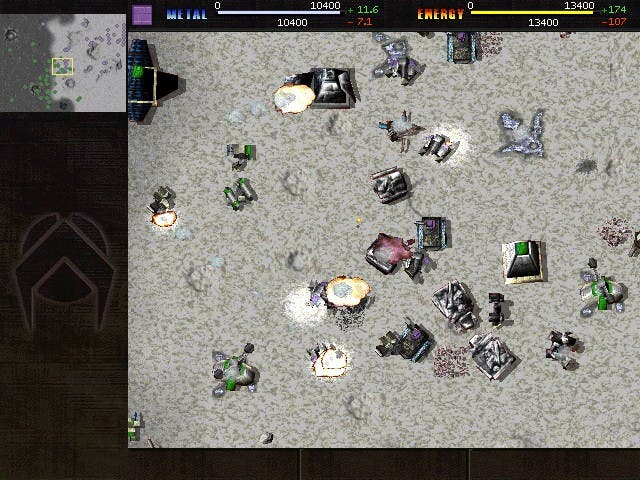 Dog Years
Cavedog got off to a promising start, formed in 1995 by successful kids' entertainment software company Humungous. Its founders included Shelley Day (formerly of EA, Accolade and Lucas Arts) and Ron Gilbert (the brains behind classic adventure game Monkey Island).
In January 1996 game designer Chris Taylor joined the company with an idea for a "really cool war game". Originally he had wanted to form his own company in Canada, but instead accepted an offer from Cavedog to assemble a team with them to develop the game. That game was Total Annihilation, released in September 1997.
Arguably the best real time strategy game ever made, Total Annihilation featured an explosive mix of fast-paced action and strategy which made it a massive hit. Two expansion packs and a series of free units and maps released by Cavedog through their website helped extend the game's appeal and solve remaining play balance issues.
Total Annihilation also gave birth to an online service known as "the Boneyards", which allowed thousands of gamers around the world to play each other over the internet as part of a "meta-game". Here their results against other players counted towards a larger war, determining which side held the various planets which made up the war zone at the end of each day.
In March 1998 though, with Total Annihilation's first expansion pack on the way to publisher GT Interactive for distribution, Chris Taylor left Cavedog to form Gas Powered Games, taking several key members of the Total Annihilation team with him...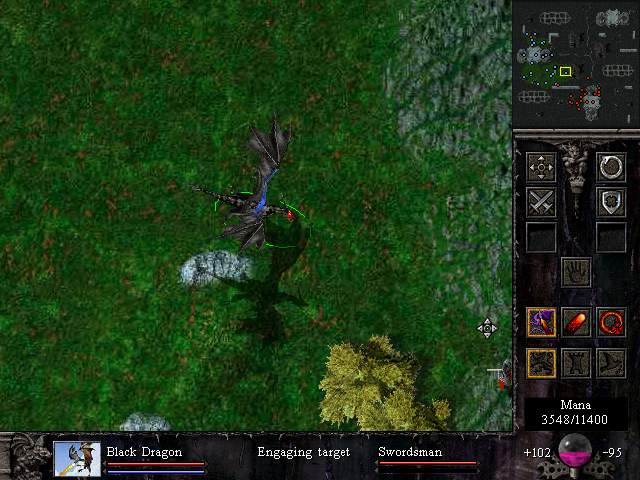 My Kingdom For A Dog
With Chris Taylor gone, Cavedog seemed to lose its direction. Their only release to date had been Total Annihilation, and now the hit game's lead designer, associate producer, and several other team members had left to form their own company.
The remains of the Total Annihilation team regrouped and began working on a follow-up to the game. But rather than releasing a straight sequel as had originally been planned, Cavedog instead decided to produce a fantasy version of it called "Total Annihilation : Kingdoms", based on a much enhanced version of the Total Annihilation engine.
The game was released in June 1999, but despite (or perhaps because of) the hype and massive expectation for the title, it was something of a disappointment. The game ran slowly on all but the most powerful machines rendering it virtually unplayable, the units were poorly balanced and multiplayer had seemingly taken a step backwards, while the AI was as undistinguished as in the original.
Reviews were mixed, and although the game still proved to be something of a hit it failed to recapture the magic (or the sales figures) of the original Total Annihilation.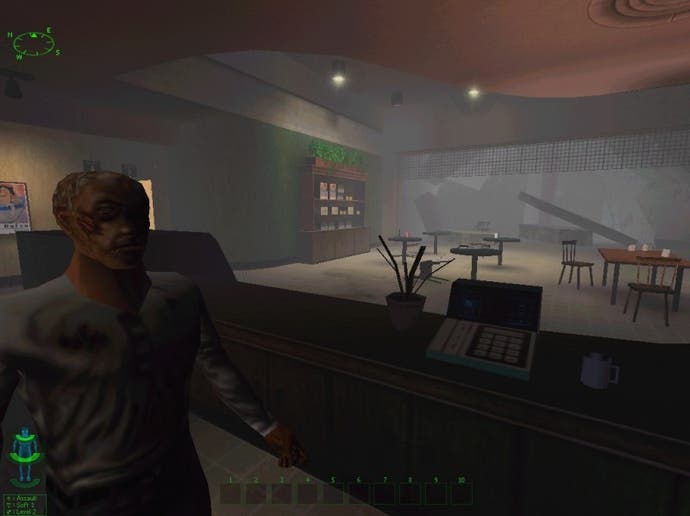 Amen
Meanwhile things were going badly for Cavedog's other projects. One game, "Elysium", had already been cancelled, and today few even remember that the game ever existed.
"Amen : The Awakening" had been looking more promising, a first person shooter with a strong storyline that looked set to repeat the success of 1998's Half-Life. Unfortunately all was not well - Amen had actually been in development since 1996, and the game's design had proven to be too much for Cavedog to swallow.
In October 1999 the company surprised the gaming community by announcing that Amen's entire level design team had been sacked .. because they had been working too hard! In an interview on fan site CaveNews, the game's lead designer Greg MacMartin admitted that the level designers had been "way ahead of the programmers".
"These layoffs should NOT be seen as the project being hopelessly behind schedule", Greg claimed. "Yes, we've had some significant delays with the technology, but a whole lot has been accomplished as well."
Unfortunately most of what had been accomplished was level design and artwork, and the all important game engine itself was rapidly falling behind schedule and going over budget. The game's intended release date was pushed back to "mid 2000".
And then everything went ominously quiet...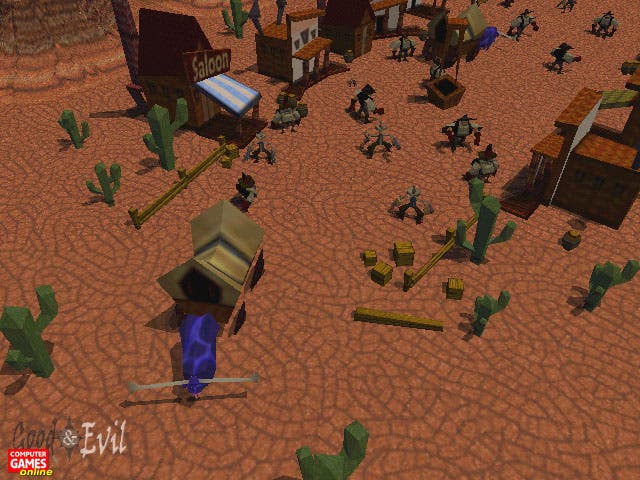 Ground Control To Major Ron
Then, on January 6th 2000, came the announcement which Amen's fans had been dreading. The game had been cancelled.
In a press release Cavedog announced that they were going to "refocus internal product development", which included a decision to "cease development of the first-person action game Amen: The Awakening, which despite positive first impressions has fallen significantly behind schedule".
Cavedog was now on its last legs. The press release had claimed that the changes would lead to a "greater focus on core products", including development of Total Annihilation 2. But in reality the game that everybody had been waiting for since 1997 was still very much in the early planning stages .. exactly where it had been two years earlier when Chris Taylor left the company.
And so Cavedog's only remaining project was Ron Gilbert's "Good & Evil", a role playing game that had gathered significant interest from gaming magazines but was already a year overdue and showing few signs of life. Even the most optimistic previews suggested that it was still at least another year from completion, and although the first batch of screenshots released back in 1998 had looked promising, things obviously weren't going well.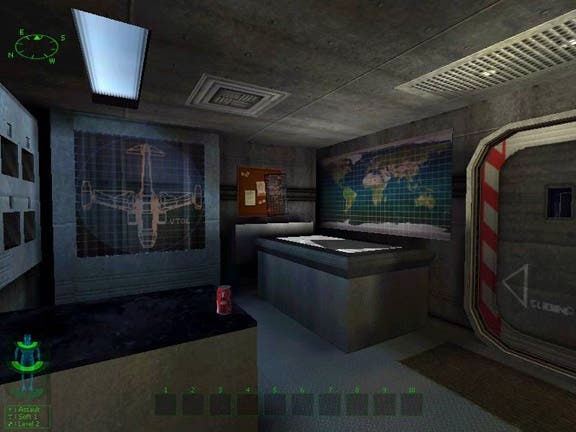 Dog Gone
The rumours were already flying when Amen was cancelled, and Cavedog's demise was finally confirmed in a fiscal report from publisher GT Interactive, which mentioned in passing "the closing of the company's value distribution business and its Cavedog studio". The company's death had been revealed to a stunned world by a handful of words at the bottom of a financial report.
It soon emerged that Cavedog's remaining employees were to be absorbed by Humungous, where they will work on kid's software - something of a come down for a company which once ruled the hardcore real time strategy scene. Elysium is long dead. Amen has been cancelled. The status of "Good & Evil", if the game even exists in any real form, is still uncertain.
The Cavedog brand itself may survive, but you can be sure that if it does resurface the team behind the name won't be the same designers who brought you the original Total Annihilation. And when Total Annihilation 2 finally is developed it will almost certainly be by another company under the direction of GT Interactive's new owners, Infogrames.
Who knows .. Chris Taylor has expressed interest in designing another real time strategy game, so it is even possible that his new company Gas Powered Games may find themselves developing the true sequel to his classic game. We can but hope...
Conclusion
Cavedog's big success was Total Annihilation, but the idea for that was brought to Cavedog by an external designer who soon left the company to form his own development team.
Chris Taylor's departure had effectively neutered Cavedog, and the company has been plagued by delays and product cancellations, with only one rather disappointing release in the space of almost three years. The company seems to have suffered from a total lack of direction and leadership, and serious shortcomings in the programming department.
Meanwhile Cavedog's other top developer, co-founder Ron Gilbert, apparently limited his role at the company to acting as Producer on the Total Annihilation games, with his own project "Good & Evil" seemingly going nowhere slow as the company gradually disintegrated around him.
It is perhaps best that Cavedog has died now, as we can at least remember it fondly for the years of enjoyment we have all got from Total Annihilation.
Cavedog 1995-2000 Let sleeping dogs lie