Born Free: the History of the Openworld Game
From Adventure to Urban Chaos.
Cast as a space pilot, players were free to travel anywhere in the galaxy, trading in whatever goods they desired, from common commodities to valuable contraband. While attaining the rank of Elite was the stated aim, there was absolutely no penalty for choosing to do your own thing, defining your own victory conditions as you went along. Vicious alien Thargoids roamed the darker reaches of space, and playgrounds were filled with anecdotal chatter about the legendary "witchspace" where Thargoids galore could be found - and destroyed, by pilots with enough skill and firepower. Also inspiring lengthy expeditions into deep space was talk of an apocryphal space cruiser, supposedly drifting somewhere in the nether regions of the game's vast cold void. That the game could inspire such classroom legends, with no two players having the same experience, is a feat that still impresses today.
1986 saw Metroid thunder onto the gaming scene, bringing with it some wonderful Gunpei Yokoi design work and applying the open plan gameplay style to the previously rigid world of Nintendo platformers. As exciting as this was for Japanese and American gamers who had foolishly overlooked the ZX Spectrum, Metroid was still just a classic style arcade game freed from the strait jacket of linear levels. And as fun as that was, another mid-'80s game would prove even more important in the development of true openworld gaming.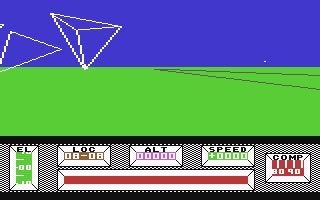 Mercenary, written by Paul Woakes and released by Novagen for a bunch of 8-bit and 16-bit formats, took the Choose Your Own Adventure framework of Elite and brought it down to Earth. Or Targ, since that's the planet where you crash-land at the start of the game. Escape is the inevitable goal, but players were given even more freedom to find their own way to victory than ever before. Plunged into the middle of a civil war between the good guy Palyars and the invading Mechanoids, there were numerous routes to success to be found by working both sides of the conflict, carrying out missions in a wireframe world for your own gain. As the title suggests, a certain moral flexibility was required, enabling players to align themselves with the bad guys and the good guys at the same time, for purely selfish reasons. With such ambiguous ethics and a non-linear approach to narrative advancement, perhaps more than any other game since Ant Attack, Mercenary provides us with the next major ancestor of the Grand Theft Auto series.
The critical success of Mercenary opened the floodgates and through the late '80s and early '90s there were many attempts to build on this framework. The Freescape system, developed for the now-ailing 8-bit platforms, resulted in a trilogy of solid 3D adventure games. Driller was the first, in 1987, followed by Total Eclipse in 1988 and Castle Master in 1990. With their chunky early polygons, and with the sluggish pace forcing the games to focus on solving environmental puzzles rather than combat, their relation to today's free-roaming games is far from direct, but as part of the move towards tangible three-dimensional game worlds, their impact can't be underestimated.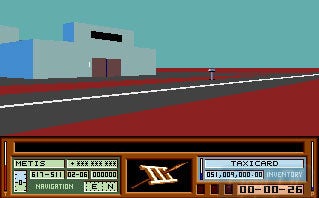 More Mercenary expansions and sequels followed, landing on the Amiga and Atari ST in 1990 and 1992 respectively. Damocles, the second game, offered a filled 3D world, with a whole solar system to explore. Basic non-player characters were introduced, along with a public transport system, allowing you to take taxis and buses to key locations. Mercenary III, meanwhile, centred on an election and is of particular note as an example of early open-ended gameplay. Tasked with preventing the sinister PC Bil from taking office, the game offers numerous potential methods of derailing his plans, ranging from terrorist sabotage to standing as a candidate and mounting your own election campaign.
Also taking groundbreaking steps in allowing gamers to find their own solutions to problems, 8-bit legend Mike Singleton gave us the popular Midwinter in 1989. Set after a nuclear winter, the game plonked you on a huge snow-covered island (160,000 square miles, if the original promotional guff is to be believed) and left it up to you to figure out how to oust an army of invaders. As the head of the island's security force, it was up to the player to muster an army of their own, by visiting the various inhabitants and talking them into active service. Governed by a complex series of social needs, careful negotiation was required to recruit as many agents as possible. Even once recruited, maintaining the mood of your fighting force was essential, lest low morale led to them giving up and returning to their homes.
Midwinter holds a special place in my memory, as it marked the first time I realised the potential of a completely open-ended gameworld. As a spotty 16-year-old, I wondered if I could just bypass all the recruiting and mount my own single-handed assault on the enemy HQ. After carefully picking my way through enemy territory on a snowmobile, I somehow braved an onslaught of bullets and mortars to destroy the enemy base - without doing what the game expected of me.
Will you support Eurogamer?
We want to make Eurogamer better, and that means better for our readers - not for algorithms. You can help! Become a supporter of Eurogamer and you can view the site completely ad-free, as well as gaining exclusive access to articles, podcasts and conversations that will bring you closer to the team, the stories, and the games we all love. Subscriptions start at £3.99 / $4.99 per month.