Battle of Destiny 2008
A weekend in the beat-'em-up hardcore heartland.
At Holloway Road's Rocket Centre in London, an annex to the Metropolitan University next door, things are fairly quiet at 10am. Cars roll past and a few early birds filter out of the nearby train station clutching roadmaps. By this point the Neo Empire crew, the most avid contributors to the UK fighting game scene, have been setting up for hours. Battle of Destiny is their biggest event ever, and, with full support and sponsorship from Capcom, nerves are on edge.
They needn't have worried. By midday it's already an unprecedented success, the building's two floors packed to the rafters with hundreds of gamers from around the world. The Neo Empire team - founders of the web forum of the same name - have done half a dozen similar events over the last four years, but how far they've come with Battle of Destiny - a hardcore gaming spectacle on a scale to rival the bonkers back-story of many a Capcom pugilist - is impressive.
"This is easily the biggest thing we've done," Masamune, one of the Neo Empire admins, explains. "In the past the venues have been much smaller. For this one we've been here since Thursday getting things ready." Which is odd when you consider that the UK arcade scene, from which the event's biggest interactive showpieces are drawn, is "already dead". "The problem is arcade owners don't know anything about gamers, or what gamers really want to play," reckons Masamune. "We don't run Neo Empire events for profit, and we'll be lucky to break even this time, but we want to keep the fighting game scene alive because that's our passion."
That passion hangs from the wall in huge banners and a giant video screen lighting up the main hall. Plenty of exclusives are on offer, including first hands-on opportunities for the public with Soul Calibur IV (since released) and the much-anticipated Street Fighter IV. Gamers hungry for a fighting fix are spoiled. Over fifty consoles deck out the two floors from King of Fighters 98: Ultimate Match and Melty Blood to Gem Fighter and Alpha 2. On the lower floor, high definition screens are running an updated Super Street Fighter II Turbo HD Remix, tweaked and redrawn in an anime style by Udon. As the event requires you to bring your own weapon of choice, the variety of fighting sticks carried around ranges from the standard to the beautifully modified, each a passionate signature.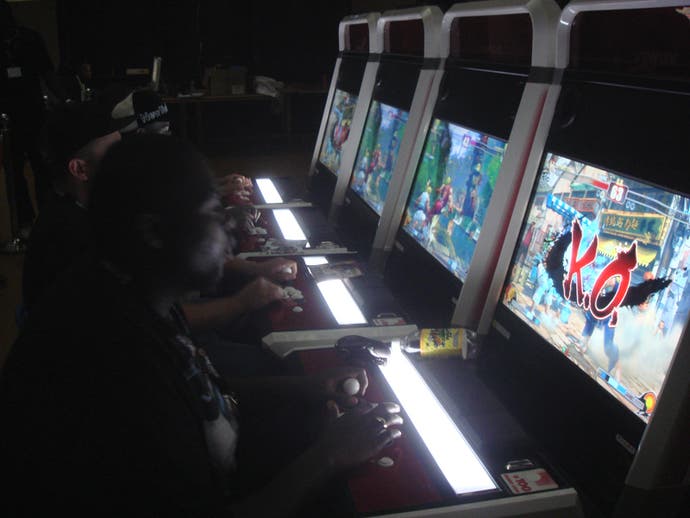 All of the Neo Empire admin are run off their feet. At the back of the ground level the heats for the four major tournaments are taking place; Capcom vs. SNK 2, Tekken 5, Street Fighter II Hyper Fighting, and Street Fighter 3rd Strike. Organisers with clipboards push through the crowds, shouting out names, recording wins and making calls over the loudspeaker. Upstairs in the casual gaming zone, Soul Calibur IV is played on PS3 and 360. With little in the way of Ubisoft employees to marshal things, it's testament to the good nature of the attendees that absolutely nothing gets nicked. The game's well-received, too, and draws sizeable crowds, though not quite on the same scale as those drawn by Street Fighter IV behind it.
Premiering publicly in the UK for the first time and housed in incredible Taito Vewlix cabinets from Japan, SF IV's queue rarely drops from the maximum. Roped off behind a barrier and policed by no less than five Capcom staff, the six cabinets are linked up for two-player battles. Winners gain the privilege of staying on for up to three bouts until Sunday, when a competition element is introduced. Ten straight wins gets you a software-related prize courtesy of Capcom.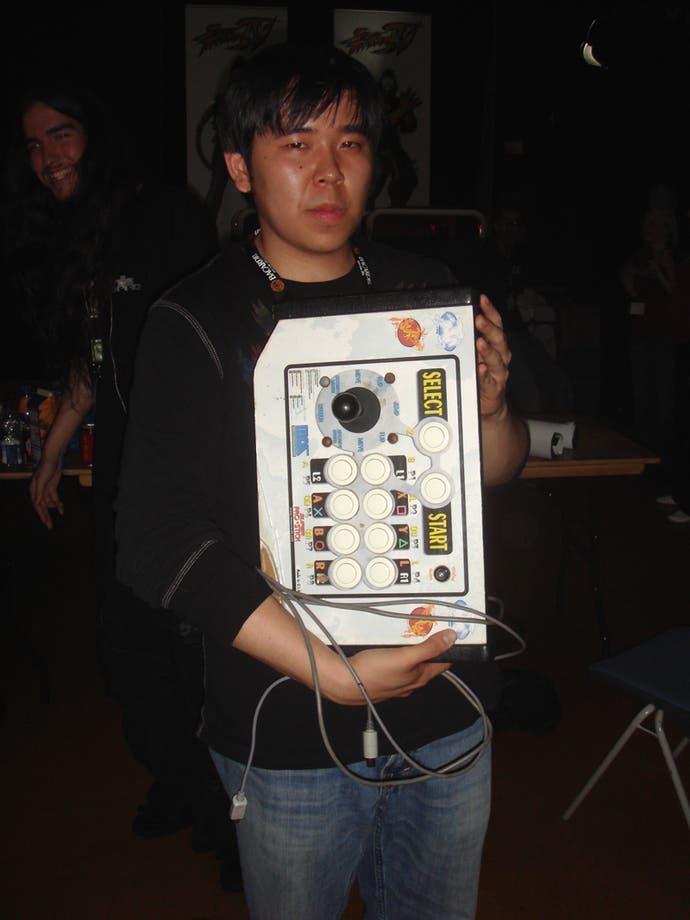 The game itself is everything the crowd wants. Gameplay is on a classic single plane despite the 3D graphics, and the hit-boxes have been adjusted to match the game's 2D properties. There are still some elements to get used to, but anyone who knows Street Fighter - and this lot knows Street Fighter - is right at home. The aesthetics are bright and colourful, and have a fantastic solidity to them, especially with connecting punches, kicks, and trademark special moves. The crowd eagerly wrestles with new features like the revenge gauge, built by blocking incoming attacks. Halfway full, it can be used in conjunction with the super bar to unleash an ultra combo.
Capcom's charismatic PR and long-time friend of Eurogamer Leo Tan is here to enthuse about SFIV's "focus cancelling", among other things. "You can use it to cancel on start-up and on recovery - it acts as a linking mechanism," he points out with boundless enthusiasm. "It allows you to dash forward and keep up the pressure, but the important thing is, it's really simple to do as you only need to hit two buttons." Whether or not the game will see the same kind of enduring success as the nine-year old Street Fighter 3rd Strike remains to be seen, especially in the dwindling UK arcade scene. For now though, it's a welcome return to the fighting game arena for Capcom, and a stylish one at that.