State of Independence #4
A bluffer's guide to the indie-games awards.
There's nothing quite like an Award Ceremony.
Well, nothing quite like an award ceremony except a large gathering of people where some manner of prize is given to people for their merits and achievements in a chosen field. That's just like an Award Ceremony. Scarily so, in fact.
Something's that's just like that is the seventh annual independent games festival, which has just announced its short-list for its 2006 awards. While a nomination is clearly prestigious and all the categories to be closely fought - whether it's Best Web Browser Game, Innovation in Game Design, Technical Excellence, Innovation in Visual Art or Innovation in Audio, most attention is centred on the centrepiece - the Seumas McNally Grand Prize itself. Each of the smaller category winners will take home a cheque for $2,500, whoever triumphs in the larger category will receive a cool $20,000.
The shortlist?
Weird Worlds: Return To Infinite Space by Digital Eel is what's best described as a short-form Space Exploration game. Think Space Rangers which you can play in a determined half-hour burst. Which is most welcome - for me, this hits the same spot as ZangbandTk or Nethack, but doesn't make the demand that I'm going to play it forever.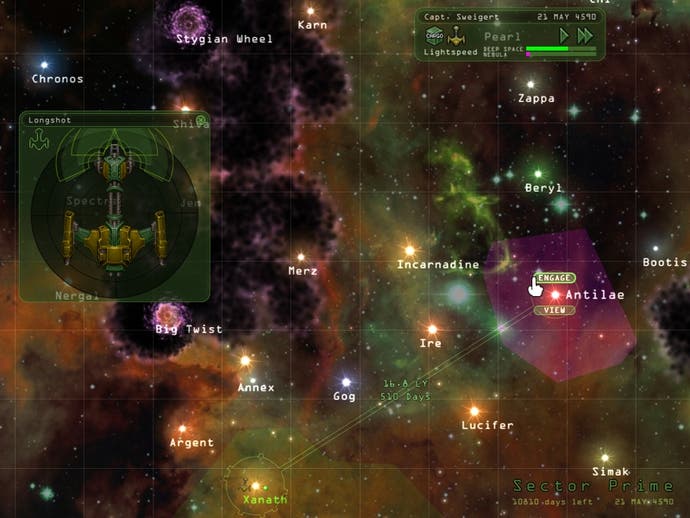 Given a choice of spaceships and map sizes to begin with, you're placed in a randomised universe with each between-system jump revealing new challenges. Your ship's swiftly upgraded with new equipment, you find (or bribe) allies to join your space-floatilla and generally get dirty. The main game is turn-based, with a (pausable) real-time function for the space-battles themselves. It's simple, compulsive and propulsive. It's a strategy game which you can approach like Robotron or Defender. In that you get in, try for a high-score, and whether you succeed or fail you leave happy. Of all the games here, it's the one which I most wish was available on my PSP. A "10 year" demo's available, which is moreish like chocolate Hob Nobs.
Grubby Game's Professor Fizzlewizzle is a classic example of the independent game - that is, claiming genres which the mainstream PC game has just about abandoned. In this case, it's the puzzle game, and Professor Fizzlewizzle is a classic example of the type. Its juxtaposition of cartoon-charming characters and work-brain-work puzzles are entirely in this noble lineage.
Move the professor from his starting position to the exit. In his way, an array of obstacles to be circumnavigated, via manipulation of simple rules often grounded in physical realities. For example, giant magnets attach to anything made of metal. Push the live ends together, and they push apart. You can roll barrels on sand, but you can't push blocks. A flash of action-skills - while there's no time limit, timing and positioning of the professor is important - gives it a little pace, but it goes entirely out of the way to make things accessible to all comers. Primarily, if you're entirely stuck on a level it allows you to access the solution. Similarly, the 230 levels are divided into tiers depending on your skill. For example, there's a special set of levels just for the kids. Throw in a level editor and you've got a compulsive proposition. And there's a demo for this too.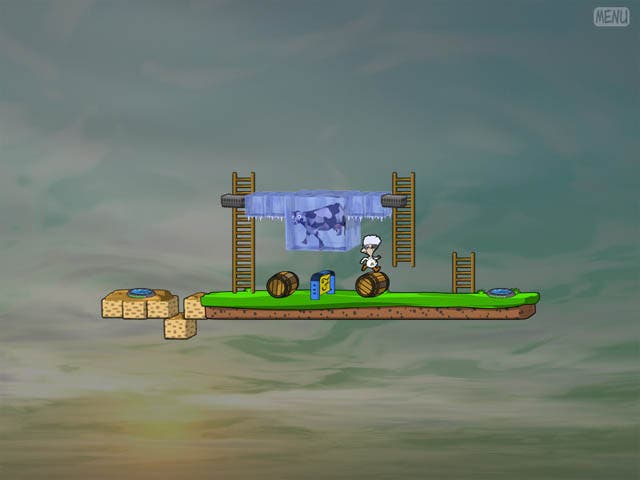 Wildlife Tycoon: Venture Africa by Pocketwatch Games reminds me of nothing less than some of my earliest gaming memories, before I was even allowed anywhere near PCs properly. Looking longingly at friends' spectrums, and those early games with their pseudo-academic-looking artwork and grand conceptual play. In this case, Survival, which placed you as an animal in an ecosystem, and left you to try and survive. It was an exciting idea, though I only played it for - like - 10 minutes tops and it's this sort of place which Venture Africa explores.
As the name suggests, it's a Tycoon game where you're set in charge of a stretch of Savannah. The aim is to create sufficient resources so all the different animals can survive. With your resources, you create spawning animals to add to a population. The game arrives in the second resource - jewels - which are given as you cross a population limit, and it's these which allow you to change the world, by adding trees, grass, shrubs and (to fill dried out watering holes) a storm. Using these extremely limited resources to best serve your population is actually surprisingly taxing - but the game still allows you to sit back and just enjoy the interactions between the hunters and their prey (Be it Lions and Zebras, or Zebras and tasty bushes). 60-minute trial version available, which can be immediately unlocked upon paying $20.
Dofus is an example of the independent MMO, coming from a recognisable place as its more mainstream cousins while having plenty of charm and individuality to justify its existence. While nowhere near as radical as - say - A Tale In The Desert, Dofus' cartoon fantasy world runs entirely through a Flash executable. Putting aside its presentation, its most recognisable feature is that rather than having its combat in a phase-time system, it in fact plays in a pure tactical turn-based mode. When combat kicks off, you're moved off the main adventure map into a full grid-mode where your skills and spells can come into play in a more leisurely manner than the majority of games. For those fans of Advance Wars, Laser Squad Nemesis and anything with some beautiful squares on, it's a change of pace. Also available to download and play for free, with only access to the full content requiring cash putting down.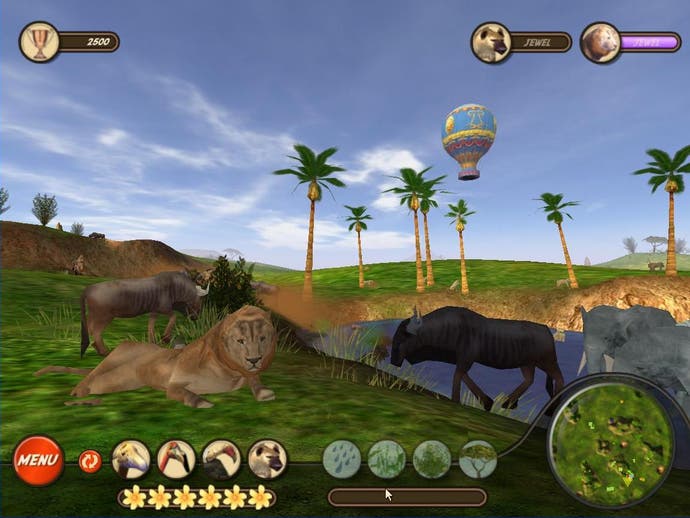 Finally the game you're most likely to be familiar with, Introversion's sublime Darwinia, which also finds itself nominated for all the individual element categories except sound. Already a cause celebre, it's one we've already taken apart at length. If you've looked at it before, however, and weren't convinced by the original demo, it's a good time to reconsider. Not only was the control-system re-worked to allow a more traditional control method and included in the new expanded demo, it's just found its way to onto Valve's Steam delivery system. Here's hoping its new venue helps it manage to find a new, appreciative audience for this special game.
Were Eurogamer a betting man? Well, we'll be working the tables in Vegas, obviously. Since we're not sipping margaritas while holding out for a queen, just one more queen. Work out who your favourite is by actually playing the things and position yourself to tut loudly at the Judges come the final results at GDC in March.