The Simpsons
Insert amusing Homer quote here.
"The whole premise of the game is that the family becomes self-aware that they've been licensed to yet another videogame," says Farshid Almassizadeh, senior director of product development at EA.
And for a moment or two I consider sitting down with it and pretending I've never heard of this new 'kids' game', The Simpsons. Just because I feel like being cruel and cynical. You know, "Why are they yellow?". "Do you think if the game is successful you'd consider making a TV show out of it?".
If a game is so self aware that the player is rewarded for finding gaming clichés like trampolines, exploding barrels and power-ups hidden behind waterfalls, does that excuse the fact that they're an integral part of the gameplay?
I mean, at one point Lisa takes the place of Frogger as she leaps across crocodiles to get to the other side of the river. Is it excusable because it's a sly wink at a classic game? Or is it just lazy game design? Some of the humour in The Simpsons comes dangerously close to the kind of jokes you'll find on a games website that hasn't been updated since the days of the Dreamcast. "You know you've played too many videogames when in real life you wander into a stranger's house, snooping for treasure". Oh, the hilarity!
But as cynical and tired of cash-ins and milked licenses as I am, I still can't hold back a smirk at the simplest sight-gags, let alone the deeper, smart-ass dialogue or ribbing of other games. If it's funny, it's funny, right? How long that holds up over the length of a game is questionable. Despite what obnoxious radio personalities' think, a joke doesn't get funnier the second time just because you say it louder.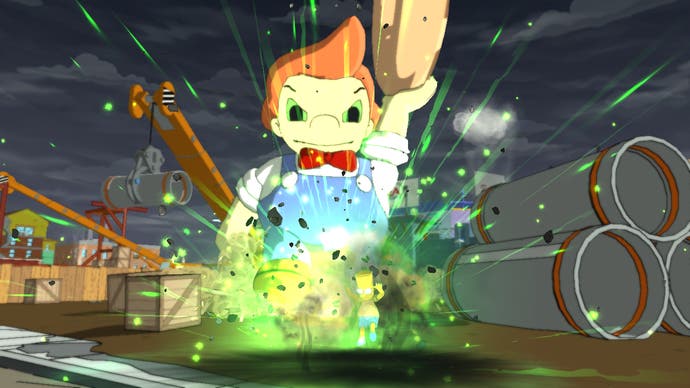 On to the game, then. There are sixteen levels with Springfield acting as the hub world, with two pre-determined playable characters in every level. If you're playing on you own, the buddy AI promises to help out and you'll need to switch between the two characters to take care of certain impassable situations. The quality of the AI isn't something we can comment on yet, but in these situations perhaps it's just best to hope it doesn't get in the way, rather than expect it to be making intelligent decisions. The game has been designed with two-players in mind, with co-op throughout the entire game and instant drop-in and drop-out play. Unfortunately - and this could be a real bummer - there's no co-op play online. "We felt that as it's a family game we wanted people to experience it next to each other. It's couch co-op," Almassizadeh tells us, but we can't help thinking that's a pretty lame excuse. Why not have both and give people the choice?
Levels are built on a mixture of classic Simpsons episodes and well-known videogames. "In The Simpsons universe nothing is safe - including EA and any other game-maker out there. We do a lot of tributes to different games that we love," says Almassizadeh. And so we get a level entitled Medal of Homer. Haha, that works. Shadow of the Colossal Donut. Very good. Neverquest. Nearly funny. Grand Theft Scratchy. Hrm.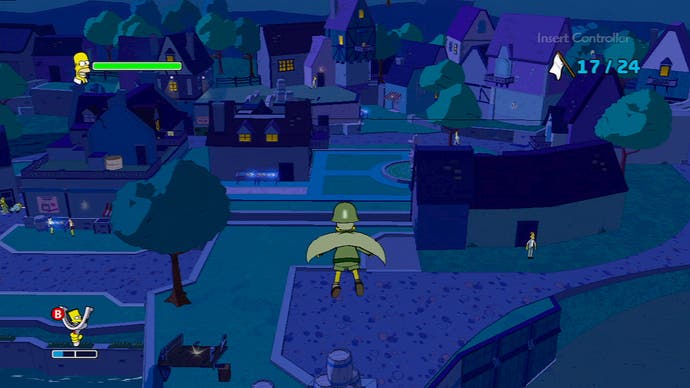 As you'd expect, all five Simpson are playable and each has their own special powers. Homer bloats up to become a giant, fat, rolling ball. Lisa can use the Hand of Buddha to manipulate the environment .(By 'manipulate' we mean 'move around some boards to create a bridge', because your character dies if he/she goes in the water. There's another cliché! Hoho!)