The King of Fighters 2002: Unlimited Match
KOF medicine.
What is surprising is Playmore's insistence on – once again – locking the aspect ratio to 4:3; although this is arguably the best way to experience Neo Geo's finest, the lack of a full-screen option feels like an oversight. Nonetheless, the 15 available stages are dripping with SNK fan-service and filled with every character cameo imaginable. And yes, that does include Duck King and Tizoc.
There's also a healthy selection of game modes which include Team Play, Single Play and an Endless survival mode. Plus, if you can make it past 60 consecutive opponents in Endless, you will allegedly unlock Goenitz from KOF '96. Although so far I've only made it to 24, so it could just be a massive lie.
The robust Practice mode sees the return of the command macro system from The King of Fighters '98 Ultimate Match. So if you're having trouble taking down the likes of Omega Rugal and Igniz, you can program in a one-button auto combo. This is obviously cheap, and thankfully doesn't make it into the online game, but to give novices something to fall back on it's an interesting addition. This also goes for the Challenge mode.
The 50 challenges start out as helpful tutorials designed to teach the basics of the various Guard Cancel and Anywhere Cancel subsystems, but before long you're tasked with clearing a boss rush while the controls are inverted as well as going toe-to-toe with the cheap-tastic Nightmare Geese. This guy can throw more fireballs out of the air per second then even Shin Akuma (unverified).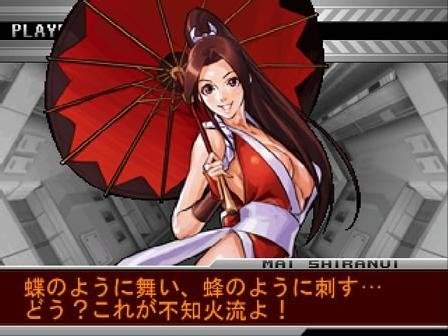 Fortunately all seven bosses are banned in the online player rooms by default. But if you absolutely have to see who would win in a fight between Original Zero and Clone Zero, then the option is available. Otherwise, Unlimited Match's online functionality is more or less a carbon copy of KOF '98 Ultimate Match and contains all the usual features like ranked matches and leaderboards.
In terms of netcode stability you'd also probably expect this to be the most lag-free KOF yet, but in truth Unlimited Match is about on par with Neo Geo Battle Coliseum. It doesn't compare favourably to the likes of BlazBlue, but if you can find a local match with less than 100 ping, then input latency is minimal.
But if Unlimited Match has one crowning achievement, it's that its fighting system still feels relevant and competitive. The original KOF 2002 was a series highlight and this remake treats the source material with respect while adding so much more.
This is why I'd rather play Unlimited Match than KOF XII: not because KOF XII was lacking (it was), but because in execution Unlimited Match plays like the king of King's. This doesn't mean you don't have to be a fighter fan to appreciate its many charms and nuances, but for the paltry asking price, this is clearly a lot of fighter for the money. Just don't expect a welcome return after frolicking with today's less punishing fighters, because this KOF is far from forgiving.
The King of Fighters 2002: Unlimited Match is available now on Xbox Live Arcade for 800 Microsoft Points (£6.80 / €9.60).
Become a Eurogamer subscriber and get your first month for £1
Get your first month for £1 (normally £3.99) when you buy a Standard Eurogamer subscription. Enjoy ad-free browsing, merch discounts, our monthly letter from the editor, and show your support with a supporter-exclusive comment flair!