The Bluffer's Guide to Hentai Games
Attention: Adult content ahead!
What a brilliant sales pitch: "Feeling lonely and bored?" asked the email newsletter. Of course I am! I'm sitting at my computer, aren't I? I'm reading a newsletter about import games, aren't I? Well then, the email went on, why not check out some newly available English-translated Japanese Adult Dating Games? Why not indeed? Up until now, if you wanted to feed your Hentai videogame fix you'd have to brush up on your kanji and search out seedy game stores in the side streets of Akihabara. Not any more. In recent years, companies such as Peach Princess and JAST USA have been making English-language eroge (as it's also known) available to American gamers. Now, Play-Asia is making them easily available to us European lot.
But should we actually care? Is there any more to this heady blend of anime, videogames and porn than antique game mechanics and mildly titillating drawings? Eurogamer decided to find out.
The first part of our research took us to Play-Asia's selection of Hentai Games. A brief warning that the pages ahead contain 'Nudity', 'Strong sexual content' and 'Explicit pictures' confirm that we're in the right place. Further confirmation is provided by the selection of games on offer - a selection that also provides some pretty startling insights into the genre. There are currently some 50-odd titles available in translation at the moment. And they are pretty odd. Picking titles at random demonstrates pretty clearly that even this limited selection of hentai games caters to the broadest extremes of sexual proclivity: there's transexuality (Yin-Yang - X-Change Alternative); gothic horror (Animamundi - Dark Alchemist); historical romance (Enzai - Falsely Accused); human sacrifice (Bible Black: The Game); submission (Absolute Obedience - Zettai Fukuju Meirei); mild incest (Hitomi - My Stepsister) and much, much more. Certainly more than the odd cross-dresser in Guilty Gear, or Dead or Alive's bikini babes.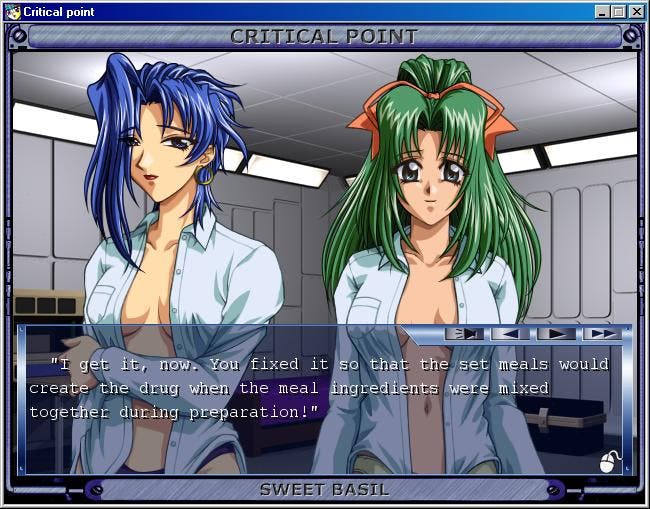 There's also a wide range of play mechanics, from simple dating games, where you've got to impress the girls enough to get them into compromising positions, to choose-your-own adventure style flowchart games, where you simply have to make choices at key moments to propel the sexual narrative along. And if, for some reason you're stuck without a Windows-compatible PC, you can pick from a choice of interactive DVDs, which all play in a regular DVD player. And if for some reason you're stuck without a pair of hands, you can chose those games that include a 'hands-free' mode (whatever that means).
And talking of hands, the next part of our research obviously demanded a more hands-on approach. Three titles were duly selected and ordered. And received, although only one of them in plain cover, presumably because only one of them - Casual Romance Club - was adorned with 12 pictures of naked girls on the box.
Saving that for last, the first game to be subjected to the sort of rigorous scrutiny that you've come to expect from Eurogamer was Critical Point. Originally released in 2002, the game is essentially a choose-your-own adventure with 24 different paths scripted by Mobile Suit Gundam scriptwriter, Kenichi Matsuzaki. It's illustrated by partially-animated and still images, and accompanied by a sort of lounge bar jazz soundtrack. Rather helpfully it can be played in an easily alt-tabbed window, and for anyone who isn't a fan of Matsuzaki-san's work, the game's creators have helpfully included a 'quick' mode, which speeds through the story so fast you don't have to read it.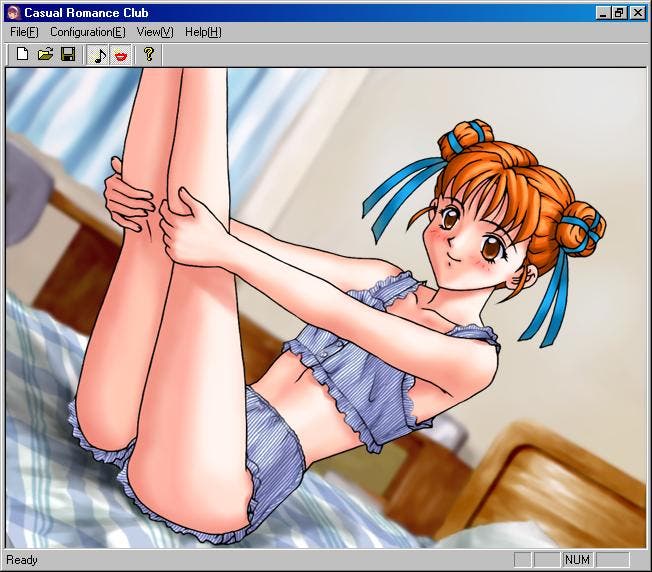 More patient gamers will appreciate the science-fiction take on a police procedural that plays out pretty normally until the lead character, an amputee undercover investigator, takes a tour of Moon Base D-02 and this happens: "The crew woman called Tsuei turned away from her panel and stood up. She started walking towards me. Before I knew it, she opened her uniform and revealed her breasts." The murder-mystery plot goes on to encompass sex with an older woman, female marines running round in fishnet tops; a scatterbrained assistant who accidentally falls over and flashes her panties etc. etc. There is one, frankly troubling scene, however, which incorporates sado-masochism and rape fantasies.
Which leads, of course, to the serious argument about whether games such as these are likely to dehumanise women, or encourage sinister patterns of real-life behaviour. While you might imagine such an argument to be a lively and complex one, the game's readme file boils it down pretty succinctly (some might say too succinctly, given that the game's amputee undercover investigator describes one of his amorous encounters thus: "I was consumed with anger and lust. I didn't even really hear her screams of protest"). Yep, the creators of Critical Point are pretty clear about the beneficial effects of playing these sorts of games.
The readme file makes clear that it's all just a fantasy: "We would like to state clearly that we oppose abuse or violence against any individual or living creature regardless of gender or other distinguishing personal traits... Furthermore, we assert that sex is an important aspect of adult relationships, and that sexual fantasies shared consensually between adults can enhance the emotional bond of a such relationships." It continues, with what might be considered a bit of an understatement: "the completely fictional sexual relationships portrayed by this game's artwork do not always exhibit 'safe sex' practices, nor do they necessarily demonstrate the full range of sensitivity, communication and intimacy necessary to sustain a real life interpersonal relationship." Nevertheless, for anyone who would like to base their real life interpersonal relationships on a videogame depicting domination and rape fantasies, there are some real-life sex-tips: "Always protect yourself and others when engaged in sexual activity, and always follow the principles of 'safe sex'. Always treat your sexual partner(s) with consideration. Never use force to get what you want, whether your partner is a man or a woman."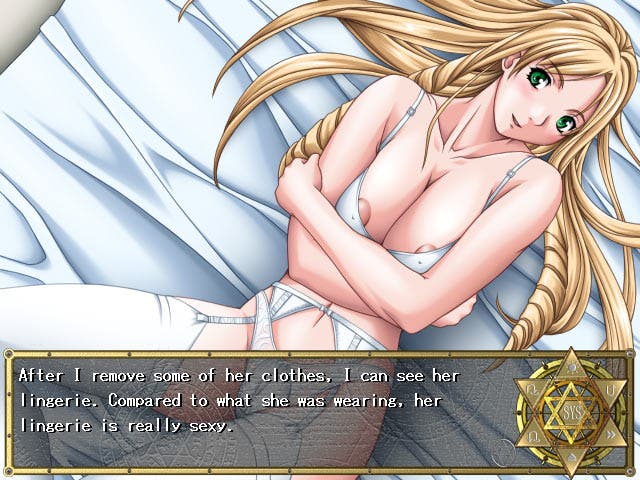 By comparison, the sexual activities on offer in the other two games chosen for research are more moderate, although the gameplay is probably more interesting. Transfer Student was originally released in the same year as Critical Point, and depicts the story of a young man drifting aimlessly through college, fantasising about women. It features a similarly branching narrative structure to Critical Point, but it's enlivened by the occasional freeform section in which you can stare at women in a bid to become so aroused that you can retire to the men's room to fantasise about them. It's also enlivened by the occasional bout of sex with your step-mother, depicted, once again, with partially animated stills.
Casual Romance Club, however, is the premium pick of the pack. Released at the end of last year, it is, according to the blurb, "the first dating-sim game released in Japan to feature a full English translation." It also features 12 pictures of naked girls on the box, and comes with a handsome hardback manual containing character biographies and plenty of advice, such as: "Relationships for only making love are wrong because some may want you to be responsible for it." Indeed, in spite of the naked girls on the box, this is a world away from the amputee rape in Critical Point. It's still, ultimately, about having sex with women but just like in real life you have to be willing to put in a bit more groundwork.
The narrative sees you participating in the Casual Romance Club, a school club formed "to offer a relaxed and enjoyable atmosphere where love and romance can be discovered and explored without fear or failure or rejection." Which means you've got four weeks to persuade your chosen girl (or girls) to get their kit off - and there's a girl for every taste here, from the bookish bespectacled Sidney, to ko-gal Clare, or the worryingly youthful Amanda, or even the mature charms of Sophie.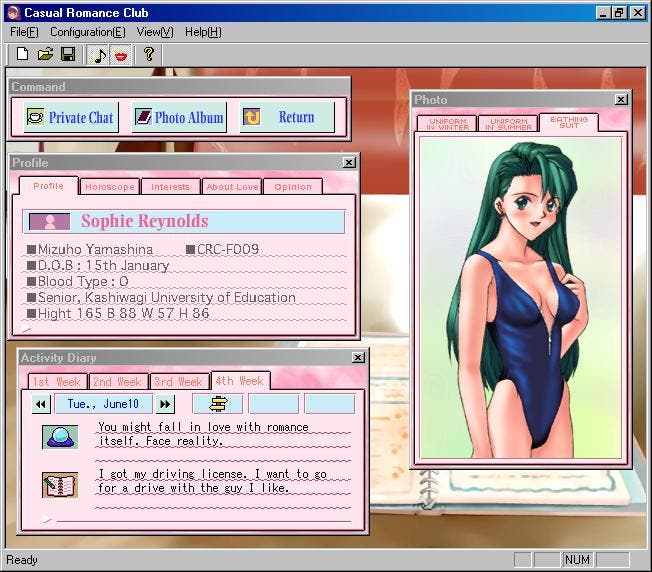 It doesn't save unlocked images to a permanent gallery, as Critical Point does, but it is, in every other way, a more sophisticated experience. The game is a fairly typical dating game in which you have to woo your chosen honey by saying the right things. It rather artfully resembles an internet chatroom, with various windows offering different types of information, and at the key moments, the more prurient parts of images are tastefully pixellated out. Indeed, considering the plain-cover packaging, Casual Romance Club is remarkably coy, with most girls taking a lot of persuading to get to bed, and most of the pixellated-out sexual activities falling well within the normal bounds of taste and decency. For porn, anyway. There's even a parallel translation function for people who'd like to hone their language skills to graduate to playing these games in their original language.
Despite the differences in narrative, sexual mores and gameplay between even these three games, there are undeniable similarities: the bizarre internal logic; the conversational non-sequiturs that lead suddenly to sexual activity; but mostly the sense of mild disappointment. Judged by the standards of conventional porn, especially of the sort that's now freely available to anyone with an internet connection, these games demand a monumental amount of patience. Sure, those sickos who get their kicks by googling for amputee rape images might find their thing in games like Critical Point (a google image search for research purposes only turns up a Final Fantasy XII pack shot and a picture of Jean-Luc Picard, for example). But for the rest of us, it's difficult not to feel underwhelmed when the only reward for patiently plodding through acres of mundane text and/or stultifying game mechanics is one or two semi-animated cartoon pictures.
So in the end, this experiment doesn't reveal any startling insights into Hentai. These games are pretty much as you'd imagine interactive anime porn to be: more amusing than arousing, and not very entertaining as videogames. But then if you can imagine interactive anime porn, why would you need any of this stuff?
The publishers of The Bluffer's Guides have granted permission for our use of the trade mark 'bluffer's guide' and would encourage readers to visit their site: http://www.ovalbooks.com