Sega is back in the arcade racing game in the best possible way
Super GT.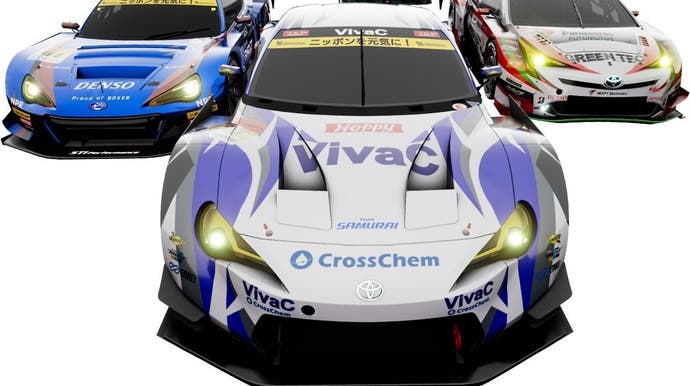 I can honestly say I've rarely been happier this year: walking through a busy Shinjuku arcade, sliding down into an all-new Sega racer and then letting some of the blue-sky goodness and distinguished style wash over me. There's something just right about Sega and arcade racing, and even if it's not exactly been quiet in that regard in recent years - the Initial D series has been bubbling along brilliantly - this feels like a return to an older order, with Sega World Drivers Championship slotting neatly into a lineage that includes the likes of Scud Race.
Like that game, it uses real-life motorsport as a backbone for its racing. Sega World Drivers Championship has been out for a while in Japan - the first location tests took place last summer, while it launched proper back in March - but this is the first time I've had the chance to try it, and in the meantime I've been preparing by developing an obsession with the real-life Super GT series that is Sega's inspiration. A Japan-based series whose profile has been boosted by Jenson Button's participation - and his success, his win in Sugo last weekend his first since the Brazilian Grand Prix back in 2012 - it's nothing short of the best that motorsport has to offer. And if nothing else, it's certainly the maddest.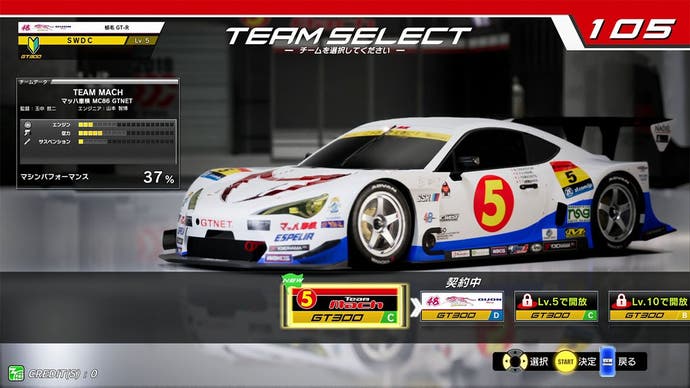 A hyper-charged take on GT racing, Super GT takes the GT3 cars you might know from the likes of the Blancpain series and mixes in GT500s - mutated beasts that boast outrageous amounts of downforce and whose lap times aren't that short of F1 cars. Not that the GT3 cars are that much more pedestrian: there's a Prius which shares some of its innards with Toyota's LMP1 car, a brutal-looking Subaru BRZ and a Mercedes AMG GT that looks resplendent in its Hatsune Miku livery.
If I'm getting a bit carried away it's only because I love this series, and in Sega it's found a perfect match to extract some of Super GT's appeal while adding its own distinguished spin. This isn't a straight-faced take on the sport - for something coming close to that, you can always play around with Gran Turismo Sport's take on some of the series' staples - and is instead a straight-up arcade racer, a large dose of Sega colour and imagination making it all the more endearing.
So you've got tracks that whistle through mountain ranges and past busy harbours, the trackside detail busy with fairgrounds and flags. The tracks included at present are an interesting bunch, weird composites of real-life corners stapled together in short circuits; and so you have Suzuka's Degner curves transposed into an urban circuit that's got more than a little of Croydon town centre to it (okay, that might not be your idea of typical Sega glamour, but I'm more taken with Croydon than most).
The handling is also a curious mix of real-world inspiration and Sega's arcade staples. This isn't about the big, lazy drifts of OutRun 2 or breaking traction dramatically as in Daytona USA - instead it's an approximation of real Super GT, where you're picking out braking points and apexes, albeit in a much gentler and faster fashion than you'd see in a typical sim. It can feel overly light at first, though it does eventually come together, with the cabinet playing its part. The steering wheel is beautifully weighty with a decent amount of feedback (even if it's hardly got the strength of a direct drive unit), and it's brought to life with details such as the rev lights on the wheel and the bright red LED readout. Tying that together is a ranking system that grades your performance on the fly, marking your overtakes, entry points and exit points all the way up to that coveted S rank. It's classic Sega through and through.
Sega World Drivers Championship is the kind of thing I could see myself spending a decent amount of time with, which I guess is part of the plan. The Aime ID card system lets players build up their own career, working from GT300 to GT500 and recruiting staff members along the way to help them in what are primarily online races (with a fair amount of AI filling out grids and providing the traffic obstacles that are part of the fabric of GT racing). It's a fascinating foundation that Sega's slowly building upon, with new tracks making appearances and the GT field filling out.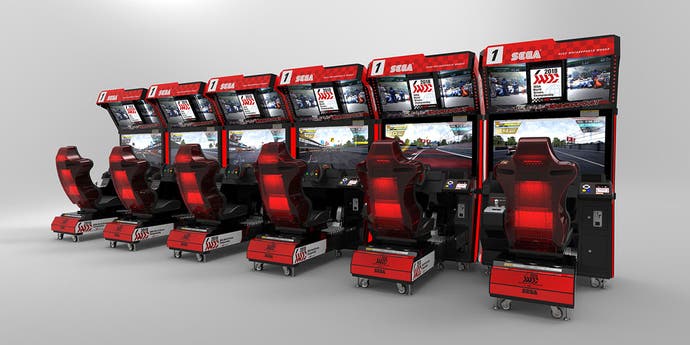 Indeed, it's the kind of thing that would work wonderfully on home consoles, and given that it's running on Unreal Engine 4, you would hope that a port wouldn't be out of the question at some point in the future. I'm not going to pretend this is up there with Sega's very best arcade racers, and it doesn't quite deserve to be mentioned in the same breath as OutRun 2 or Sega Rally, but it's far from their worst (if you were concerned by any similarities in concept and title with the fairly dreadful Sega Touring Car Championship, rest assured that this is a far more entertaining prospect). What it is, though, is a confident return to the kind of thing many thought was no longer possible, and it has more than its share of that old Sega magic. And I'm sure there are plenty of people around the world who wouldn't mind sampling some of that.