Retrospective: Mario Golf Advance Tour
A links to the past.
Golf has never been my sport. I tried it once. You have to hit the ball really hard. It just felt wrong. I couldn't bring myself to hit anything that solid such a long way. Someone could get hurt! Clearly, crazy golf is more my sport. (I still believe I'm going to get rich with my idea for full-scale crazy golf. Actual windmills for the windmill. Convert a hillside into a clown's head. It's the best idea any human has ever had.)
But despite a lack of desire to play it in real life, golf games have always appealed to me. Whether it was playing Linx with a golf-enthusiast university housemate in 1998 to get over a break-up, or scratching a groove into the touch-screen of my new DS with Tiger Woods PGA Tour 2005, the simple pleasure of hitting a ball into a hole has been a recurring theme.
One golf game stands above all others for me. One appealed on a different level. Mario Golf: Advance Tour, for the Game Boy Advance, is exactly the golf game I want to play, pretty much all the time. It's golf. It's an RPG. It's enormously silly.
I should explain that I never played the Game Boy Color version of Mario Golf - essentially the direct prequel to this Game Boy Advance incarnation. In fact, when first playing this in 2004, I'd not even played the N64's Mario Golf, nor either of the NES versions dating back to the eighties. Although once you've played the RPG magic of Advance Tour, I'd argue the N64 version feels so empty and vacuous as to be unbearable.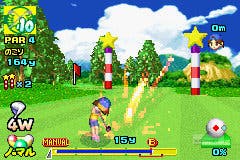 You begin playing as either a boy or a girl. A human, rather than a Mario character. You arrive at the Marion Club, in a large Mario-themed mansion, reminiscent of Peach's castle in design. In here are many other golfers, along with your coach and instructors. There are rooms to explore, secrets to find hidden in plant pots, routes to find taking you outside onto the balconies, and all manner of silly Mario-related things to look at.
This introduction shouts out that this is more than a golf game. It's a golf game that wants to give you a cuddle. You can chat with everyone, get tips, hear stories, and hear the awe everyone has for Mario's golfing prowess.
You've then got the Marion Club Lodge, where you sleep. Your roommate is the boy or girl you didn't select at the start, who is also your doubles partner.
Oh yes, golfing doubles. It's an increasingly popular version of the sport, characters tell us, but more on that later.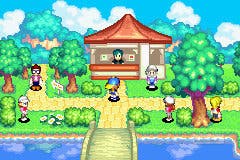 And there's the Marion golf course. Here you can play practise rounds, take on a number of mini-challenges from various pros hanging around on the practise greens, or compete in the main tournament. Head out of Marion to find the golf clinic, where experts will analyse your shot. Make you way to the Custom Club Shop, where you can get specialist clubs made in return for special tokens you may have gathered.
Then there are all manner of strange extra places to find - odd variants on golfing challenges (getting the ball through slalom poles, completing multiple holes in very few shots, getting par on holes using only one club and a putter, a slot machine choosing which three clubs you'll get for tough challenges, and on and on and on.)
There are lovely moments like helping to restore a run-down course for an elderly couple. Complete par on their short course despite it being massively overgrown and you'll help the man, Gramps, recover from the illness that has him bedridden.
Complete this, and after being warned not to get carried away by his wife he cries,
"I'll take nothing easy! Watching that rising star play with such fire has gotten me all twitchified!"
He then starts running and jumping around in circles.