Virtua Athlete 2000
We take a look at the second in Sega's series of summer sports titles, after the success of Virtua Tennis which was released this week.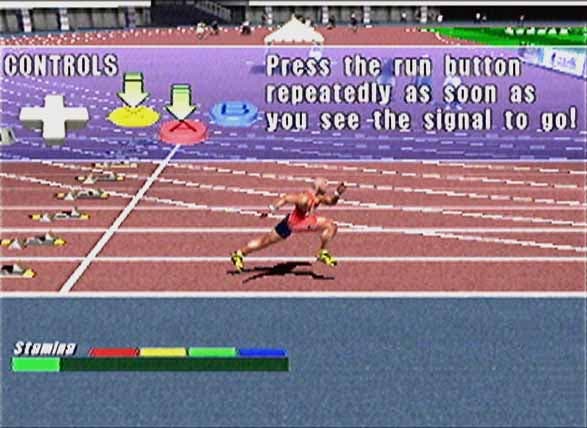 Sights set high
In the run up to any major sporting event, we always see a rash of titles released on all formats clamouring to be the armchair enthusiasts favourite way of escaping into their chosen sports world. The ludicrous re-hashing of old ideas is synonymous with this tradition, especially with athletics games and Olympics tie-ins, with usually the only real change being the gaming hardware and the graphical capabilities available. So.. the year 2000 sees another Olympic games, with only one licensee (this year it went to Attention to Detail) and another parade of titles coincidentally being released at the same time, all clamouring for the ultimate recreation of this glorious sporting occasion. Sega are a bunch who have come to be known as game creators who set standards, and they certainly haven't shied away from this trend with their Sega Sports titles on Dreamcast. The most recently notable of these obviously being Virtua Tennis - an outstanding piece of work by anyone's standards, it even made EuroGamer editor Tom Bramwell want to get up and play tennis.. anyone who's met him will know that's no mean feat. (Fired -Ed) And so it is with great pleasure and anticipation I picked up Virtua Athlete 2K, looking forward to a repeat of the kind of quality and sheer gameplay on show in VT. Back in days of yore, a game by Konami called International Track & Field (the Dreamcast update will be upon us very soon) heralded a control method in which the players could physically exert themselves in a manner only superseded by the real-world competitors. This method involved bashing two buttons as fast as physically possible without breaking your fingers and/or the game cabinet. I was expecting more of the same frenetic fun from VA2K. But, to my immense surprise, it proved to be possibly the worst execution of this formula I've yet played.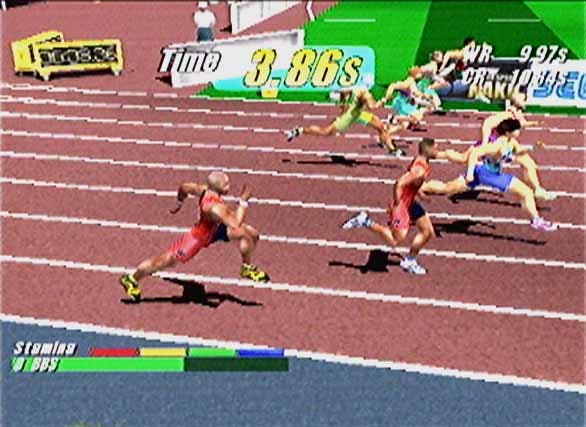 Take a leap
Obviously, the aim of the game is to break world records in a series of seven events and win medals for your country. The events (100m dash, long jump, shot-put, high jump, 110m hurdles, javelin and the 1500m race) are all executed with more or less the same method of bashing the two running buttons, and then utilising a third button to perform a particular task, such as jumping a hurdle or tossing a javelin - apart from the shot-put, where you just press the button when the power bar is full, the hold it down again to judge your angle, then release. Before each event starts, you're given a brief tutorial as to how to perform your task. This would be all well and good, but unfortunately the instructions flick past so quickly, you're very likely to be caught off-guard and not know what you're supposed to be doing. Blundering into an event blindly for the first time hardly reinforces the fun-factor. In an attempt at innovating on this style of game, Sega have seen fit to introduce stamina to the running events. How this works is that above your power meter (which fills up according to how fast you tap the buttons) are four coloured blocks. If the power meter exceeds the end of these blocks, they begin to disappear, and when they are finally dissipated, your runner begins to stumble, leaving you to slowly tap away until he can regain his pace.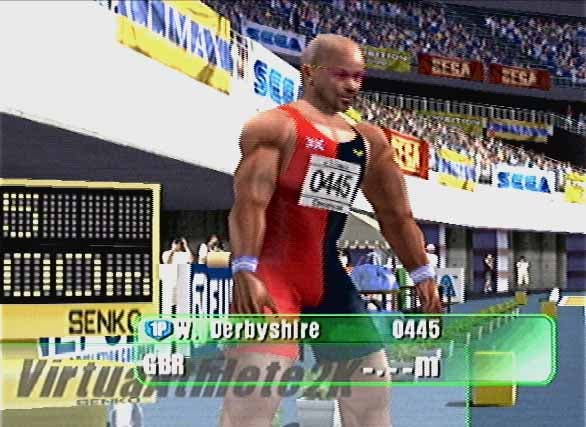 Lot's of pain, no gain
Frankly, this attempt at some kind of realism only hinders gameplay and removes any kind of fun you could've had, especially so on the immensely disappointing 1500m race, and on what should be a frenetic button-bashing experience, the 100m dash instead become an immensely complex and frustrating task. Even more criminal is the fact that you can't turn the feature off. Another "innovation" is the ability to create your own athlete with some sexy leotard colour-combo's and upload your scores and times gained during the competition to the VA2K website via your Dreamcasts network function - hardly a reason to buy the game, though, but sadly there are seldom other redeeming features. Audio and music is grating (I deplore anyone who can withstand to horrendously patronising tannoy announcements), and player models have the appearance and build of comedy styrofoam theme-park statuettes. Animation is relatively pleasant, however, but rarely reaches the superior heights of Virtua Tennis. Another bugbear I simply must go back to is a joke of an event, the 1500m race. One of the events affected to the absolute maximum by the dire stamina "feature", a few goes and a couple of surely unintended little quirks of the game mechanics let you in as to how you can easily win the race. Simply stand at the front of the pack, tap slowly and let the rear runners literally shunt you down the track, all the way home. How the playtesters didn't pick that one up is beyond me. It also occurred to me that during the mini-tutorials, the game instructed that for the shot-put, the best throwing angle would be 45 degrees. Fair enough, I thought. Until it instructed the same for the javelin and even the high jump events. Honestly… what on Earth are these people thinking? Little things like this scream laziness.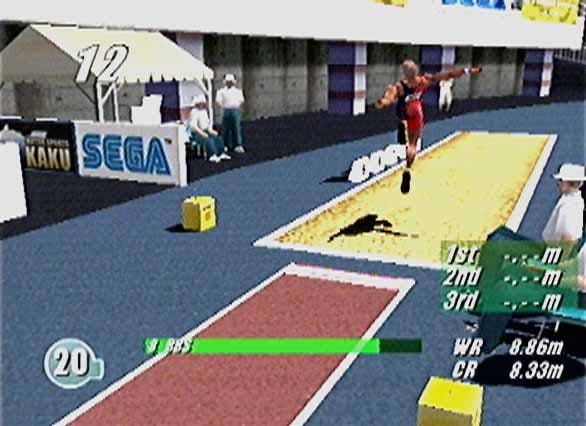 Conclusion
Sadly, a game which could've been a real Dreamcast killer app to accompany the likes of, dare I say it again, Virtua Tennis, simply fails to impress on so many levels. Quite how Sega managed to stuff it up so badly is beyond me, because VA2K honestly lacks any kind of fun factor, and longevity doesn't even come into play here. This is the type of throwaway game I'd come to expect of latter PlayStation publishers (no offense to PSX owners meant). All the signs are clear that this game was made simply to cash in on the Olympics, and as such feels unfinished and rushed - exactly a factor of the title rush I mentioned in my opening paragraphs. I can't help wondering what this game could've accomplished had it not been pushed to meet the stiff competition it will surely face, and so our attention turns to the original contender, International Track & Field.