Phil 'The Power' Taylor
The darts legend speaks.
Since time began, human beings have experienced a natural and powerful desire to throw things at other things. Millennia ago, big pointy wooden sticks were thrown at huge hairy beasts. Today, small pointy metal sticks are thrown by huge hairy beasts. Woolly mammoths have been replaced by wooden dartboards and the chance to win a speedboat, caravan or luxury holiday.
Now the ancient art of throwing things is taking another evolutionary step with PDC World Championship Darts 2008. The game is due out on PC, PSP, PS2 and Wii early next year. It's said to feature a high level of realism and accurate throwing dynamics, and stars some of the world's greatest darts players.
These include Kevin 'The Artist' Painter, Dennis 'The Menace' Priestley and John 'Darth Maple' Part, who we've just picked off the press release becaues they have the best names. Topping the bill is Phil 'The Power' Taylor. He has won the title of world champion 13 times and is said to be the first millionaire darts player.
Eurogamer sat down with Phil for a chat to find out more about the game, what it's like to earn a million pounds for throwing things at other things and why he believes Eric Bristow should be England manager.
EurogamerYou are the most successful darts player of all time, according to our extensive research on Wikipedia. What's your secret?
Phil 'The Power' Taylor
When I first started winning, I didn't have instant fame and fortune. A lot of sports people, their biggest downfall has been money, becoming too famous too quick. They go off the rails.
I was eight times world champion and nobody knew who I was. It kept me going and stopped me being spoilt. Having a big family keeps your feet on the ground. I come from a working class family. I still think fifty pounds is a lot of money.
EurogamerEven though you've got a million of them?
Phil 'The Power' Taylor
It doesn't matter. It's not the money, it's my council house mentality. I could be worth a billion pounds, but if twenty pound blew down the street I'd chase after it and put my foot on it. You would as well.
EurogamerBoth feet.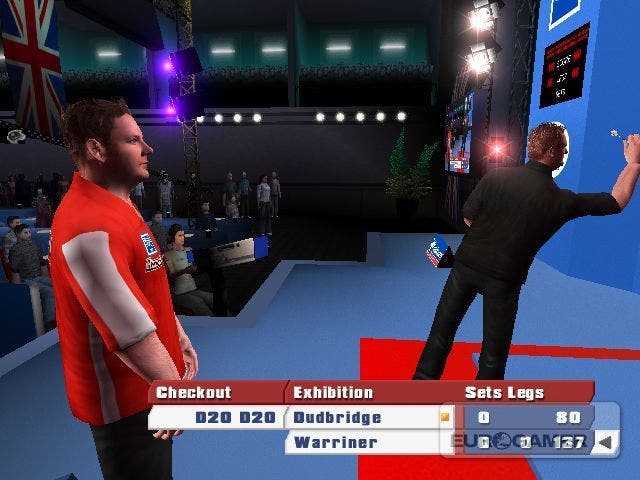 Phil 'The Power' Taylor
I'd dive on it. But that's the way I am. It's not all about money. My money's spent on my family, basically. I buy them all houses and whatnot. I'm not bothered about money as long as I've got enough to survive. It's the winning; I like the competition.
EurogamerWhen you first started out you were sponsored by Eric Bristow. However Wikipedia does not explain how this worked.
Phil 'The Power' Taylor
We made a condition: whatever I won, I paid him back. If he sponsored me for eight thousand pounds and I won ten thousand pounds, he had his eight and I had two. That was a great thing because it kept me motivated.
If Eric walked in the room and saw me now he'd say, "Oi, you owe me four and a half thousand pounds. What are you doing sitting there talking?" That's how Eric was. He should be England manager.
EurogamerEric Bristow went from being your mentor to being your rival, and then you went on to beat him. How difficult was that transition?
Phil 'The Power' Taylor
Eric's career was coming to an end then. He knew that and he accepted it. He knows he'll always make a good living. Eric's a wealthy man and he'll always be a popular person in shows. So he was more or less resigned to it.
Even now he texts me saying, "Are you practicing, Taylor?" If he walked in the room now, I'd still feel funny for being sat down. I've still got that respect for him and I still love him to bits. He's like my brother. We argue, we fall out sometimes, but we love each other.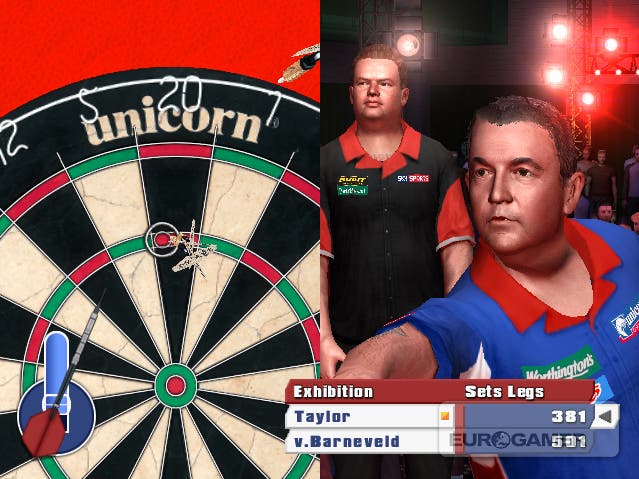 EurogamerWhat advice would you give to someone who enjoys a bit of pub darts and is thinking of turning professional?
Phil 'The Power' Taylor
You have to set a target for yourself. You have to set out to be the best at what you do. That's my mentality. I'm a little bit like Roy Keane. It wouldn't make any difference if I was playing in a local league, I'd still have to be the best player in the team, the best in the league. I won't stop until I am, otherwise I won't play.
I've tried other sports. I've tried boxing, golf, snooker...
EurogamerBadminton?
Phil 'The Power' Taylor
Tried badminton. Loved badminton.