Microsoft E3 conference roundup
European date for Elite, Halo 3 Special Edition X360 and more.
E3 2007 began in earnest tonight, with Microsoft showing off an extensive Christmas line-up in Santa Monica, California, while making several large announcements concerning hardware and software.
Microsoft's corporate vice president of global marketing, Jeff Bell, confirmed a European date for Xbox 360 Elite of 24th August, but stopped short of announcing a price. In other hardware-related news, Peter Moore showed a new version of the 360 console - the "Halo 3 Special Edition" - to accompany the release of its software counterpart later this year.
Moore had previously described the event, held outdoors at the Santa Monica High School, as being one of firsts. "A few things are different about this year's show," he said, namely that the conference was being televised for the first time, and that all the games to be shown that evening were titles scheduled to be released this Christmas season. Only one game showed, it transpired, would be released next year, but you can forgive Moore breaking ranks for the likes of Resident Evil 5.
First up was EA's Rock Band, the Harmonix title that sees separate players take on instruments in an experience extrapolated from the highly successful Guitar Hero series. Moore managed to pause the game a couple of times but, to be fair to the man, played his plastic guitar and sang along like a trooper. The Strokes, Nirvana, Black Sabbath and the Who are all included in the game, he said, with "more bands later this week".
Moore moved quickly on to Viva Piñata: Party Animals, which is based on mini-games (more than 40 of them) and looked not a million miles away from Mario Party - but with piñata. "It'll keep your living room buzzing for hours on end," promised Peter, before plunging on into a lengthy video for BioWare's sci-fi RPG, Mass Effect. This looked hot, to say the least, showing epic scale space fights and beautifully realised facial animations and vehicles. "Your species needs to learn its place," said a nasty alien. Moore revealed the game will launch in November.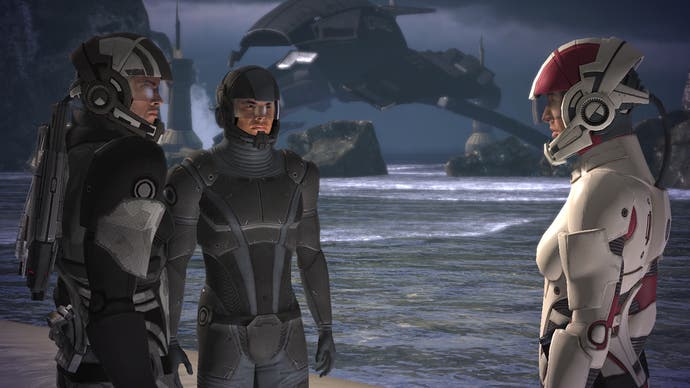 Peter moved off into some numbers, claiming that two thirds of all next-gen third-party titles are sold for Xbox 360, and that more than USD 2.4 billion has been spent on Xbox 360 hardware and software since last November - more than Wii and PS3 combined.
"This holiday we're shifting into a higher gear," he said, talking up GTA and Halo by saying that Christmas 2004 was a "perfect storm" for gaming with San Andreas, Madden 05 and Halo 2 hitting side-by-side - and that the same conditions would occur this year with GTA IV, Madden 08 and Halo 3. Of course, "the only platform that you can play all these three franchises is on 360."
On with the video. Moore introduced a reel containing Project Gotham Racing 4, Dynasty Warriors Gundam, Call of Duty 4: Modern Warfare, Stranglehold, Guitar Hero III, Beautiful Katamari, Lost Odyssey. NBA Live 08, Mass Effect, Fatal Inertia, Medal of Honor Airborne, Tiger Woods PGA Tour 08, Air Combat 6: Fires of Liberation, NHL 08, Assassin's Creed, Spiderman Friend or Foe, The Simpsons Game, Splinter Cell Conviction, NASCAR 08, Eternal Sonata, Tony's Hawk Proving Ground, Crash of the Titans, Harry Potter and the Order of the Phoenix, Valve's Orange Box, Bee Movie Game, Rock Band, and Naruto: Rise of a Ninja.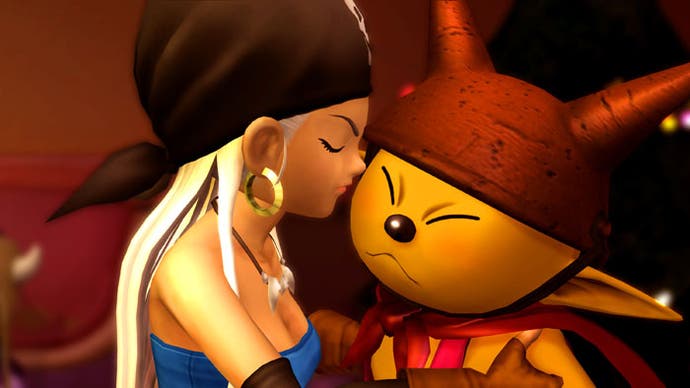 While that lot sank in, Moore took a break and Jeff Bell came out, announcing a party game called "Scene it?" featuring a new controller that looked extremely "similar" to Relentless' Buzz hardware for PlayStation 2. Scene it? the board game's sold 10 million copies worldwide, said Jeff, before talking up another exclusive, namely Ubisoft's next Naruto game. It's 360-only, said Bell, before showing a long video of Japanese-on-Japanese cartoon violence.
Sports were up next, and Bell wheeled out New Orleans Saints running back Reggie Bush for a game of Madden 08. All EA's sports games will play twice as fast this year compared to last year, said Bell, before launching into a figure-athon regarding Xbox Live.
Microsoft now has more than 7 million subscribers for the service, apparently, and expects more than 10 million by this time next year. More than 45 million games have been downloaded from Xbox Live Arcade and more than 100 games will be available by the end of this year.
A video showed Bomberman Live, Undertow, Hexic 2, Sonic the Hedgehog, War World, Sensible World of Soccer, Every Extend Extreme Extra, Geon, Wing Commander Arena, Feeding Frenzy 2 Shipwreck Showdown, Track and Field, Golden Axe, Minter's oddball shooter Space Giraffe, Puzzle Fighters, Tetris and lots of other stuff.