Football Manager 2011
"We're trying to make a simulation here. We can't dumb it down."
Another year, another Football Manager game. But this time developer Sports Interactive has chucked in dynamic league reputation, the most requested feature from the community.
The result? Unbridled joy, as the SEGA-owned studio's forums show. Following yesterday's reveal announcement, we sat down with studio director Miles Jacobson for a chat and discovered dynamic league reputation is just one of a few hundred new features for this year.
EurogamerWhich new feature are you most excited about?
Miles Jacobson
The agents and the contracts negotiation, of the things that have been announced today. There is something else we're working on that we're going to announce in a few weeks that I'm very excited about.
When I play the game I'm a bit of a transfers whore. If I play as Watford I'm always looking for cheap young players to buy. If I play as Man City or a big Spanish or Italian club then I try to buy absolutely everyone.
It does change the way you have to do those things. Even things as simple as having agent fees and the extra clauses, those are in there as well.
If one of my players gets in the team of the year, I celebrate because I've got a player in the team of the year. But it's going to cost me money because of the guy's contract.
I expect Watford's chief exec is probably sitting there tonight hoping Scott Loach doesn't come on for England, because if he does we've probably got to pay Lincoln some more money from when we bought him.
Getting those kinds of things in there and properly accurate – a lot of research went into this, a lot of time spent with chief execs and agents at all levels of the game, to try and get as much information out of them as possible.
I even managed to get a couple of contracts from clubs where obviously lots of information had been redacted out. But to be able to see the proper clauses that really do go in. ...
Working with agents and hearing the different types of agents slagging off the other different types of agents was good fun.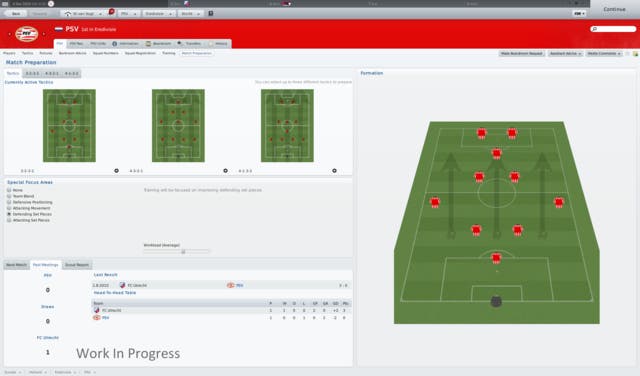 EurogamerYou must have got some really juicy gossip.
Miles Jacobson
Yeah, I did. But that stuff stays in the vault, otherwise those guys don't work with us again.
EurogamerHow important is the implementation of dynamic league reputation?
Miles Jacobson
If you go to our forums today you'll see how important it is to the real hardcore players. I haven't seen a reaction to a feature like it. Not even when we announced we were going 3D.
For those who have long-term career games and like starting at the bottom and working their way up, it's going to be invaluable. If you are starting in a smaller league and you make that trip right the way to the top of the league and then start doing well in continental competitions, it's been stifling before.
You couldn't ever change your league into a global superstar. If you look at a lot of the changes that are happening in football nowadays, whether it be the players being attracted to the Russian league or the Turkish league – some of the players who are moving over there – the leagues in the Middle East, that wouldn't be possible in previous FMs because they would always be based at the starting point, if you like.
The Turkish league would be the Turkish league. It doesn't matter how good those clubs get in Turkey, the league reputation wouldn't improve. The development of the league overall wouldn't have been able to happen. Now it can.
It does make the game completely dynamic, rather than having that one area of static-ness that was still there.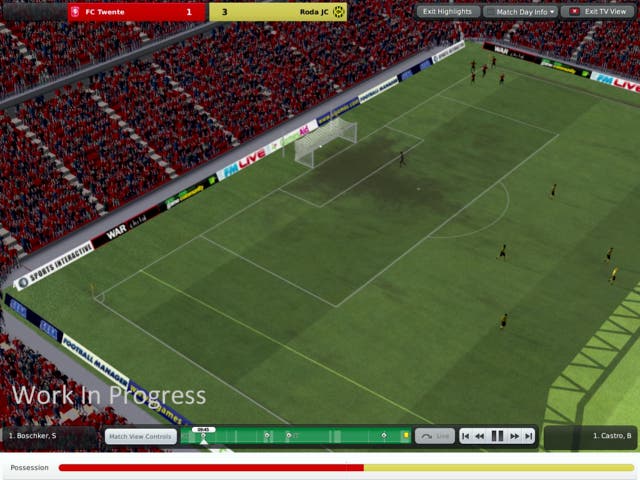 EurogamerIs it a game changer?
Miles Jacobson
It is. It's something we've been working on for more than a year. It's a feature we would have liked to have out there in the last couple of versions but it wasn't working properly. Now it does.
It won't be a game changer for those people who play short-term games, who might play five or 10 seasons. But for those who play 20 or 30 seasons, you will notice the football world change in the same way as it has done in real life.
EurogamerWe've got some reader questions. Fancy answering them?
Miles Jacobson
I'd love to.
Eurogamer"Ask him how long it will take to play a season, on average. And don't let him wriggle off the hook by saying people play it different ways."
Miles Jacobson
People do play it in different ways! It will take roughly the same amount if not a little bit quicker than with FM10.