FIFA 10v10 vs. PES Legends
Which is the best be-one-player online football game?
Fears were rife prior to release that games containing twenty human players would inevitably degenerate into ball-chasing farce, yet the reality usually proves very different. Even when playing with lower-level players, most participants manage to stick to their allotted positions with admirable discipline, though admittedly there is a bias towards rushed attacks (during which defenders often find themselves outnumbered) rather than measured build-ups. There's also a genuine sense of competitiveness and combativeness, with little time to dwell on the ball before you're closed down. In many ways, these online games are even more competitive than their single-player counterparts.
With a strict stamina limit for each player, Roy of the Rovers heroics are impossible. Try to be everywhere and you'll be staggering around like a three-legged dog after a kick in the tits, and all before the halftime whistle blows. This encourages you to play in your designated role with discipline, to be a cog in a machine rather than the motor that drives it. You soon learn that it's essential to rely on, work with and trust your team-mates. The frustrations and rewards are very much like the real game: greedy strikers shooting and missing when passing to a better-placed player would have guaranteed a goal, or selfless wingers tracking back to cover you when you miss a tackle. Performance feedback is handled rather more subtly than in PES. A simple bar at the bottom of the screen keeps track of how well you're playing, with each successful pass, shot, tackle and piece of positional play either bolstering or diminishing your rating.
On the whole these 10 vs. 10 games proved highly fluid and bereft of lag: some feat considering twenty simultaneous online connections, compared to PES's four. However, some minor compromises appear to have been made regarding visual quality, though this is a small price to play for match fluidity.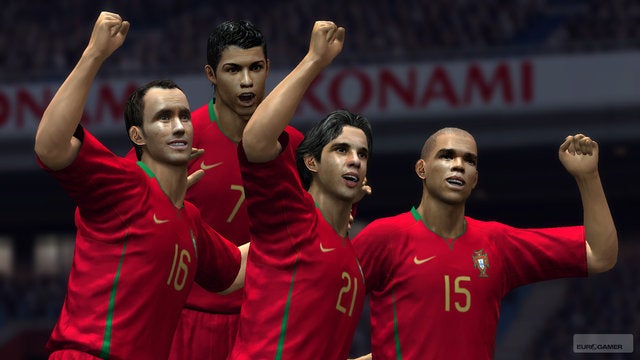 Due to FIFA's lifelike rendition of the beautiful game, mastering each position takes plenty of practice, but it's the defensive roles that are by far the hardest to perfect. Learning to read the game is an essential skill to master if you're to stand any chance of stifling opposition attacks. While it may be frustrating at first, if you persevere you'll find that opting for a defensive role can be hugely rewarding.
Despite many areas of excellence, there are a few sections that still require some attention, such as post-match feedback, which currently fails to adequately inform you of where you've succeeded and failed in your given position. Other niggles include some stability issues (crashes were more frequent than in PES) and occasionally erratic goalkeeper AI.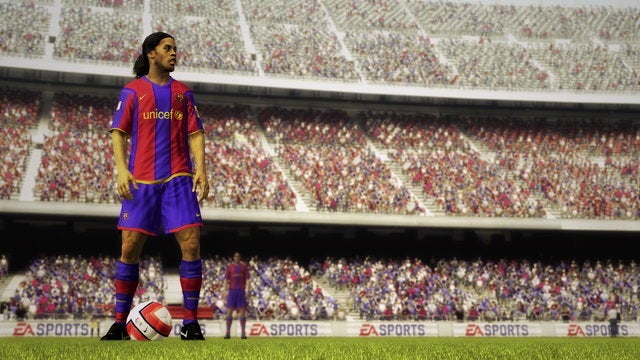 So with both games clearly possessing their merits, which one should you opt for? Well, that depends on what you're after. If you're looking for a fairly un-taxing and forgiving footy kick about with a heavy bias towards attacking, then PES is probably your best bet. But if you're after the most lifelike, tactical and ultimately rewarding multiplayer online football experience around, then FIFA wins by a clear distance. It may not be perfect and still needs refining, but as a first attempt at bringing online 10 vs. 10 football to the masses, it's an admirably accomplished effort.
Will you support Eurogamer?
We want to make Eurogamer better, and that means better for our readers - not for algorithms. You can help! Become a supporter of Eurogamer and you can view the site completely ad-free, as well as gaining exclusive access to articles, podcasts and conversations that will bring you closer to the team, the stories, and the games we all love. Subscriptions start at £3.99 / $4.99 per month.