Download Games Roundup
Vampires! Football! Pipemania rip-offs!
Link 'n' Launch
DSiWare
500 DSiWare Points (£4.50)
Not since the lairy, hairy days of 16 kilobyte Ultimate Play The Game classic Jetpac has refuelling a rocket been such a pleasurably diverting prospect.
Intelligent Systems' latest stab at the download market is a puzzle game crafted out of such an idea, challenging you to shift pipe tiles around a play area to connect the rocket to the fuel supply.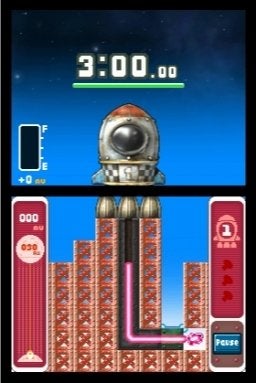 Essentially a neat riff on Pipemania, the gameplay comes in two distinct flavours. In the chin-stroking Puzzle mode, you have to connect the fuel pipe to the rocket in the fewest number of moves, with bonus points not awarded for whistling the Minder theme tunelessly as you go.
It's all hands to the pumps in Mission mode, mind, with a strict three-minute time limit forcing you to get your act together as you aim to fire your rocket up to a distant destination.
The already tricky process of connecting pipes together is made more challenging by virtue of the fact you can only move a pipe tile around the edge of adjoining one. And if that wasn't enough of a headache, you can't rotate each pipe manually. If you're as hapless as me, flipping it the right way around again is often more luck than judgment.
But despite sounding infuriatingly complicated, Link 'n' Launch very quickly gets under your skin. The only problem is it's a bit lightweight. With just 10 missions and 100 pretty simple puzzles to barrel through, you're soon left wanting more.
7/10
Tidalis
PC/Mac
£6.99 (Steam), free demo available.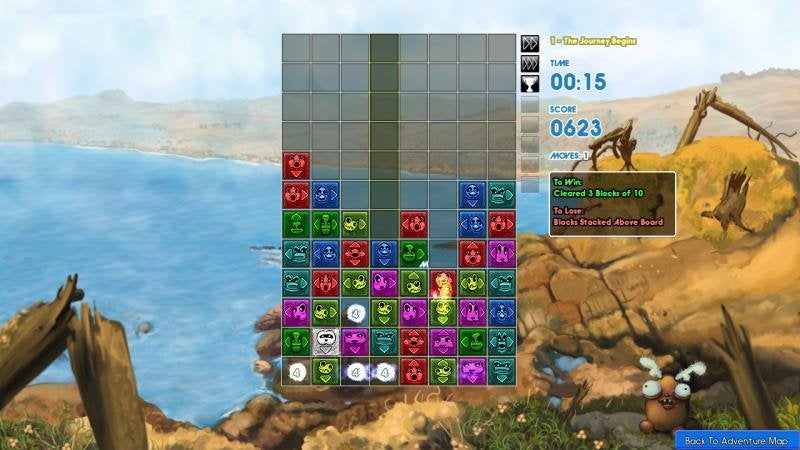 Another week, another neatly crafted match-three indie block puzzler. You could set your watch by them. This time, Arcen Games invites us to wash away our sins with the power of the waves. Not an unreasonable suggestion.
Despite the rather innocent-looking screenshots, Tidalis is actually one deceptively deep little mofo, requiring a menacing number of tutorial levels and a fair bit of trial and error practice before you can even begin to unravel its intricacies.
On a basic level, the idea is to set off chain reactions so that same-coloured tiles get caught up in the 'tide' and, er, presumably wash out to sea or something tenuous.
The main thing to worry about is which direction each tile is pointing, because once you activate it (by clicking on it) that colour 'stream' flows three squares away. If it touches another tile of the same colour, then the chain reaction continues until all possibilities are exhausted. It's all very logical and satisfying.
Which flavour you like, though, is up to you. Although it boasts an alarming 20 game modes, two distinct gameplay types emerge: fixed 'Brainteaser' puzzles that require you to remove all the tiles on the board in a set number of moves, alongside a falling-block style where you have to work fast to stop any column reaching the top.
Once you wade into it, Tidalis is a charmingly lo-fi package that positively drowns you in content. At the very least, check out the demo before you splash out. [Hope you enjoyed this final download roundup, readers - dep ed.]
7/10
Will you support Eurogamer?
We want to make Eurogamer better, and that means better for our readers - not for algorithms. You can help! Become a supporter of Eurogamer and you can view the site completely ad-free, as well as gaining exclusive access to articles, podcasts and conversations that will bring you closer to the team, the stories, and the games we all love. Subscriptions start at £3.99 / $4.99 per month.