Download Games Roundup
Water! Mazes! Streets! Dice! Lawyer!
Car Jack Streets
PSP Minis (version tested) / $4.99 (on US PSN, Europe TBA)
iPhone / £1.79
DSiWare / 800 Points (£7.20)
Coming to the European PSP Mini line-up in the coming weeks, this 'tribute' to the original top-down Grand Theft Auto sticks doggedly to the familiar formula of DMA's 1997 classic with mixed results.
From a quick glance, there's little to separate the look and feel of Car Jack Streets and the game which spawned a thousand imitators. The sheer brazen purity of intent - to create as close an imitator as possible - is flattery indeed, and developer TagGames does a fine job of creating a budget urban sandbox.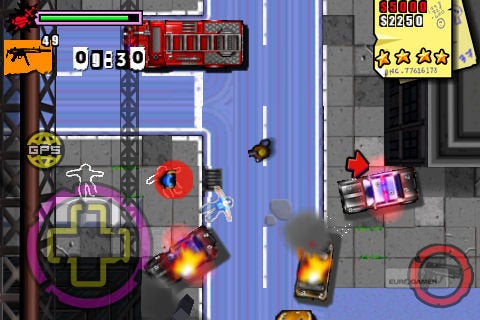 Tasking you with paying off $1 million in debts, the curious real-time nature of the gameplay means you have to pay off at least $50,000 a week by doing the kind of regulation GTA missions we all know and have played approximately 90,000 times over: heists, assassinations, car delivery.
All the gameplay ingredients are here, but without the sharp wit it feels like an enthusiastic cover version.
If GTA: Chinatown Wars didn't already exist, it might be easier to stand up for Car Jack Streets. While by no means bad, the old adage of 'you get what you pay for' unfortunately holds true here.
6/10
Voodoo Dice
PlayStation Network / £7.99
WiiWare / 1000 Wii Points
Xbox Live Arcade / 800 Microsoft Points (£6.80)
iPhone / Coming soon
Given how many people thumbed their noses at Capcom's Devil Dice and its tragically overlooked sequel Bombastic, it's hardly surprising that games involving dice are rarer than intellectual footballers' wives. But Exkee and Ubisoft are hoping to change all that with this thoroughly engaging dice-rolling puzzler.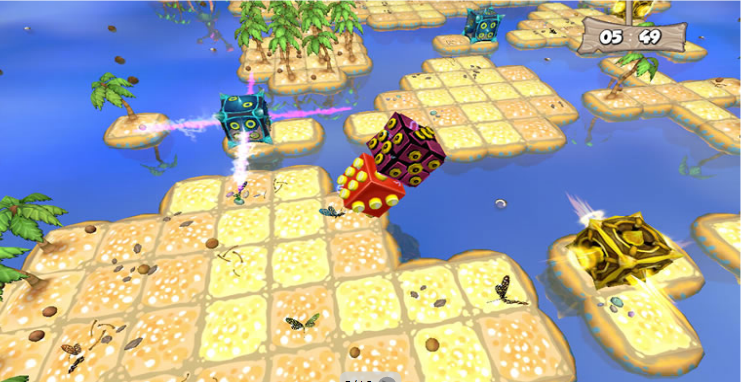 Guiding your dice to the goal is the deceptively straightforward premise, but getting there can be a brain-breaking test of lateral thought and a fair amount of hapless trial and error as you chip your way through 60 levels of barbaric trickery.
Whether you're clearing a path of other dice, negotiating elaborate one-way systems, or activating pressure plates, it's a game with a relentless appetite for catching you out. Don't be fooled by its casual veneer, this is a real wolf in sheep's clothing.
And when you're done navigating the minefield of the single-player offering, a further four multiplayer modes lie in wait, each playable by up to four players. The first-to-the-finish Race and the tag-based Flag mode feel fairly throwaway, but the turn-based Tactic mode and score-based Arcade mode offer more meaty potential.
Adding to what has been an encouraging year so far for Live Arcade offerings, Voodoo Dice is another unexpectedly high quality puzzler.
8/10
Phoenix Wright: Ace Attorney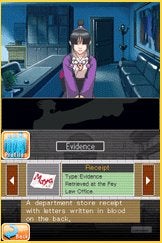 You'll not merely risk actual bodily harm, but the very real prospect of being humiliated to death, if you make the assertion that you have no objection to Phoenix Wright's long-awaited iPhone debut. Ahem.
Appearing to surprisingly little fanfare on the iTunes store this week, the remarkable thing about Capcom's wry legal adventure series is how robust it has been to the ravages of time. Despite this being the its sixth platform since it debuted on the GBA way back in 2001, it feels as fresh as ever and suits the iPhone perfectly.
Essentially a direct port of the DS version, the game's touch screen interface remains, but the slightly smaller screen size doesn't compromise playability. Indeed, if anything the game looks even more striking, with its cartoon visuals crisp and vibrant on Apple's excellent screen.
Unlike its Japanese release, all five episodes come as part of this excellent-value package, and even if you've played it before, the quality of the writing makes you want to find someone fun at Capcom and kiss them right on the face.
9/10
Will you support Eurogamer?
We want to make Eurogamer better, and that means better for our readers - not for algorithms. You can help! Become a supporter of Eurogamer and you can view the site completely ad-free, as well as gaining exclusive access to articles, podcasts and conversations that will bring you closer to the team, the stories, and the games we all love. Subscriptions start at £3.99 / $4.99 per month.