Download Games Roundup
Trino! Dead! greenTech! Ballistic! Ben!
Trino
PC (Steam) - £3.49
Xbox Live Indie Games - 240 Microsoft Points (£2.04)
Strangely ignored (even by us) upon its initial release in the overwhelming wilds of Xbox Indieland, Trinoteam's furious twist on Qix thoroughly deserves the second chance its recent Steam release provides. [Qix again? You're obsessed! -Ed.]
Trino's land-grabbing formula is simple enough, but how it goes about it is entirely fresh and requires diligent triangle-plotting, if you can possibly imagine such a thing. To begin with, you can move your little alien bug freely around the playing area and lay down a triangular trap by plotting three points wherever you desire.
If any of the Nanite robots wandering around happen to be inside your trap, you can then pick up a tasty point bonus as a reward. If they happen to be carrying a light blue blob on their backs, it whizzes into one of the plotted points located in the corners of the screen.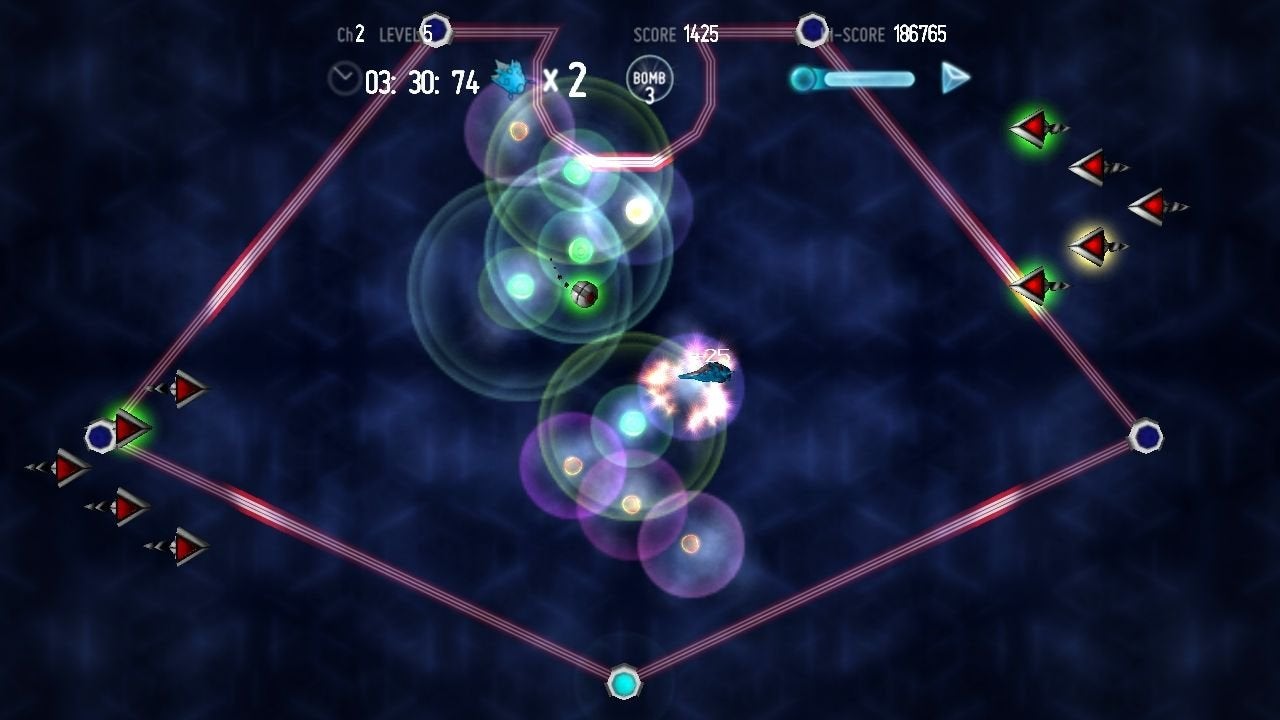 Still with me? Good. Trap enough of these blob-carrying robots and you're eventually able to fill in the entire screen, Qix-style, by land-grabbing between each of those plot points I mentioned. It sounds complicated, but it clicks pretty much immediately.
Within a few rounds, you'll power up and be able to lay down several traps one after the other, but you'll also have horrid snippy crabs to contend with, who delight in breaking the strings on your trap before you get a chance to lay it. It all gets extremely hectic soon enough, as time limits and unpredictable foes are introduced.
Whether it gets a little too intense is a moot point. Some will revel in Trino's gleeful madness and barrel headlong into its 48 stages, but it all got a too unforgiving too early for a Southern pussy like me. If you like your games to bloody your nose, then you should definitely put this insidious nano-robot swarm in its place.
7/10
Ben 10 Alien Force: The Rise Of Hex
WiiWare - 1000 WiiWare Points (£7.00)
Previously released on Xbox 360 - 800 Microsoft Points (£6.80)
If you're not a parent, you might be blissfully unaware of Ben Tennyson's hero status among millions of young boys. It may have also escaped your attention that there have been about seven videogames starring the villain-fighting youngling, but not me. Oh ho no.
Having been mercilessly bullied by my five-year-old son for the past year into helping him play through most of them (multiple times), the arrival of Konami's downloadable effort does little to aid my fragile grip on reality.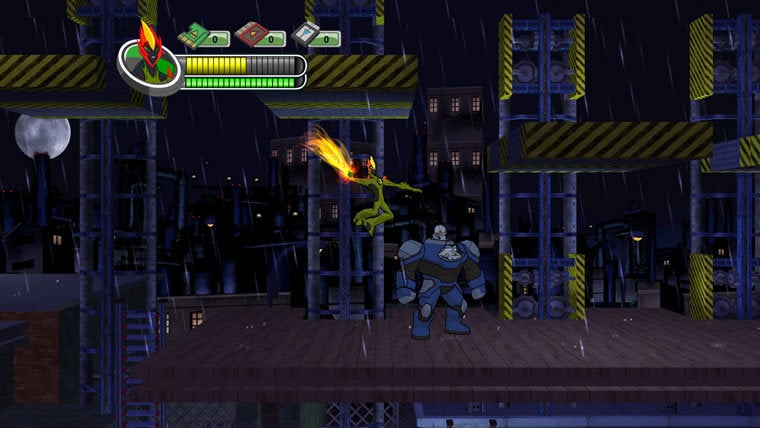 It's not all bad, though. Unlike Papaya Studio's murderously terrible Ben 10 efforts, Vilgax Attacks and Cosmic Destruction, The Rise Of Hex opts for thoughtful-but-repetitive Shadow Complex-lite 2D platform-puzzling.
You still get to change into all the different alien forms (Spider Monkey! Brain Storm!) and engage in the usual rough-and-tumble combat, but, fortunately, the emphasis is mainly on wily platform negotiation and keycard collection.
You might, for example, need to patiently lug around boxes as Humungosaur, then switch to Big Chill, jump on the box and then take advantage of his double-jump to reach a lofty platform, before switching to Swampfire and lobbing fireballs at the lumbering sentry. The only problem, of course, is that it's just too damned taxing for young kids, and you'll end up having to play most of it yourself, rather than just helping out on the tricky bits.
You could just deny all knowledge of this game, of course. There are advantages when games don't come out in high street stores...
5/10
Will you support Eurogamer?
We want to make Eurogamer better, and that means better for our readers - not for algorithms. You can help! Become a supporter of Eurogamer and you can view the site completely ad-free, as well as gaining exclusive access to articles, podcasts and conversations that will bring you closer to the team, the stories, and the games we all love. Subscriptions start at £3.99 / $4.99 per month.