Digital Foundry Sony NGP analysis
"Next Generation Portable sets a new standard for mobile gaming performance."
Sony's Next Generation Portable sets a new standard for mobile gaming performance. While mobile phones are currently transitioning into dual-core ARM A8s, still with a single GPU graphics chip, NGP goes balls-out with a twin quad-core setup: four ARM A9 Cortex CPUs operate in tandem with a PowerVR SGX543 MP4+.
This is combined with a 960x544 16:9 OLED screen. Resolution-wise, that's pretty much identical to the native rendering res of both Alan Wake on Xbox 360 and Call of Duty: Black Ops on PS3. Shrunk down to a five-inch OLED screen, the impression will be very much of a high-definition experience. The resolution itself is ballpark with iPhone 4's Retina display (which weighs in at 960x640 mostly owing to a different aspect ratio), though obviously there is a considerable difference in the display's surface area: the screen on Apple's phone is a mere 3.5 inches, meaning a higher pixel density.
The twin quad-core elements of NGP are obviously of supreme significance, but how will this translate into the gameplay experience and just how powerful is the silicon? During Sony's event we saw a brilliant-looking Uncharted, and Kojima revealed Metal Gear Solid operating with PS3 models and environments, while Sony's Lost Planet 2 Framework MT mobile demo looked very close to the existing HD versions on PS3 and Xbox 360.
Epic Games' Tim Sweeney also revealed that the quad-core GPU setup was four times as powerful as the current mobile platforms. Bear in mind that the iPad, running what is now an outdated PowerVR SGX535, managed to run Infinity Blade fairly well at 1024x768 (albeit with some compromises compared to the iPhone 4 version), and you can begin to get some idea of the leap in power NGP represents.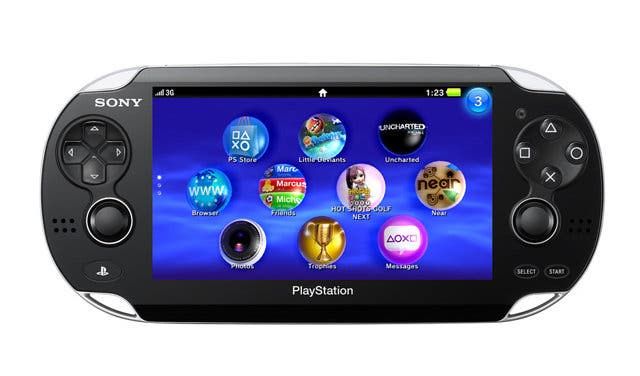 It's difficult to produce a relevant comparison of graphical capabilities. It's not just about the raw power as such, but also about the feature-set of the chip. However, we've known about the technical make-up of the graphics side of NGP for a long, long time now. Way, way back in July 2009, we discussed the quad-core graphics for "PSP2", even identifying the exact chip that was announced today. Then, in November 2009, sources in the mobile industry spoke to us in more depth about the technical make-up of the PSP2's GPU.
Back then we suggested that the PowerVR SGX543 MP4+ chip in a quad-core configuration offered a kind of halfway house in terms of performance between the original Xbox and the massively superior Xenos GPU found within the Xbox 360. Just a single SGX543 core operates with unified shaders and a deferred rendering setup that already gives it an advantage over many existing mobile GPUs. Our comment back then that just a single core could outperform NVIDIA's Tegra 2 fits quite nicely with Tim Sweeney's comment about NGP featuring four times the power of existing mobile graphics chips.
On the face of it, the inclusion of a quad-core ARM Cortex A9 CPU seems like rampant overkill for a mobile device, bearing in mind that phones are only just moving over to dual-core A8s. However, the inclusion of this powerful setup serves two purposes.
Firstly, in bringing HD console-quality games to the handheld platforms, a strong CPU is required. At GDC 2009, Epic Games' Josh Adams discussed iOS Unreal Engine in depth, revealing that performance on the iPhone 3GS demo was being held back by CPU speed. This suggests that advanced engines along the lines of UE3 require a significant processor overhead that the single-core A8 finds difficult to manage, to the point where GPU power was being left untapped. In short, it wouldn't be surprising to discover that game developers needed more power to bring their existing engines for PS3 and 360 over to a mobile platform, so Sony obliged in somewhat spectacular style.
Secondly, NGP needs to be future-proof to a certain extent. Apple will be upgrading the capabilities of its market-leading iOS devices from one year to the next - and this is a luxury that Sony doesn't have. It needs to build a platform now that will last for at least five years. A surfeit of power, combined with development tools that address a single, fixed hardware platform, should fit the bill quite nicely and it's an approach that has worked before: only relatively recent iOS games have managed to surpass the best found on the 2004 vintage PSP.
An impressive level of power like this may suggest that NGP will offer a low battery life - a crucial point bearing in mind reports that Nintendo's 3DS has a minimum of three hours playtime. Again, as we pointed out in our original In Theory piece on PSP2 and DS2, a 45nm PowerVR quad-core chip would still occupy a lower area of silicon than the original PSP's graphics chip did. It would also make sense for Sony to be cutting costs still further by integrating CPU and GPU into one SoC - just as Apple did with the A4 chip. Plus we'd expect a more refined fabrication process, perhaps 28nm based on current trends with mobile chipsets.
Another point that works to Sony's advantage is the basic size and shape of the device. Bearing in mind that NGP is going to be significantly larger than a mobile phone, it stands to reason that there would be more room for a larger battery too. All of this can help offset the inclusion of a quad core CPU, so a four to five hour NGP battery life doesn't seem unreasonable and would be equivalent to the original PSP.