GeForce RTX 2080 and RTX 2080 Ti review: our first glimpse of next-gen graphics?
And just how fast are the new Nvidia cards?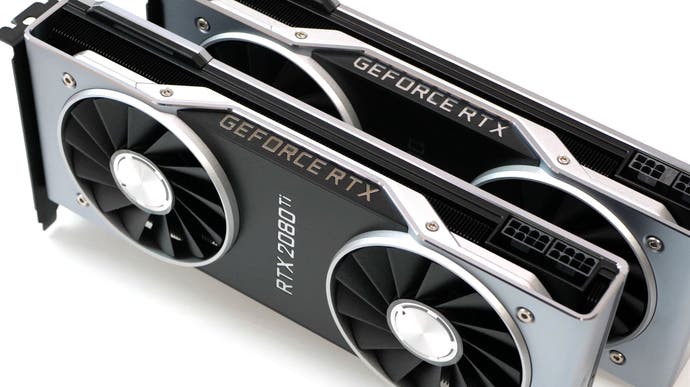 It took Nvidia ten years to finalise the real-time ray tracing technology found within the new GeForce RTX cards, but alas, reviewers were given just five days to review what genuinely stakes a claim as next-generation graphics hardware. We'll be updating this review in due course with further data, but what we can show you today is just how powerful the new offerings are in relation to their predecessors and to give an inkling of what the new Turing architecture can deliver in terms of brand new features. And it is only an inkling - Turing offers real-time ray tracing technology and potentially game-changing, performance enhancing image reconstruction techniques - but right now, no games are on the market that use them.
At the very least though, I can give you some first impressions of the new hardware. Firstly, we're testing the Founder's Edition cards here, which sees Nvidia move away from its traditional blower designs in favour of a thermal solution more in keeping with some of the third-party products. Dual axial fans propel air into your case as opposed to out of the back of it, while the fans themselves are also obviously quieter than previous Nvidia cards. I've not had time to look at the thermals in depth yet, but temperatures seemed to peak at the 78 degrees Celsius range on the Ti - I didn't see either product hit the 83 degrees that usually sees thermal throttling kick in.
There's a genuine sense of quality, weight and heft to both RTX 2080 and 2080 Ti - both of which share a nigh-on identical chassis, the only visible difference between them coming down to an eight+eight PCIe power input configuration on the Ti versus the eight+six pin arrangement on the standard RTX 2080. Display inputs are an evolution from that seen on the GTX 1080 Ti. Once again, dual-link DVI has been consigned to oblivion, but HDMI 2.0 remains while there are three DisplayPort outputs in addition to USB-C, featuring VirtualLink - a new protocol designed to reduce VR headsets' cable nightmare into one easy-to-handle cable. Charging extra cash for the Pascal Founder's Editions always rankled, but at least this time the price premium is matched by the quality of the chassis, and Nvidia also adds a reasonable factory overclock on top.
At the silicon level, Turing represents a considerable gamble by Nvidia. Real-time ray tracing technology and the deep-learning tensor cores add significantly to the size of the processor itself, which in turn translates into a much higher base cost. The TU102 processor found in the top-end RTX 2080 Ti is 60 per cent larger than its predecessor, while RTX 2080's TU104 sees a remarkable 74 per cent increase in area. Combine that with the cutting edge GDDR6 memory - not to mention the total lack of competition in the market - and this explains the high prices. RTX 2080 costs more than the GTX 1080 Ti, is priced at Ti money and has less memory, while the RTX 2080 Ti moves into Titan price-point territory. With the upcoming fire sales for GTX 1080 Ti as retailers clear stock, many may be tempted by the older tech.
| | RTX 2080 Ti | RTX 2080 | GTX 1080 Ti | GTX 1080 |
| --- | --- | --- | --- | --- |
| CUDA cores | 4352 | 2944 | 3584 | 2560 |
| VRAM | 11GB GDDR6 | 8GB GDDR6 | 11GB GDDR5X | 8GB GDDR5X |
| Memory Bus | 352-bit | 256-bit | 352-bit | 256-bit |
| Bandwidth | 616GB/s | 448GB/s | 484GB/s | 352GB/s |
| Base Clock | 1350MHz | 1515MHz | 1480MHz | 1607MHz |
| Boost Clock | 1545MHz | 1710MHz | 1582MHz | 1733MHz |
| TDP | 250W | 215W | 250W | 180W |
| Die Size | 754mm2 | 545mm2 | 471mm2 | 314mm2 |
So just how profound are Turing's key features? Real-time ray tracing is considered the holy grail of 3D rendering and we've seen some remarkable results on RTX 2080 Ti but there are a number of caveats that need to be factored in. First of all, right now, there is a real lack of software - and we're unlikely to see anything until further into Q4. We should expect Battlefield 5 to be the big showcase and what we've seen of it so far looks quite beautiful with real-time reflections beyond anything we've seen before. Similarly, 4A Games' Metro Exodus reveals how ray tracing can revolutionise global illumination - again, it's quite the showcase.
But there are three aspects to understand here in the short term. Firstly, developers have only had limited access to final Turing hardware - the Battlefield 5 demo we played only enjoyed the benefit of access to final hardware in the two weeks leading up to Gamescom, the rest of development spent using older boards based on Volta architecture. In short, we're just at the beginning here. Secondly, performance is a concern. Battlefield 5 runs at 1080p, north of 60fps with ray tracing enabled on the top-end RTX 2080 Ti. If you're spending over £1,000 on a graphics card, is 1080p really going to cut it?
Similarly, Metro Exodus's Gamescom demo drops beneath 1080p60 too. Optimisation is sure to follow, and as we shall see, Turing has more tricks up its sleeve to get the job done - but it will take time. The final factor to consider is that everything we've seen in terms of software has been running on the RTX 2080 Ti, so where does that leave the less capable RTX 2080 and RTX 2070? Right now, we don't know.
We can speculate, however. Right now, both Battlefield 5 and Metro Exodus tie their real-time ray tracing directly to native rendering resolution and in theory at least, this could be decoupled in the way that some titles run transparency effects at half resolution to save on bandwidth. Another potential way forward is to reconstruct the ray traced image at a higher resolution - and that's an area where Turing's other features could prove invaluable. Nvidia's deep learning super-sampling - DLSS - is already being used on its Star Wars Reflections demo to take a piece of software that originally ran at 1080p 24fps on four Volta cards to 4K on RTX 2080 Ti, at the same 24fps.
The point is that Turing's architecture is so forward-looking, it contains features that nobody has begun to tap into yet. Take, for example, mesh shading. Essentially, it radically optimises LOD selections and tessellation, with potentially huge benefits. We've seen a demo but that's it - it's there in the hardware and we can only hope that it gets used in future games. Then there's variable rate shading, which basically adjusts shading quality based on resolution and the significance of detail. We've seen a Wolfenstein 2 demo with this in action and it looks hugely impressive with performance gains apparently in the 15-20 per cent range, but unfortunately, we didn't get this demo in for review.
So, there's a lot of 'jam tomorrow' here, but one feature can take a closer look at is - deep learning super-sampling. Again, there are no shipping titles using it at launch, but we have access to two demos that show that it may well be a game-changer.
GeForce RTX 2080/ RTX 2080 Ti Analysis