In Theory: Can AMD Ryzen break the Intel CPU monopoly?
It's time for a processor upgrade - and 2017 could finally shake up the gaming CPU market.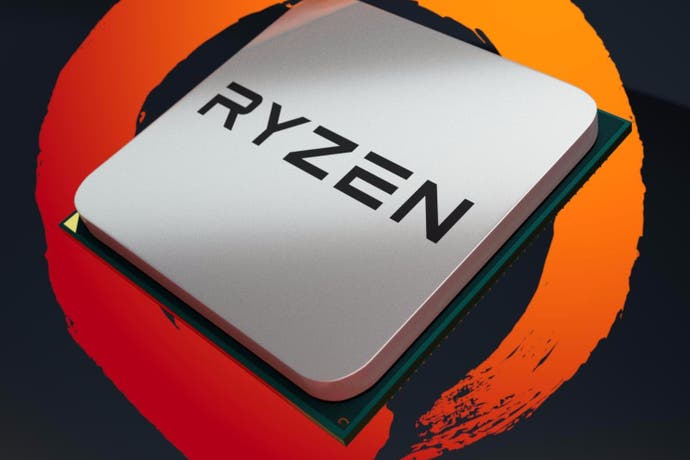 This week, we reviewed the Core i5 7600K, the latest mainstream gaming processor from Intel. The verdict? In line with every Intel Core i5 release since 2012, it's the fastest offering available in its price bracket and therefore the best buy. However, Intel has effectively had no rival for years now, leading to only small jumps in performance from one year to the next while graphics power has moved on from strength to strength. Genuine advances in CPU power are lacking to the point where Ars Technica wonders whether the desktop CPU is dead. We'd prefer to be a little more optimistic, and there are some promising signs that the processor market will get the shake-up it needs over the next 12-18 months. For starters, AMD is returning with a new 'Ryzen' CPU - and it's looking very promising.
Little has been seen of the Ryzen processors' capabilities outside of controlled demos, but the impression AMD wants to give is that an eight core, 16 thread Ryzen processor is faster than an Intel equivalent. Multi-threaded benchmarks shown by AMD have revealed a 10 per cent advantage compared to an equivalent Core i7 6900K, something we've seen recently in an on-stage demo of video encoding using x264/x265 tool, Handbrake (video embedded below). The Ryzen chip was shown running at 3.4GHz with turbo disabled, while the Intel chip was operating at its stock performance of between 3.2GHz to 3.7GHz, depending on how the workload affects its turbo state.
There are a few caveats to these demos - it would have been easy to lock the 6900K to the same 3.4GHz as the Ryzen chip for example, and it's direct IPC head-to-heads that are often most illuminating. Secondly, we have to wonder what market segment AMD is choosing for its Ryzen debut - by targeting the Core i7 6900K, it's attacking a highly lucrative market sector, the $1000 premium-price CPU. What we don't know is how much cheaper Ryzen will be, and what the timing is for taking on Intel in the mainstream gaming markets. An eight-core Ryzen chip for quad-core money seems... unlikely.
Competition in the gaming segments will come, but in the meantime, Intel still has an iron grip on this market - perhaps explaining the lack of ground-breaking innovation. However, with the arrival of its new desktop Kaby Lake processors, what we are seeing is - perhaps - the final iteration of Intel's current mainstream i3/i5/i7 load-out of dual-core and quad-core chips. Kaby Lake features higher clocks and overclocking finally hits an attainable 5GHz, but we're hitting the frequency wall and further architectural advances in the desktop space are years away - so where does Intel go next?
Recent roadmap leaks point towards a challenging time ahead for Chipzilla. 10nm chips dubbed 'Cannonlake' are coming, effectively shrinking the current processors (with tweaks) to a new 10nm process - but this appears to be limited to mobile CPUs only. The desktop chips will seemingly remain on 14nm and will retain the same Kaby Lake core - and the suggestion is that Intel will finally offer a six-core CPU solution to the mainstream market in order to provide a performance advantage over its existing parts. Prior to this, six, eight and ten core i7s have been restricted to the enthusiast market with hefty price-premiums to match.
Will a mainstream six-core CPU result in lower prices for the still-excellent dual-core and quad-core Intel processors? Quite possibly, but this will depend on how competitive Ryzen is from a performance standpoint and the price-points AMD delivers. And it's also going to depend somewhat on how eager consumers are to embrace the new products. After all, AMD's efforts in offering performance and value in the GPU market with the RX 470 and RX 480 have made little impact on Nvidia's dominance, nor the pricing of GeForce products. In the mainstream market, the power of the brand is all-important - which may explain in part why AMD's early focus seems to be on the enthusiast high-end and server markets. Establishing credentials with enthusiasts and key opinion-formers, then scaling down is a good strategy.
For Intel, moving up to six cores is the obvious solution to providing more performance when clocks can go no higher - and in theory, games should benefit. Virtually all modern games are built with current-gen consoles in mind, meaning that a new six-core i7 should offer tangible upgrade over today's quads. However, the reality is that despite widespread adoption of full multi-core support, something is holding back these chips from full utilisation - as I discovered last year when I compared the quad-core i7 6700K with the six-core 5820K and the mighty eight-core 5960X in a full-on Core i7 Face-Off.
| 1080p/Titan X Maxwell OC | i7 6700K/ 3000MHz DDR4 | i7 6700K 4.6GHz/ 3000MHz DDR4 | i7 5820K/ 3200MHz DDR4 | i7 5820K 4.6GHz/ 3200MHz DDR4 | i7 5960X/ 3200MHz DDR4 | i7 5960X 4.4GHz/ 3200MHz DDR4 |
| --- | --- | --- | --- | --- | --- | --- |
| Assassin's Creed Unity, Ultra High, FXAA | 88.4 | 89.3 | 84.2 | 84.6 | 84.4 | 84.6 |
| Crysis 3, Very High, SMAA | 124.4 | 124.7 | 119.4 | 120.8 | 124.4 | 125.5 |
| Grand Theft Auto 5, Ultra, no MSAA | 89.4 | 92.7 | 79.0 | 86.7 | 81.9 | 90.3 |
| Far Cry 4, Ultra, SMAA | 120.4 | 125.9 | 92.0 | 104.5 | 84.8 | 95.4 |
| Shadow of Mordor, Ultra, FXAA | 141.0 | 142.9 | 139.6 | 139.5 | 139.9 | 139.9 |
| The Witcher 3, Ultra, HairWorks Off, Custom AA | 105.8 | 106.4 | 103.4 | 103.4 | 103.5 | 103.8 |
The surprise result was that in only in the most well-threaded titles did the six and eight core chips perform better than the quad, and for the most part, the mainstream i7 6700K beat off the challenge of its competitors. A more modern Intel architecture (Skylake vs Haswell) combined with higher clocks proved decisive - and in titles run by one dominant core (the Far Cry engine is a great example of this), the 6700K didn't just inch-out the many-core competition, but clock-for-clock at 4.6GHz, it offered a 15 per cent advantage over a six-core i7 5820K.
The remarkable reality is that even though we're now well into the new console era, where multi-threaded game engines are the norm, performance in PC gaming is still more reliant on efficient architecture paired with high per-core frequency than it is on core count. At this point, it's fair to say that the PC's legacy underpinnings - specifically the DirectX 11 API - are perhaps more of a serious bottleneck to performance increases. This is likely to continue because DX12 - which brings multi-core optimisation to the fore - still isn't the primary target for games developers. Instead, we've only seen DX11 ports to the new API, as opposed to new engines built from the ground up for the new technology.
All of which is to say that a potential move from four to six cores for Intel will be an enthusiast crowd-pleaser, but actual performance increases in games may be fairly minimal without a profound shift in the way titles are made. It'll take time but history suggests we'll get there eventually - after all, there was a time when an Intel dual-core chip was preferable to a Core 2 Quad, a processor that proved to have a far longer lifespan overall.
However, in the short term, the continuing importance of single core performance also lays down a daunting challenge to AMD: either it matches or exceeds Intel's IPC and clocks, or it provides a better balance of price vs performance. Ideally we'd like to see both but value can be defined in many ways, of course. A standard, single-socket motherboard standard with more longevity than the Intel equivalent is a good start. The new AM4 standard is looking promising here, allowing entry-level CPU and APU users to transition to full-power performance processors - though this assumes that there's not an AM4+ coming along (something we saw with both FM2 and AM3). On top of that, CES announcements appear to confirm that all Ryzen chips will have unlocked multipliers and all but the very cheapest boards will allow for overclocking. This can only be good news, adding value beyond the stock clocks.
While games are still predominantly limited by the GPU, clearly there is an opportunity here for AMD to do well in the processor market. Many gamers are still using first and second-gen Core processors, and as we discussed last year, there are still avenues available for a cheap upgrade that offers tangible leaps in performance on these older platforms - faster memory combined with an i7 upgrade can help. But in maintaining 60fps gameplay throughout, older CPUs are starting to show their age. Meanwhile, other areas in PC hardware have become much more important, making an upgrade even more compelling: the advances made in solid-state storage are profound and wider memory bandwidth is unlocking further processor performance. To get the most out of both, a CPU and motherboard upgrade is required.
It's going to be a fascinating 12-18 months. If 2018's Coffee Lake is effectively another 14nm Skylake refresh with the frequency wall hit, where does Intel go from there? More CPU cores at the top-end will help, but what extras can Intel offer the mainstream - and to what extent can Ryzen shake things up? Where AMD intends to pitch its eight core/16 thread flagship processor will set the tone for the releases to come - and we can't wait to put it through its paces later this year.