AMD Radeon RX 480 review
Console-beating 1080p60 PC gameplay at a superb price.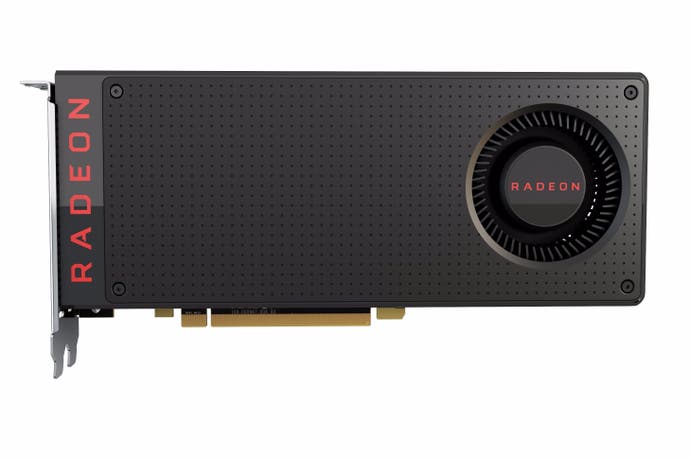 The Radeon RX 480 is a seriously impressive package. It's not the fastest graphics card on the market, but then it wasn't designed to be. AMD has targeted its Polaris technology debut at the mainstream gamer, the idea being to deliver exceptional 1080p gaming performance and VR readiness at a price that simply can't be ignored. Let's put this into perspective: Nvidia's GeForce GTX 970 is by far the most popular gaming GPU on the market today. The RX 480 is just as fast overall - if not faster - and AMD has priced it at just $199.
The card we're reviewing today comes direct from AMD and it's the reference version, based on a standard 'blower' design. We expect to see two distinct SKUs from each major add-in board manufacturer - cards with 4GB of GDDR5, and a more expensive version with 8GB of VRAM. There's a subtle distinction here between the two - opt for the more future-proofed 8GB design, and you get more bandwidth: 8gbps vs 7gbps on the lower capacity card. Core clocks are unchanged though, as are all other elements of the design.
The reference card itself is well-built, a triumph of function over form. You'll need to get a custom card if you want a more striking design, but this rather plain-looking version gets the job done admirably. One area where AMD has spent a great deal of focus is the RX 480's acoustic performance. The product is very, very quiet, although it can get a little hot. There's the sense that AMD has balanced thermals vs reduced fan noise here in favour of the latter here, a fact borne out by the blower really needing to kick in hard when overclocking. The RX 480 was a 150W TDP, and takes power using just one six-pin PCI Express connector.
In terms of the physical form-factor of the card, it's business as usual for a mainstream GPU design, with just one exception: video output port selection. The good news is that the RX 480 finally sees AMD deliver an HDMI 2.0 port, with full h.264/VP9/HEVC media decode and HDCP 2.2 support - 4K gaming may be off the table for more demanding games, but as a basis for a media PC, the 480 is fully armed and operational. On the flip-side, the DP ports are 1.3/1.4 HDR compliant, as future-proofed as they can be.
The not-so good news is that the reference card features three DisplayPort outputs when ideally, for a product aimed at the mainstream market, at least one dual-link DVI port would have made more sense. This is something we hope to see addressed by the third party board manufacturers.
But the success of this debut Polaris product is all going to come down to the performance level offered by the card. AMD promised a value-orientated product that meets the minimum VR spec set out by Oculus - putting us firmly in R9 290 territory. And that's going to be challenging, because Polaris is based on the same core GCN architecture, but only offers 36 compute units (2304 shaders) compared to the R9 290's 40 (2560). Furthermore, the older card also featured a mammoth 512-bit memory bus - this has been pared down to a more efficient 256-bit interface for the RX 480.
And on top of that, ideally we'd like to see the RX 480 go one better by providing performance up there with the more modern R9 390, which took the R9 290's design and overclocked it, and paired it with faster memory. Fast, but brutally power-hungry, the R9 390 was AMD's initial answer to the GTX 970 and in recent times, great driver updates and impressive DX12 performance have seen it power ahead of its Nvidia competitor.
Well, efficiency has been delivered but realistically, it can only go so far - titles like Assassin's Creed Unity, The Witcher 3 and The Division see the RX 480 handily beat the R9 390, but other games deliver lower frame-rates, the extent of the deficit varying. However, the news overall is good: the profile is very much along the lines of the GTX 970, with all the advantages of the DX12 performance boosts we've seen in titles like Ashes of the Singularity and Hitman.
In assessing RX 480, we've tweaked our benchmark line-up once again - Project Cars, which still has profound issues on AMD hardware is out, and Hitman's newly revised benchmark is back in, tested here in its DX12 iteration. We've tested a range of Radeon hardware here, and also included Nvidia's GTX 960 (which launched in January 2015 at the same $199 price-point as the RX 480) along with GTX 970, the current market-leading discrete video card. All cards were configured to operate at reference core and memory clocks. All titles were run from SSD on a Core i7 6700K system overclocked to 4.6GHz and running 3000MHz DDR4 system memory.
| 1920x1080 (1080p) | RX 480 | R9 380 | R9 380X | R9 390 | GTX 960 | GTX 970 |
| --- | --- | --- | --- | --- | --- | --- |
| Assassin's Creed Unity, Ultra High, FXAA | 50.8 | 35.2 | 38.3 | 48.6 | 29.8 | 51.3 |
| Ashes of the Singularity, Extreme, 0x MSAA, DX12 | 47.4 | 33.3 | 35.6 | 52.1 | 27.2 | 40.5 |
| Crysis 3, Very High, SMAA T2x | 70.1 | 50.2 | 54.9 | 75.4 | 46.4 | 72.5 |
| The Division, Ultra, SMAA | 54.8 | 37.0 | 39.3 | 49.8 | 33.8 | 50.2 |
| Far Cry Primal, Ultra, SMAA | 58.7 | 41.3 | 43.2 | 65.1 | 37.8 | 56.2 |
| Hitman, Ultra, SMAA, DX12 | 73.2 | 53.0 | 55.8 | 75.6 | 31.7 | 59.0 |
| Rise of the Tomb Raider, Ultra, SMAA, DX12 | 61.2 | 42.8 | 44.8 | 63.3 | 45.0 | 69.7 |
| The Witcher 3, Ultra, Post AA, No HairWorks | 61.2 | 42.6 | 45.5 | 55.6 | 38.9 | 60.7 |
In terms of the generational leap compared to the outgoing R9 380, we're looking at anything from a 38 per cent improvement (Hitman) to a 44 per cent jump (AC Unity) - impressive stuff. The 380X at reference clocks only adds a couple of frames to the 380's performance, perhaps explaining why models such as the Sapphire R9 380X we reviewed came with a meaty factory overclock out of the box.
Sticking to the existing $199 market sector, there's a vast gulf in performance up against GTX 960 here. Now, it's worth pointing out that our reference card here is the 2GB model, which almost certainly explains the vast increases seen in AC Unity and especially Hitman. But even factoring those results out, we're still seeing an average 56 per cent improvement in favour of the RX 480 - and that's important because after GTX 970, the GTX 960 is the most prolific discrete GPU tracked by the Steam hardware survey.
It's the battle between RX 480 and R9 390/GTX 970 that proves most fascinating though. Compared to the R9 390, we're seeing a pitched battle between efficiency and raw, brute power paired with vastly higher memory bandwidth (256GB/s vs 384GB/s). It's interesting to see AC Unity, The Division and The Witcher 3 pull ahead of the R9 390, while the older card runs Far Cry Primal and Ashes of the Singularity 10 to 11 per cent faster.
Up against GTX 970, the RX 480 once again demonstrates some seriously impressive DX12 performance in Ashes and Hitman, but falls short in Rise of the Tomb Raider. In DX11-land, the RX 480 inches ahead in most titles, though The Division is nine per cent faster. It's important to stress that outside of AMD's DX12 champions, the real life experience of using these cards is very, very similar - no bad thing when the GTX 970 remains such a strong performer overall.
| 2560x1440 (1440p) | RX 480 | R9 380 | R9 380X | R9 390 | GTX 960 | GTX 970 |
| --- | --- | --- | --- | --- | --- | --- |
| Assassin's Creed Unity, Ultra High, FXAA | 33.5 | 23.1 | 24.3 | 33.7 | 20.2 | 32.7 |
| Ashes of the Singularity, Extreme, 0x MSAA, DX12 | 41.2 | 29.3 | 31.2 | 46.2 | 21.0 | 35.9 |
| Crysis 3, Very High, SMAA T2x | 42.4 | 31.1 | 34.0 | 48.7 | 28.0 | 43.8 |
| The Division, Ultra, SMAA | 39.3 | 29.9 | 29.2 | 37.8 | 24.3 | 36.1 |
| Far Cry Primal, Ultra, SMAA | 42.0 | 30.1 | 31.5 | 46.7 | 26.0 | 39.6 |
| Hitman, Ultra, SMAA, DX12 | 54.2 | 38.2 | 41.1 | 56.8 | 23.9 | 41.5 |
| Rise of the Tomb Raider, Ultra, SMAA, DX12 | 42.2 | 30.1 | 31.6 | 44.1 | 30.0 | 46.1 |
| The Witcher 3, Ultra, Post AA, No HairWorks | 44.9 | 31.0 | 33.1 | 42.9 | 26.9 | 43.0 |
Moving up to 1440p performance, the RX 480 remains a totally viable contender, just like the R9 390 and GTX 970. However, aggressive settings management is required to maintain smooth, consistent frame-rates at this resolution. Bearing in mind that this class of card runs virtually anything you want at ultra or high settings at 1080p60 with only minor compromises, we can't help but feel that trading quality for pixels isn't the best way to use these GPUs.
However, performance-wise, the 480X continues to see off its last-gen predecessors: it's 40 per cent faster than R9 380 on aggregate with a 33 per cent uptick compared to the R9 380X. Perhaps not surprisingly bearing in mind its mammoth memory bandwidth, the R9 390 really begins to flex its muscles at this higher resolution - it's 12 per cent faster in Ashes of the Singularity, 15 per cent faster in Crysis 3 and has an 11 per cent boost in Far Cry Primal. However, the RX 480 still commands a four per cent uplift with The Division, rising to five per cent in The Witcher 3.
Rise of the Tomb Raider DX12 aside, the RX 480 manages to effectively trade punches with GTX 970 at 1440p - perhaps down to them both using a 256-bit memory interface. However, the RX 480 continues to dominate in DX12 versions of Ashes of the Singularity and Hitman. In fact, the new AMD card is only 5fps slower running at Hitman at 1440p compared to GTX 970 running the same benchmark at full HD. The jury's still out on AMD's mooted advantages with DX12, but results like this are certainly a great boost for the red team.
The bottom line is the same whether you're gaming at 1080p or 1440p - the RX 480 is effectively offering a $300-$330 performance level with a $100 discount. Put like that, it's difficult to ignore the value proposition AMD is offering here.
| 1920x1080 (1080p) | RX 480 | RX 480 OC | R9 390 | R9 380X | R9 280X | R9 270X |
| --- | --- | --- | --- | --- | --- | --- |
| Assassin's Creed Unity, Ultra High, FXAA | 50.8 | 56.1 | 48.6 | 38.3 | 40.4 | 25.6 |
| Crysis 3, Very High, SMAA T2x | 70.1 | 78.1 | 75.4 | 54.9 | 52.2 | 38.8 |
| The Division, Ultra, SMAA | 54.8 | 60.7 | 49.8 | 39.3 | 37.8 | 30.2 |
| Far Cry Primal, Ultra, SMAA | 58.7 | 63.1 | 65.1 | 43.2 | 48.9 | 36.7 |
| The Witcher 3, Ultra, Post AA, No HairWorks | 61.2 | 67.1 | 55.6 | 45.5 | 34.1 | 29.0 |
Our final round of testing serves two purposes - to compare Polaris 10 with fully enabled versions of AMD's older Tonga (380X), Tahiti (280X) and Pitcairn (270X) processors, while at the same time overclocking the 480X to see if we can indeed match or exceed the R9 390. Testing is limited to DX11 here, owing to the current lack of 'v-sync off' support in DX12 on the AMD driver on the older chips.
Using AMD's new overclocking tool, we raised the power threshold to 150 per cent, but only achieved a stable, reliable core clock increase of four per cent, taking us up to 1315MHz. However, the 8gbps GDDR5 modules overclocked nicely to 8.8gbps with no problem whatsoever. Far Cry Primal posted a low 7.5 per cent increase, but the other games averaged a 10.5 per cent boost. We wouldn't recommend pushing Polaris 10 to the max on the reference card - it required fans speeds that compromised the RX 480's excellent acoustics. Serious overclocking is perhaps best reserved for partner cards with far meatier cooling solutions.
The core clock increase of just four per cent is interesting bearing in mind the larger increases overall. The fact is that with our review card at least, our RX 480 sample doesn't always reach its max 1266MHz during gaming, often levelling out at 1190-1230MHz. The overclock seems to overcome that limitation and then gives you the additional OC on top of the max 1266MHz stock boost clock. Regardless, the end result is that the R9 390 is still faster in Far Cry Primal, but the 480 pulls ahead in our other DX11 test games.
At 1080p, the differentials in comparing Polaris 10 with previous generation processors sees the 480 post a 34 per cent increase over R9 380X, rising to 44 per cent with the older Tahiti-based 280X. And finally, there's a mammoth 86 per cent boost over the R9 270X. The latter measurement is fascinating. The slice of silicon used for Polaris 10 at 14nm is very similarly sized to the 28nm Pitcairn found in 270X. Polaris is running around 150-200MHz faster depending on the title, but regardless, an aggregate 86 per cent increase in performance from the same area of silicon is a great result. And the comparison is even more fascinating as the 480 utilises a fully unlocked version of Polaris 10 - the design itself is limited to 36 CUs, so prior speculation of a potential 40 CU 480X won't come to pass.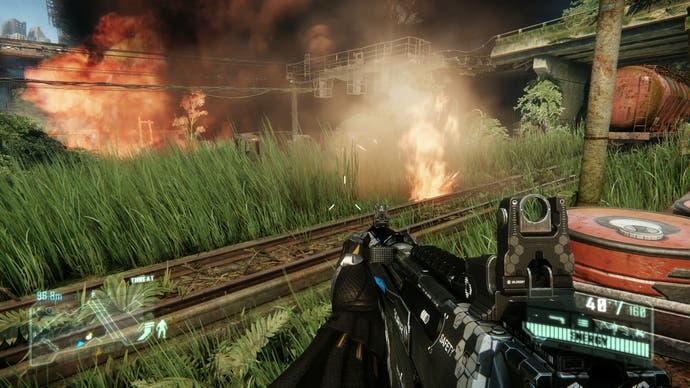 | | RX 480 | RX 480 OC | R9 390 | GTX 970 | GTX 1070 |
| --- | --- | --- | --- | --- | --- |
| Peak System Power Draw | 271W | 315W | 437W | 295W | 263W |
We test peak power draw from our test system by disabling the Core i7 overclock on our test system, then manoeuvring to the end of the Welcome to the Jungle stage in Crysis 3, running the game maxed at 2560x1440 resolution. The scene pictured above places an high sustained load on the graphics core, causing a big, sustained spike in power consumption. We like to use this scene not just for ascertaining the amount of juice taken from the wall in extreme conditions, but also for locking down stability on GPU overclocking. We should stress that typical power consumption will be lower.
The RX 480 offers a touch more power efficiency than the GTX 970 here (offset a little by its slightly lower performance) while offering a colossal 166W reduction in consumption compared to the R9 390. It's a creditable enough showing from AMD, but it is put into shade somewhat by the phenomenal result of the GTX 1070 - it's in an altogether different league in terms of performance and yet it offers the same ballpark consumption as the RX 480. This is perhaps not surprising bearing in mind that both cards are based on a 150W TDP.
Overclocking-wise, pushing Polaris 10 hard results in a notable increase in power draw, and based on the performance returns we got, it strongly suggests that AMD has chosen a very nice balance between power efficiency and performance at reference clocks. We'll be really interested to see what partner cards bring to the table here. On a more general level, as things stand, there are some concerns with the advantages AMD has managed to extract from 14nm FinFET technology - clocks are much lower than rival Nvidia parts, and gaming performance per watt is closer to the green team's 28nm Maxwell technology than the latest 16nmFF Pascal. We'll be interested to see how other the Polaris parts and the forthcoming Vega leverage the new chip manufacturing process.
AMD Radeon RX 480 - the Digital Foundry verdict
The benchmarks speak for themselves, but what we haven't really talked about is the actual experience of using the RX 480. What it offers is exactly the kind of experience that we loved about the R9 390 and the GTX 970 - the ability to take the games we enjoyed on console and just get a much better experience playing them on PC.
Take Grand Theft Auto 5, for example - it's capped at 30fps on PS4 and Xbox One, like a great many other titles. The RX 480 paired with a modestly priced Core i5 6500 and cheap 2133MHz RAM sees it running at 1080p60 with improved image quality. Star Wars Battlefront? Ramp everything up to ultra and once again you're locked at 1080p60 - a nice upgrade from the lower quality and 900p resolution found on PS4. The Witcher 3? Set everything to high, turn off HairWorks and once again you're gaming at 1080p60. In a world where the consoles set the baseline, it's the PC that takes those games to the next level. What's brilliant about the RX 480 is that buying into this excellent experience is now $100-$130 cheaper than it was.
And by extension, you still get good 1440p performance and yes, AMD has delivered the most cost-effective GPU for a premium VR experience. That's a key sell for the red team, but in a world where the headsets are so hugely expensive, we're not sure it's the most compelling use-case scenario for this product. This is for the players - which may also explain why the same GPU technology, albeit downclocked, is almost certainly set to feature in the upcoming PlayStation Neo...