Panasonic Eluga dL1 Review
Don't call it a comeback: Digital Foundry on the Japanese veteran's attempt to muscle in on the Android market.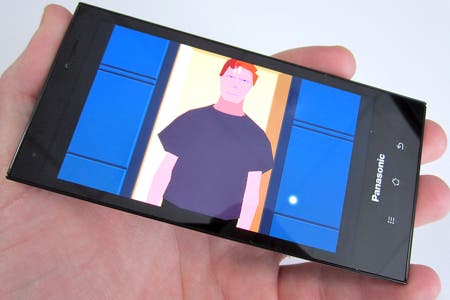 Despite posting dismal financial figures and laying off thousands of workers, Panasonic - otherwise known as Matsushita - remains one of the world's biggest manufacturers of electronic consumer goods. In its native Japan, the firm is a key player in the world of mobile telephony, but in the west it hasn't enjoyed a major handset launch in years.
That's all set to change. The Panasonic Eluga dL1 is the company's first stab at cracking the burgeoning smartphone market in the west, and it should come as no surprise whatsoever to learn that it runs Google's immensely popular Android operating system. It marks the birth of the Eluga brand (which stands for 'ELegant, User-orientated GatewAy', in case you were wondering), which Panasonic evidently hopes can secure it a slice of what is becoming a particularly lucrative pie.
Panasonic is clearly aiming to make a big impression with this phone, and on pure aesthetics alone, it has undoubtedly succeeded. At just 7.8mm, the Eluga feels impossibly thin, especially when you consider the large screen size of 4.3 inches - almost a full inch bigger than the display on the iPhone 4S. Despite its svelte nature and the overzealous use of plastic for the casing, the phone isn't flimsy or cheap. It possesses a solid, robust construction, something which can probably be attributed to the lack of a removable battery and the super-tough IP57 certification.
For reasons which may never become apparent, Panasonic has opted to make the Eluga water- and dust-proof. This kind of protection usually only comes on phones which are expressly aimed at outdoor types - handsets like the chubby Motorola Defy and the ludicrously-sized JCB Toughphone Pro-Smart. Seeing a fashionable device boast such a high level of resistance to the elements is something of a shock - albeit a welcome one. The Eluga can be submerged in one metre of water for around half an hour, and is completely splash-proof.
As pleasing as the design is, there are some drawbacks. The placement of the volume and power buttons is frustratingly awkward; instead of locating them on the top edge, Panasonic has positioned them on the right-hand side of the phone's rear. Pressing them requires you to slightly release your grip on the phone itself, which could prove costly if you're particularly butter-fingered. At least the waterproof element of its design means that no harm will come to the Eluga if you happen to drop it down the toilet whilst trying to ham-fistedly mash the volume controls.
Dual Core Power But Pathetic Internal Storage
As a general rule, any Android phone which seeks to position itself as a mid-to-front-running challenger these days needs to have a dual core CPU under the bonnet at the very least. Mercifully, Panasonic got this bit right. The 1GHz dual core processor ensures that the Eluga is able to mix it up with the likes of the Sony Xperia S and HTC One S in terms of raw power. There's also 1GB of RAM to improve usability and enrich multi-tasking, too.
Despite the presence of the dual core chip, there are aspects of the Eluga's basic performance which remain curiously muted. Navigating around the phone's user interface is a jerky process, even when you have very few live widgets in place and are using a static wallpaper as opposed to a processor-intensive 'live' animated one. We can only attribute this to Panasonic's personalised Android 'skin', because there's little reason for Android 2.3 to chug along in such a fashion when dual core power is in play. It's also interesting to note that in Quadrant and AnTuTu benchmark tests Panasonic's phone ranks quite low - much lower than the actual real-world performance suggests, in fact.
"Benchmarks from the OMAP 4430 chip inside the Eluga rank rather low - significantly lower than real-world performance might suggest."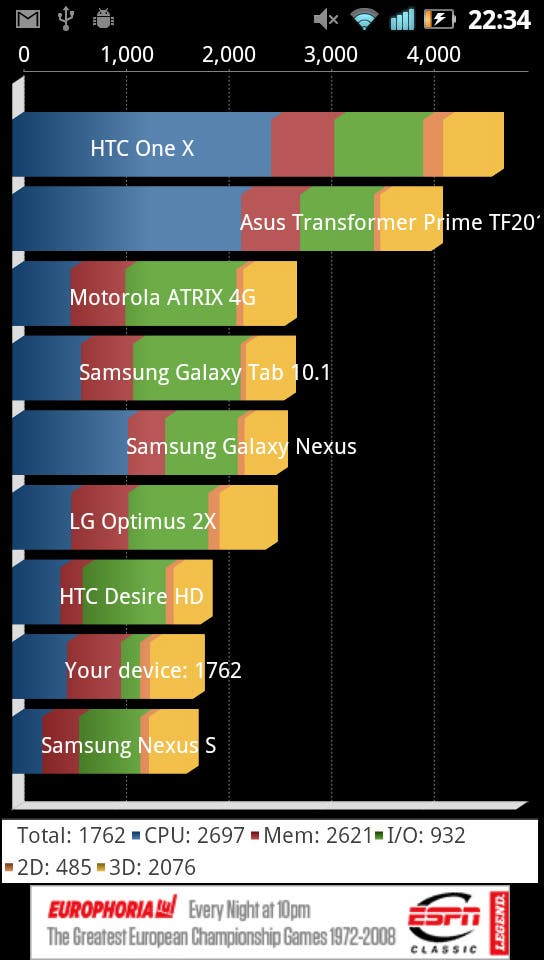 A rather more worrying issue relates to internal storage; the Eluga comes with 8GB of built-in flash memory, of which just over 4GB is available to the user. There's no expansion slot either, so you can't boost that figure using cheap MicroSD media.
In terms of application storage, you're looking at around 1.4GB in total, although that figure is slightly misleading as you're able to push a percentage of app data to the main memory. Even so, Google's reluctance to permit users to exploit all of their phone's storage space - as is the case with Apple's iOS devices - continues to be somewhat puzzling. Although the Galaxy Nexus recently bucked this trend, there's little sign of it being carried across to other new Android handsets.
Screen and OS Disappointments
With a resolution of 960×540 pixels, the Eluga is lagging behind the very best the Android market has to offer at this moment in time. On the plus side, Panasonic has wisely decided on an AMOLED panel, which affords bold, bright colours. Granted, the colours don't always seem as natural as they should - mild pinks become harsh reds in some photos, and there's a yellow tint to the display - but the deep blacks just about make up for this.
Sadly, the Eluga's screen uses a PenTile pixel arrangement, which results in a speckled effect on lines and text. Other Android phones also use this system, and as screen resolutions creep slowly upwards this shortcoming is less noticeable. However, on the Eluga, the lack of a HD screen means you'll have to endure slightly fuzzy visuals.
"The Eluga's PenTile screen arrangement results in a speckled effect on lines and text. Fine for HD screens, not so good for the 540x960 resolution of this particular display."
Also, it's hard to not be disappointed when a top-tier Android device is released sans Ice Cream Sandwich. While Android 2.3 is perfectly capable of running pretty much every application and game on the market, it's missing some of the creature comforts afforded by Google's very latest software.
Panasonic has carried out a pretty drastic reskin of the standard Android UI, with a different lock screen and an entirely new app drawer layout. While the former is interesting (it can determine if you're left- or right-handed by taking note of which direction you swipe your finger to unlock the screen), the latter feels like a regression. This is largely down to the fact that it divides up your apps into pre-installed and downloaded categories, rather than giving you a complete picture of everything you currently have on the device. It also has to be said that Panasonic's software doesn't come close to matching the beauty of its hardware; the UI is dull and uninspired.
More bad news comes in the form of performance issues, such as crashing apps and unresponsive touch-screen controls. Worryingly, we noticed that at one point the phone refused to respond to input on the lock-screen, meaning we couldn't actually do anything. A reboot solved the problem, but it hardly engenders confidence.
Gaming Credentials and Battery Life
The Eluga's dual core CPU and large 4.3-inch AMOLED display provide the perfect tools for mobile gaming; despite those below-par benchmark scores, the processor appears swift enough to run both 2D and 3D titles with assured grace, while that large edge-to-edge screen offers plenty of real estate for your portable play sessions.
It's by no means at the front of the pack, however; with Qualcomm's Snapdragon S4 and NVIDIA's Tegra 3 offering higher-quality visuals on mobile devices, the Eluga's workmanlike Texus Instruments OMAP 4430 chip isn't really in the same league. If you simply intend to play titles like Angry Birds and Draw Something then you'll never notice the lack of graphical muscle, but venture into more demanding waters and you'll see the difference. The lack of HDMI-out also limits the Eluga's potential as a console replacement, as there's no way of mirroring gameplay on your HDTV.
"The PowerVR graphics core in the Eluga isn't exactly future-proof - the A5 chip in the iPhone 4S comprehensively bests its performance."
The ever-increasing demands of smartphone tech have led many manufacturers to resort to large capacity batteries just to keep their devices ticking over for a full day. With some dual and quad core handsets now sporting power cells of 2000mAh or more, it's something of a shock to realise that the Eluga is equipped with a 11150mAh variant. It doesn't take a maths genius to surmise that less capacity equals lower stamina; in the case of this device, the battery life is pitiful.
Even with moderate use, the Eluga struggled to make it through a day during our review. Panasonic is clearly aware that the battery isn't up the task, as it has pre-loaded a unique power-saving app called Eco-Mode which allows you to regulate the phone's functionality depending on how much juice remains in the tank.
This app is a must if you want the Eluga to last as long as possible; increased staying power is achieved by dimming the screen (and thereby sadly robbing it of its vibrancy), disabling auto-sync for apps and switching off services such as Bluetooth and WiFi when the battery level drops below a certain point. Because the Eluga lacks a user-serviceable battery, there's no way to upgrade the power cell inside the device, so dismal stamina is going to be a lifelong problem for potential purchasers.
Camera Quality
Given the high standard of Panasonic's Lumix digital camera range, it's not totally unreasonable to expect the company's mobile phones to feature decent image capture qualities. The 8-megapixel snapper seen on the Eluga is capable of taking detailed and colourful images, although the resultant file sizes when shooting at the highest resolution are somewhat on the large side - something that could prove to be an issue when you consider the phone's small amount of internal memory. Panasonic is clearly aware of this problem, as the camera defaults to 2-megapixel resolution whenever the phone is rebooted.
While the Eluga is great for taking pictures in bright, natural light, the bizarre lack of an LED flash means that shooting indoors or in dim conditions is practically impossible. HD recording also makes the cut, albeit in 720p rather than 1080p format. The quality is excellent providing you're in a well-lit environment, but with just 4GB of memory to play with, you're unlikely to create too many home movies with this thing.
"While the Eluga is great for taking pictures in bright, natural light, the bizarre lack of an LED flash means that shooting indoors or in dim conditions is practically impossible. HD video is limited to 720p res."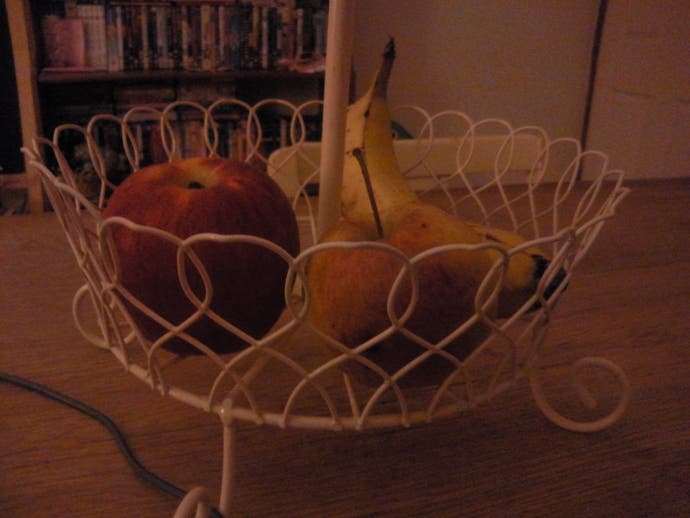 Panasonic Eluga dL1: The Digital Foundry Verdict
Like catching up with an old friend after an extended period of absence, there's something heart-warming about seeing Panasonic enter the smartphone arena in this part of the world. Competition is always a positive thing in any marketplace, and if Panasonic's presence can keep established rivals such as Sony, Motorola and Samsung on their toes, its arrival is something to be applauded.
"Panasonic has made some unforgivable rookie errors with the Eluga dL1... the older OS, poor unexpandable storage and unimpressive battery life are deeply disappointing."
However, despite the fact that it already has years of experience in the Japanese mobile arena, Panasonic has made some unforgivable rookie errors with the Eluga dL1. Yes, the phone looks amazing, but the pitiful internal storage and lack of expandability means that it's going to be woefully ill-suited to those who like downloading lots of applications, games, songs and videos to their handset. Battery stamina is another irksome niggle - whoever it was at Panasonic that decided that a 11150mAh cell would be enough to keep a dual core phone ticking over needs appears to have no concept of how mobile phones are used in the real world.
You also have to question the wisdom of launching a top-range Android phone in 2012 without the latest Ice Cream Sandwich OS; Panasonic has promised that an update is forthcoming, but with so many rival devices already sporting 4.0 out of the box, taking a chance on a 2.3 phone is not what you'd call intelligent practice. It's hardly as if these shortcomings can be brushed aside due to a low price point, as the Eluga retails SIM-free for around £350 - only slightly cheaper than the more impressive HTC One S and £100 cheaper than the far superior quad core HTC One X.
While the Eluga isn't a complete disaster - few phones can boast a sleek design, colourful screen and water-resistant casing all in a single package - it would be prudent to wait a little longer for the Eluga Power, which promises Android 4.0, a larger HD-quality display and a more capable 1.5GHz dual core Snapdragon S4 processor.
Thanks to Expansys for providing the handset used in this review.