Huawei Media Pad Review
Inspired by Apple, powered by Google.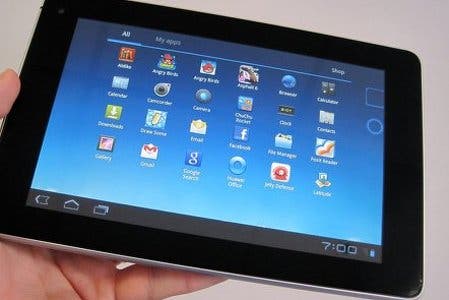 While Google and its hardware partners have been incredibly successful with their range of Android-based smartphones, the same cannot be said for tablets. Apple's iPad remains the dominant force in a sector it did much to popularise and despite some high-profile challengers - including the Motorola Xoom and Asus Transformer - that situation shows little signs of changing.
However, one Android-based tablet has done better than most. Online retailer Amazon launched its 7-inch Kindle Fire back in September 2011 and it has since gone on to sell around 6 million units, making it the best-selling Android slate yet. Astonishingly, it remains a US-exclusive at the time of writing, with no solid confirmation of a UK release as yet.
Naturally, in the wild and wonderful world of Android, there are always alternatives. The Huawei MediaPad boasts the same general dimensions as the super-portable Kindle Fire, but is running Android 3.2 (the Fire is packing 2.3) and - most importantly - is available in Great Britain. With the 7-inch tablet sector set to expand over the next twelve months amid rumours that Apple is prepping a smaller iPad, does this attractive device from the Far East warrant investigation? We're going to find out.
Are 7-Inch Tablets 'DOA'...?
Even if Apple sticks to Steve Jobs' famous prediction that 7-inch tablets are 'DOA', the Huawei MediaPad presents a surprising option for those who crave a super-portable slate but still value gorgeous product design. Fashioned from a single piece of aluminium, it looks every inch a Cupertino product. The top edge of the MediaPad calls to mind the Apple iPhone 4S, and the rounded corners practically scream 'iPad'. It's a slavish retread of existing products, but that matters little - the MediaPad is hands-down one of the best looking Android tablets available.
Around the back, you'll discover two triangular plastic sections, one of which can be removed to reveal the microSD card and SIM card slots. The MediaPad is capable of 3G wireless connectivity, making it a truly mobile device - something that many Android-packing rivals cannot boast. With a SIM installed, you can even make voice calls (using an applicable headset) and send text messages.
Although technically the MediaPad has the same resolution as 10-inch tablets like the Xoom 2 and Asus Transformer Prime, elements of the Android Honeycomb user interface have been altered to make it easier to make selections with your finger. Interestingly, users are given the option to switch to a high resolution mode, which simply shrinks down on-screen items to give the impression of enhanced detail. With a pixel density of 216ppi, the MediaPad can just about get away with this increased resolution, but it comes at the expense of overall performance and not all apps benefit from the extra detail.
The screen itself uses Super IPS LCD technology, and presents a rich and vibrant picture. One thing we did notice was that the performance of the capacitive panel was rather sluggish; some taps went entirely unnoticed, which is unusual for a display of this type.
Snappy Performance From a Dual Core Snapdragon CPU
Although the MediaPad cannot hope to compete with the quad core Asus Transformer Prime, its 1.2GHz dual core Qualcomm chipset is comparable with other 7-inch slates. You'll also find 1GB of RAM contained within, to assist with all that complex multi-tasking and 3D gaming. That's the same amount of memory as the new, third generation iPad.
As usual, we put the MediaPad through our usual benchmark tests. AnTuTu pegged the tablet just below dual core devices such as the Galaxy Note and Galaxy Nexus, and well behind the current king of the Android crop, the aforementioned Transformer Prime. Quadrant Benchmark told a slightly different story, placing Huawei's slate above the Galaxy Nexus, but below the Samsung Galaxy Tab 10.1. The Vellamo Benchmark - which tests mobile web prowess - again places the MediaPad below the Galaxy Nexus, but above the Galaxy Tab.
"The Huawei MediaPad presents a surprising but welcome option for those who crave a super-portable slate but still value gorgeous product design."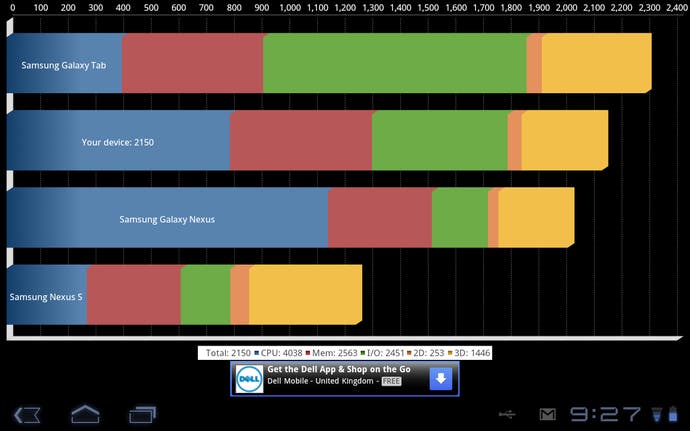 Regardless of the slight disparity shown in the tests, it's clear that the MediaPad is a very capable piece of tech. Android 3.2 still stutters and jerks on occasion, but no more so than normal. 2D titles like Angry Birds Space run smoothly, and more processor-intensive 3D outings like Gameloft's Let's Golf 2 (which comes pre-loaded) run equally well.
It's not known if Huawei has any plans to upgrade this slate to the latest iteration of Android, Ice Cream Sandwich, which could prove to be a costly mistake. Most other recent tablets running the Google OS are making the jump at some point in 2012.
Imaging, Media and Battery Stamina
While the notion of using a tablet to take photographs seems ill-conceived, the quality of the MediaPad's 5-megapixel snapper nevertheless comes as a disappointment. There's no LED flash for low-light shooting, and images suffer from compression issues and graininess. The 720p HD video recording provides little to write home about either.
Another concern is the low amount of internal flash storage available. Just 8GB is included as standard, which falls well below the typical 16 to 32GB that other Android tablets offer. The opportunity to bolster this figure with microSD cards softens the blow a little, but anyone wishing to use the MediaPad as a portable media player out of the box may find their cinematic aspirations hampered by lack of space.
The MediaPad's 4100 mAh battery is naturally much larger in capacity than ones seen on mobile phones, but its staying power leaves a little to be desired. On standby you can expect it to last around a week - providing you don't touch it at all. As soon as you begin to engage in activities such as watching movies, listening to music, surfing the web or playing a complex 3D game, the battery level heads south in dramatic fashion.
Expect around five hours per charge based on moderate usage - perhaps a little more if you drop the screen brightness down to conserve power. Annoyingly, the MediaPad doesn't charge via a microUSB connection, which means you'll need to have the bundled power supply handy if you intend to make any long trips away from home.
"The MediaPad's 4100 mAh battery is larger in capacity than ones seen in mobile phones, but its staying power leaves a little to be desired. Expect around five hours per charge based on moderate usage."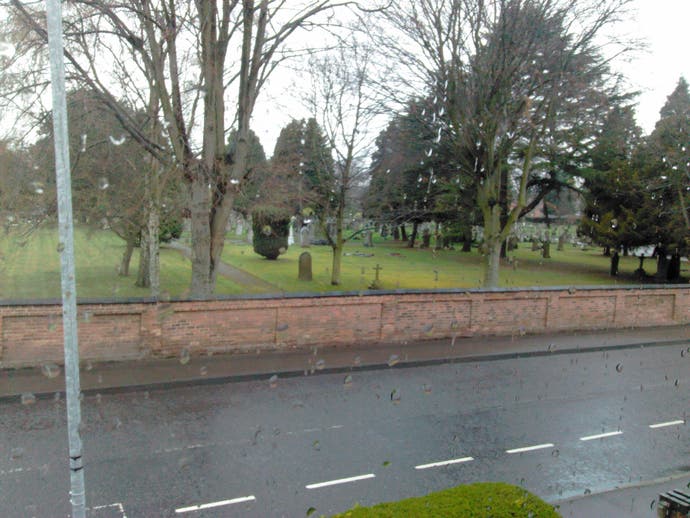 Gaming on the Go: More Mobile Than iPad?
As much as we love the New iPad's pin-sharp retina display, its size makes it difficult to carry around unless you've got a bag handy. That's always been the most tangible benefit of 7-inch slates; although they are still a far cry from being pocket-sized, they're a touch more portable than their larger-screen relatives. We dare say this is also one of the many reasons that the Kindle Fire has sold so well in the States; like its e-Reader forerunner, the Fire is the kind of tech you can effortlessly carry about your person.
Increased mobility brings with its improved accessibility. While you may think twice about taking a 10-inch tablet on a business trip, a book-sized alternative like the MediaPad could potentially become a must-have travelling companion. Not only does Huawei's device allow you to do all you'd expect - read books, browse the web and watch movies - it also serves as a fine mobile gaming platform.
That Super IPS screen makes games look especially lush and viewing angles are rock-solid, which means you won't be presented with contrast, colour and brightness issues when tilting the device in your hands during play. Add to this the ability to slot in a 3G card and escape the endless quest for open WiFi spots, and you begin to see why 7-inch slates are beginning to catch Apple's attention.
Huawei MediaPad: The Digital Foundry Verdict
"At £300, the MediaPad is too expensive. Should the price shift towards the £200-£250 mark, it will become easier to recommend - especially to those who crave a more mobile tablet experience."
There's clearly a gap in the market for a low-cost 7-inch tablet - the success of the Amazon Kindle has proven that fact beyond any reasonable doubt. With Amazon still undecided on when to unleash its best-selling device outside of the US, Huawei's MediaPad is in a strong position to soak up potential buyers.
The brand name is a stumbling block, but not one that is totally insurmountable. Huawei may be better known for low-cost Android handsets such as the Blaze, but the MediaPad is a quality piece of engineering and design. It looks great, feels solid and performs well for a slate of this size. Only a few niggles with screen responsiveness sully the positive impression.
By far the most prickly problem Huawei faces is pricing; at the time of writing, the MediaPad is being sold in the UK for around £300. When you consider that the iPad 2 has recently been reduced to £330 - and boasts a larger screen and superior app and game support - it's an incredibly tough sell. Should the MediaPad's price shift towards the £200-£250 mark, it will become easier to recommend - especially to those who crave a more mobile tablet experience.