But Darwinia isn't a shooter. Nor is it an RTS, though the poor pathfinding of the Darwinians remains a minor annoyance. Does it really matter that they're still incapable of making their way around the smallest inlet, if their path ventures a few pixels over it? Should we be cross at the way they can disperse into useless disparate groups, or ignore officer directions unless they're really close by? Arguably not, but it doesn't exactly streamline the gameplay either. Almost five years after the game first appeared, it's the kind of marginal yet persistent issue you'd hope would have been polished up.
That these hiccups provoke only fleeting grumbles says much about how well Introversion has honed and balanced its gameworld in other areas. New abilities are introduced at just the right time, either through research crates within the levels or via a passive research menu that steadily improves various stats from the number of units you can have active at any time, through to the effectiveness of your attacks.
Each level is a discrete challenge in and of itself, but plays into a larger virtual ecosystem that is compellingly fleshed out the deeper you play. The virus behaves like an actual virus, for example. Get sloppy with your squad, miss just one tiny piece, and the map can quickly refill with red monstrosities while you're busy elsewhere, each virus creature able to replicate more of the other viral forms, a tesseract of ruthless survival that tests your ability to clean house efficiently.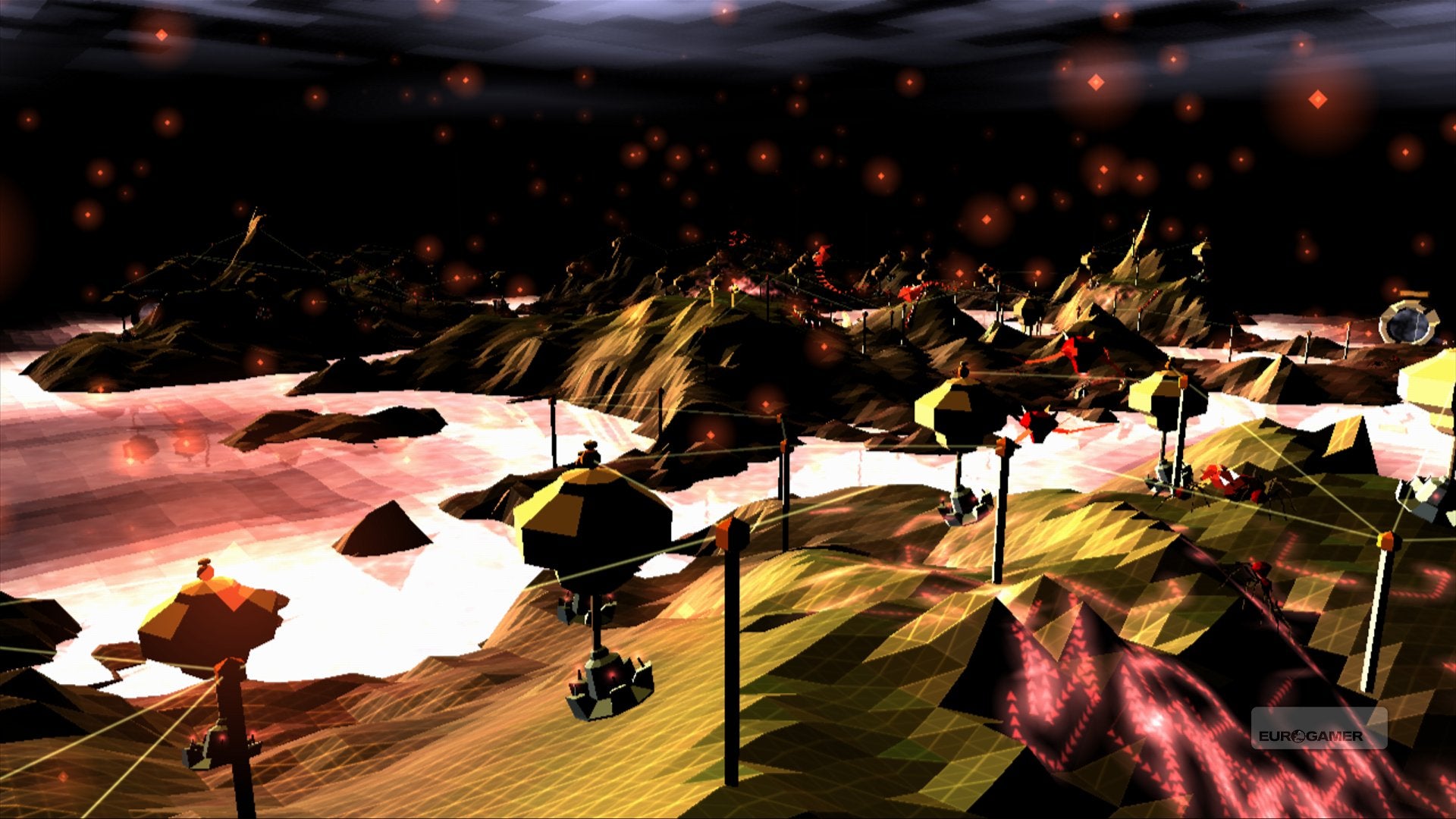 Darwinia is only half the story, however, and the online battle mode Multiwinia is hampered more by the move to consoles than its sibling title. Once again it's the exact same package as on the PC - the same game modes, the same maps - but while the joypad is surprisingly adept at handling most of what the single-player campaign throws at you, it's not as good at keeping up with the blistering skirmish pace of multiplayer.
Released as a low-priced standalone title on the PC, where Multiwinia succeeds is in its addictively paced take on RTS warfare. Matches are short and savage, with few lasting more than 15 minutes. Those lengthy standoffs that blight more typical strategy games in the online space are nimbly avoided.
The connection between the two halves is more visual than conceptual. It's all combat, all the time, and elements from the single-player are remixed as bonuses and hazards for online play, with viral creatures that were once the bane of your existence now available as weapons with which to batter rival Darwinian tribes.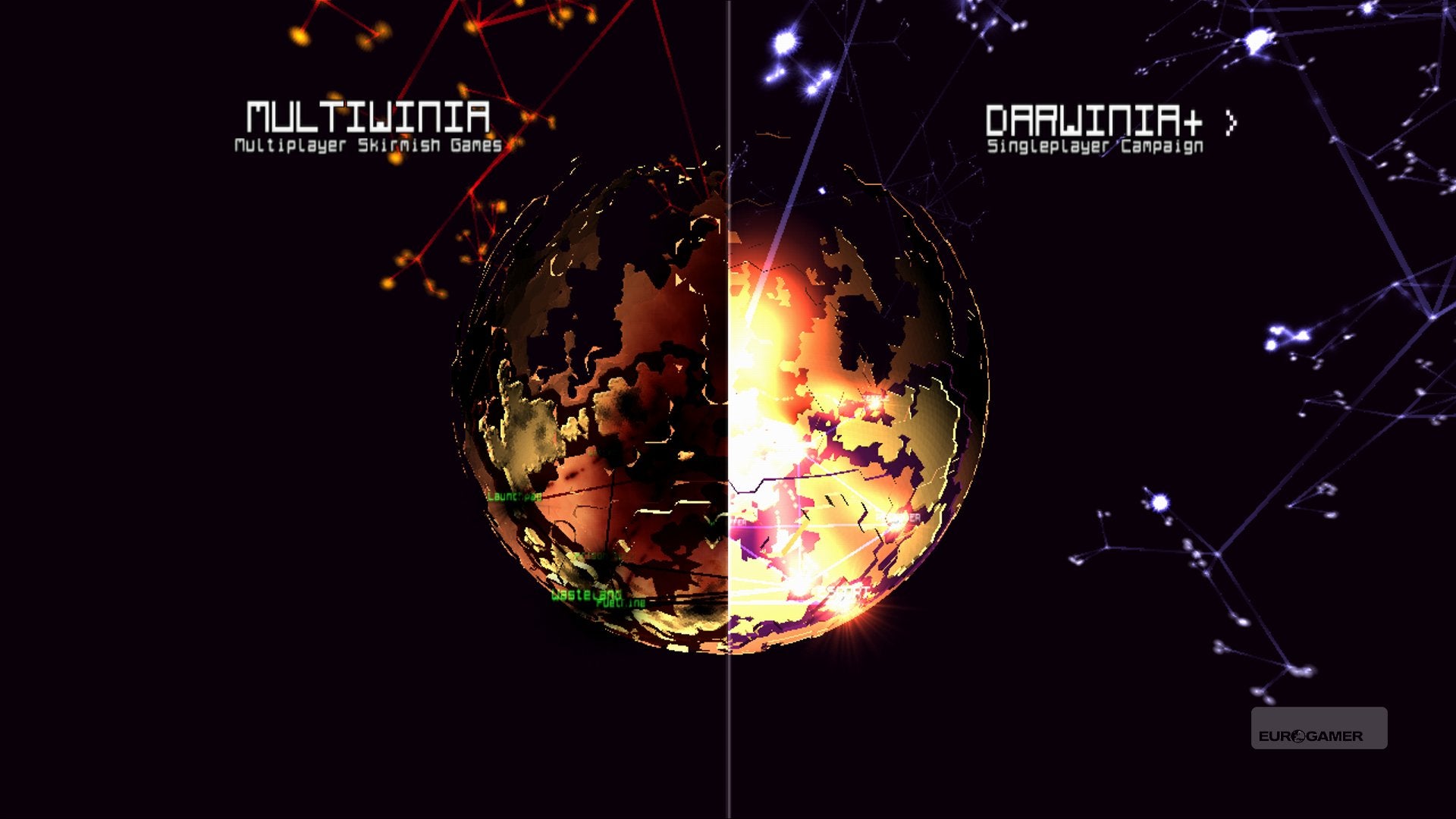 It's still brutally difficult though. While solo play gives you time to stop and take stock, planning your next move, there are no such luxuries in these tightly timed assaults. Enemies swell and swarm from all sides, and the constant need to group and direct platoons of Darwinians in multiple directions quickly proves wearying. There's no shortage of smart ideas at play, it just takes a patient soul to get past the overwhelming odds to appreciate them.
Those who already enjoyed Darwinia and Multiwinia on the PC won't find anything new here to justify a 1200 Microsoft Points purchase. These are the exact same games with a mostly agreeable interface upgrade for the console crowd. Multiwinia is the very definition of an acquired taste, so there's little doubt that it's the single-player campaign, with its oddball mix of arcade, strategy and adventure influences, that provides the most compelling bait for newcomers.
Introversion's strange brew has stood the test of time, despite a few lingering minor complaints, and after a troubled gestation has crossed the mouse-to-joypad divide with its unmistakable personality intact. Innovative, unique and utterly charming in its self-contained universe, it comes highly recommended to open-minded 360 owners.
Will you support Eurogamer?
We want to make Eurogamer better, and that means better for our readers - not for algorithms. You can help! Become a supporter of Eurogamer and you can view the site completely ad-free, as well as gaining exclusive access to articles, podcasts and conversations that will bring you closer to the team, the stories, and the games we all love. Subscriptions start at £3.99 / $4.99 per month.