Blue Dragon Plus
More than its sum?
The combat is fast-paced and enjoyable and, because you're controlling a small clutch of named characters rather than vast anonymous squadrons, you care about each unit's fate more than you might in a fully-fledged RTS where your vehicles and soldiers are often dispensable. All of the Blue Dragon cast make a return to the game, with the story centring around the robot Szabo who, at the start of the game, has his steampunk heart literally ripped from his bronze chest and joins the ranks of Nene as a result, the purplish Yoda figure who provides the mythology's antagonist.
Each member of your squadron behaves in a different way and so must be thoughtfully used in play. For example, King Jibral enjoys high defence and sky-high HP, so is useful for drawing enemy attacks, acting as a decoy to allow the strong units with lower defence to flank opponents. Grandpa Fashira, who players of the first game will remember as Talta village's blacksmith and Shu's guardian, has high physical attack and can cast spells to beef up his skills and those of characters around him but suffers from low defence. Kluke enjoys powerful magical attacks, crucial for defeating ghoulish enemies who lack physical properties, but will need to be chaperoned around levels by a healer or protector.
The mix of these character types and attributes introduces complexity to the game from the very first battle and much of the challenge comes from managing units as enemy threats move and respond around them. However, the sprites are small and, while detailed, can be difficult to distinguish from one another in the heat of battle. Too often I found myself fumbling around in search of the healing character, especially when the numbers of units started to ramp up.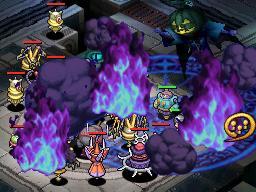 Structurally the game is straightforward, mission-follows-cutscene-follows-mission, without much room to explore in between, save for equipping units and managing the vast array of different skills available to each. Mission completion is generously awarded by experience points, which seemingly levelled up the entire roster of characters after each and every fight. This hearty rewarding of effort certainly helps you to feel quickly invested in the game but it's hard to get a sense of value with such large statistical increases flying around from such an early stage.
Of course, the game suffers from some of the same issues that hurt its predecessor, namely the overblown dialogue, heavy-handed moralising ("Running away isn't always bad, especially if it's to protect those you love"). There's very little narrative cushioning, Sakaguchi and his scriptwriters expecting players to have a full handle on the characters and their idiosyncrasies from first touch. But underneath this topsoil grows an interesting strategy RPG, one whose focus on combat over economy is, from what we've seen, both unusual and compelling.
Blue Dragon Plus is due out for DS in March.
Will you support Eurogamer?
We want to make Eurogamer better, and that means better for our readers - not for algorithms. You can help! Become a supporter of Eurogamer and you can view the site completely ad-free, as well as gaining exclusive access to articles, podcasts and conversations that will bring you closer to the team, the stories, and the games we all love. Subscriptions start at £3.99 / $4.99 per month.