App of the Day: Score! Classic Goals
Back of the net.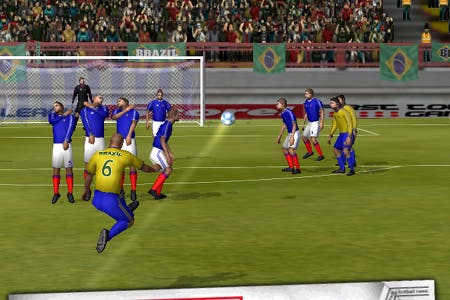 "Football, bloody hell." There's probably never been a truer, more eloquent summary of the beautiful game than that given by a beaming, breathless Alex Ferguson after his side's last-gasp Champions League victory against Bayern Munich. Those three words perfectly encapsulate a sport both vainglorious and just plain glorious, a game that can swing from abject tedium to high drama in seconds.
It's a delicious irony that perhaps the acme of Ferguson's statement should end up condemning his side to a trophyless season in what may have been the craziest English top-division campaign to date. Fitting, then, that a game almost as maddening and wonderful as the real thing should land on the App Store just as Martin Tyler's feral roar of "AGÜEROOOOOO!!" finishes reverberating around the Etihad.
Score! Classic Goals is essentially a line-drawing game with a football theme. The objective is to recreate famous strikes from international matches by hitting passes and shots with the right strength and direction, with power an additional consideration when you reach Professional mode.
There's a wide variety of goals, from intricate passing moves like Argentina's gorgeous third against Greece in USA '94, to long-range strikes like Roberto Carlos's impossible banana kick in Le Tournoi. There's also an overhead view which shows the intended trajectory of each pass or shot, and it's your job to follow it as accurately as possible to get a three-star rating.
Trouble is, that's not always easy. Trying to follow the path on the top-down view can often end in failure, and there's little to no feedback to determine why a keeper might palm away one shot and let the next fly past him. Similarly, you can pull off a perfect raking cross-field ball, only to be told your pass was just 'OK' rather than 'EXCELLENT'.
The AI can seem inconsistent, too: on more than one occasion I've hit a 'GOOD' ball, only for my team-mate to be tackled while taking on the defender. Some goals are more problematic than others: Manuel Negrete's golazo against Bulgaria in '86 is a particularly tricky beast, with Negrete often refusing to launch his stocky frame into the air to meet my seemingly perfect square ball. Elsewhere, this can lead to amusing moments as your lazy wingers refuse to chase balls played mere feet in front of them even with no defenders in the vicinity.
Still, you're never far away from a moment of magic that makes the frustration melt away. That frisson of a perfect recreation is particularly keen if you remember the strike, and with 80 goals across four decades of football, there's bound to be a few that bring back memories.
All you're given here is the date and the teams, but some of these goals will instantly take you back to the time and place, whether it's Gerrard's arrowing 25-yarder to put England 2-1 up against Germany in Munich or Tomas Brolin finishing off a wonderful team goal for Sweden in '92. Everyone will have their personal favourites: mine is the late goal scored by the Netherlands against Argentina in the Stade Vélodrome. If only there was a piece of commentary to help identify the scorer...
While Score! lets its goals speak for themselves, I can't help but imagine how great this could be if EA Sports threw a wad of money at First Touch Games to develop an officially licensed version using the FIFA engine, with each goal accompanied by the commentary of the time. Perhaps fans might even be able to download a series of challenges based on classic goals scored by their own club.
That such ideas spring instantly to mind isn't necessarily a criticism, more an observation that First Touch Games has a strong idea that only wants for a little extra polish. Without doubt, this will frustrate you at times, but the often spectacular fruits of your labours are a satisfying reminder of what makes this crazy, unpredictable sport so compelling to so many. In other words: football, bloody hell.
App of the Day highlights interesting games we're playing on the Android, iPad, iPhone and Windows Phone 7 mobile platforms, including post-release updates. If you want to see a particular app featured, drop us a line or suggest it in the comments.