Xperia Play
The other PlayStation in your pocket?
At a London soiree yesterday, mobile phone manufacturer Sony Ericsson invited UK press to see its new range of Xperia smartphones. They're running the Google Android operating system, great rival to Apple's iOS.
Star of the show – at any rate, the only phone given a room to itself, which was mobbed by games journalists – was the Xperia Play, the first Sony Ericsson phone to bear any association with the PlayStation brand since the Japanese giant and Swedish telecoms firm set up their joint venture 10 years ago.
The large "slider" handset flicks open to reveal PlayStation's iconic quartet of symbol buttons and cut-away d-pad. That makes it the only smartphone on the market with dedicated physical gaming controls.
Some form of PlayStation phone has been rumoured for years – and indeed, a Sony Ericsson rep tells me it's something the London-based firm has wanted to do for a very long time.
It's hardly a coincidence that the Xperia Play's unveiling comes hot on the heels of Sony Computer Entertainment's announcement of PlayStation Suite, an initiative that will bring PlayStation-branded games, including PSone classics, to Android phones.
But as eager as Sony Ericsson is to drop the PlayStation name (just as it boasts of "Bravia engine" displays in its phones, and has used the Walkman and CyberShot brands in the past), the reps present have little knowledge of the still rather mysterious PlayStation Suite.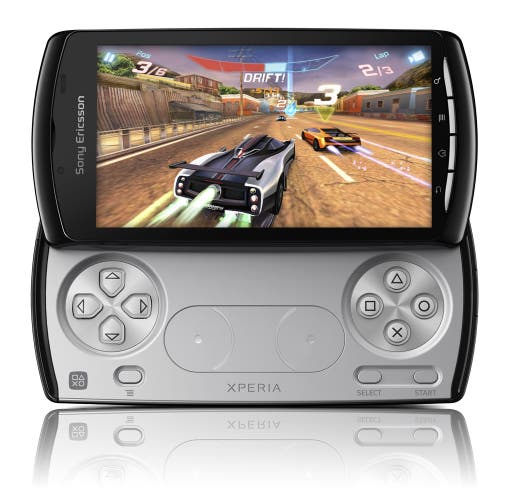 Sony Computer Entertainment has so far had no involvement in presenting the Xperia Play to the press or public. Aside from those symbols, there's no PlayStation branding on the device itself. So where exactly does the Xperia Play fit in?
Your pocket? Only just. This is a big, fat, heavy phone. At 119 by 62 by 16mm, it's bigger than the iPhone 4 in every dimension. However, the key figure is that 16mm depth. It's 70 per cent thicker than Apple's device (at its thickest point – it has a curved back) and, at 175g, nearly 30 per cent heavier. It feels weighty and bulky – although to be fair, it also feels substantial, and its curved surfaces sit comfortably in the hand.
When shut and held in portrait mode, this could be any Android phone, with back, home, menu and search buttons below the screen. This exceptionally large, bright and sharp 4-inch display might be the Play's greatest virtue.
That's a lot of real estate for a phone. It boasts excellent viewing angles and a 480 x 854 resolution that's shy of the definition and awesome pixel density of Apple's Retina display, but still impresses.
Xperia Play will launch with the new version 2.3 of the Android OS, codenamed Gingerbread. This boasts game performance optimisation as one of its headline features, along with an improved on-screen keyboard and better power management.
Sony Ericsson claims the Play has an impressive five-and-a-half-hour battery life when gaming. The firm will also be offering a multimedia dock sculpted to its curves which charges it through its micro-USB port and connects to a home stereo system through line out.