Virtual Console Roundup
Mario Bros. 2 and more from the archive - including Mario Kart 64.
Super Ghouls N' Ghosts
Platform: SNES
Wii Points: 800
Joking about the difficulty of the Ghosts N' Goblins series is a bit like doing gags about people leaving the top off the toothpaste - stale and overworked. Having said that, have you ever noticed how these games are absolutely evil super rock hard nails bastards?
This SNES outing is, at least, a splendidly handsome evil rock hard bastard. Making great use of the console's bright colour palette, and featuring tunes that can only be described as "dangerously jaunty", it's an audio-visual treat. There are also new features, in the shape of a double-jump, stronger armour and some new weapons, but there's no escaping the fact that it still relies far too heavily on cheap tricks and blatantly unfair game mechanics to turn an otherwise pleasant platformer into an exercise in cruel frustration.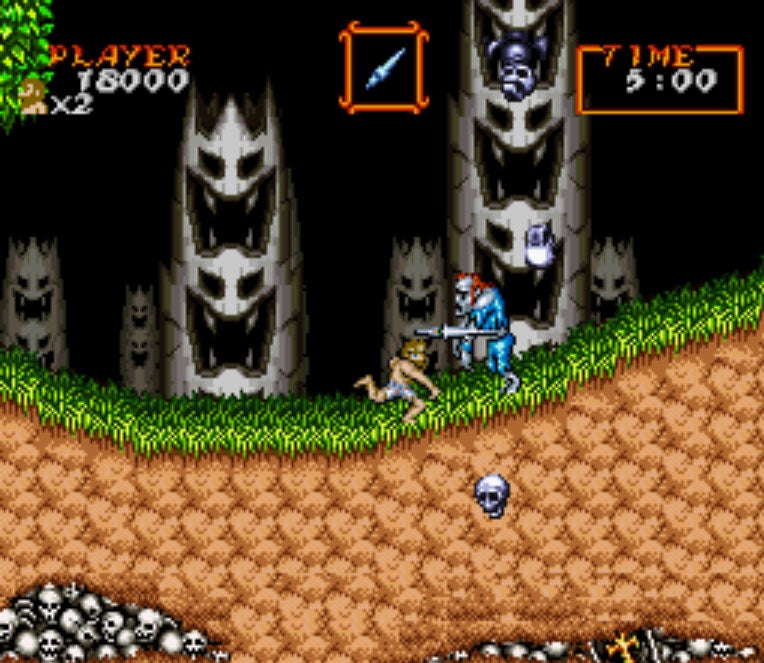 You can't walk or shoot through obstacles, but enemies can. You can't change direction when jumping, most of the weapons are a bit crap and dear old Arthur still moves a lot more stodgily than his more nimble foes. The deck is so utterly stacked against you that progress feels like punishment rather than reward.
And that's without even mentioning the sudden death moments - such as the tidal wave that suddenly sweeps through the first level, killing you instantly unless you happen to be standing in one of three (unmarked) spots destined to be left untouched by the deluge. Die and - yes - it's back to the start. Oh mercy.
It's a shame, since the later levels boast some really nice ideas and quite stunning graphical effects, but few will ever get to see them. If you get off on being bludgeoned by the impossible then add another mark to the total, but for the vast majority of players this can only ever be worth...
6/10
Splatterhouse
Platform: TurboGrafx 16
Wii Points: 600
When I was younger, I desperately wanted Tin Can Alley - a tatty plastic rifle that magically "shot" tin cans off a tiny plastic fence. The idea of shooting invisible bullets that somehow managed to knock things over mesmerised me. But I never got one and when, much later, I finally got to try out the toy that had assumed such legendary status in my seven-year-old mind, I realised it was a bit crap.
Splatterhouse is a lot like that.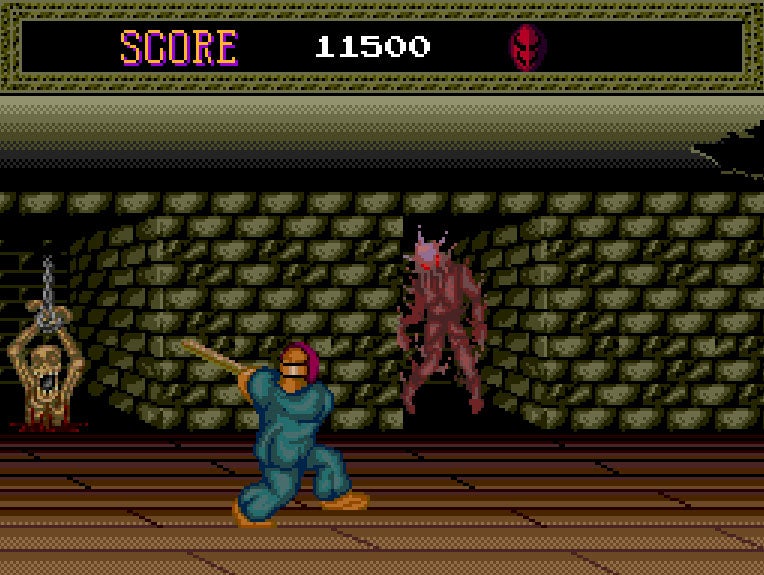 As a horror-loving teenager, the prospect of a blood-soaked beat-em-up where you played as Jason Voorhees (in all but name) and hacked monsters to death with various bladed weapons sounded like the BEST THING EVER. But it never came to any arcades near me, nor did it reach any of the popular home formats, so it remained forever unsullied in my mind.
In the harsh light of reality, it's a trudging monotonous bore, repeating the same one-note gameplay mechanism over and over and over again. You just walk, slowly, down the solitary plane of action, hitting each monster as it approaches. Sometimes they approach from behind and you must - gasp - turn around! Occasionally, you have to jump over some slime.
Bear in mind that this came out in 1990, a time when this sort of scrolling game had already evolved far beyond this simplistic template, and Splatterhouse is little more than a mindless Pavlovian distraction, and the sort of thing that gives retro gaming a bad name.
Splatterhouse purists (no doubt already furiously banging their fists against the keyboard in outrage at my lack of respect/knowledge/sexual prowess) are probably already aware that this TurboGrafx conversion contains several edits and changes from the more gruesome arcade original, but I'm warning you anyway.
2/10
Will you support Eurogamer?
We want to make Eurogamer better, and that means better for our readers - not for algorithms. You can help! Become a supporter of Eurogamer and you can view the site completely ad-free, as well as gaining exclusive access to articles, podcasts and conversations that will bring you closer to the team, the stories, and the games we all love. Subscriptions start at £3.99 / $4.99 per month.