DS Roundup
Chronos Twin, Luminous Arc, Honeycomb Beat, Real Football 2008, Cookie and Cream.
Real Football 2008
Developer: GameLoft
Publisher: Ubisoft
A bit rich calling this Real Football, since this big league wannabe features neither the ability to belatedly collapse at the goalmouth, screaming like a girl after receiving a light tap, or, indeed, anything in the way of official licensing. Worse, there's not even the ability to edit names so, as is the tradition with unlicensed football fodder, Raanay, Fertinond, and Naville of Manchester Red are here to stay.
As for the 'real' on the pitch, it plays an alright game, with a smattering of fancy footwork in the exhibitions and prescribed cup and league games, though nothing ever approaching incredible - like any realistically-styled DS footie game, it could do with some decent analogue controls in order to really make it flow. Off the pitch, managerial decisions are limited to picking formations and making substitutions, while graphically the players are particularly blocky and bland, and the stadiums a tad dreary.
Perhaps Real Football's silliest feature, though, comes when being booked by the overzealous ref for yet another ill-intentioned sliding tackle. You're meant to influence his punishment decision by bellowing protests into the microphone. Not something that particularly appeals and a rather ineffectual tactic when it came to spewing my own embarrassing invective. Thankfully, it's cleverly bypassed by tapping loudly on the microphone itself, so problem averted.
To coin another sporting term, it's all par for the course for Real Football. It's blatantly stepping on both FIFA 08 and (fingers crossed that it's better than last year's) PES's toes (even managing to homage a couple of the latter's features). So when you take into account the lack of Wi-Fi, and that multiplayer requires a card each for a match, you're best giving the underdog a miss this year and selling your soul to the perennial stalwart of your choice instead.
5/10
Cookie and Cream
Developer: From Software
Publisher: 505 Games
Be warned: Cookie and Cream gets two strikes against it straight off the bat. Firstly, it's a PS2 port, something that Nintendo are needlessly plagued with right now. And secondly, it involves blowing into the microphone, a baneful DS experience that inevitably ends with us hyperventilating on the floor after one ineffectual puff to many.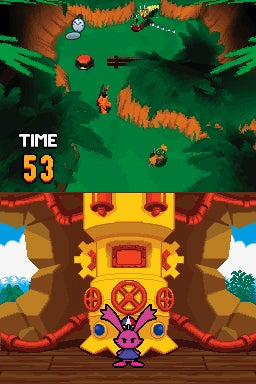 The huffing and puffing we can't forgive readily as there's no getting away from it. Its PS2 origins, though, we can since Cookie and Cream is sourced from one of the better, more overlooked games from the console's early era. You might recognise it better as Kuri Kuri Mix, a co-operative obstacle course challenge in which one of the two titular rabbits must help the other one get to the exit at the top of the scrolling path.
As Cookie hops along the top screen, he'll come across buttons preceding impassable barriers. By jumping on top of these, it gives Cream, positioned on the bottom screen, the opportunity to operate a simple device via the stylus in order to clear the way. Each one offers up something from a variety of different methods, from button pushing, rope cutting, dial turning and the hateful mic blowing, etc., constantly mixing them up to stop things getting too stale..
Each stage is set against the clock, with penalties in place for dying or hanging around in one spot for too long. It's perfectly easy to finish a level and unlock the next by just steaming through, but that's not the point of the exercise. You only get a good score if you do it without your time limit running out, so some measure of efficiency is needed to get a good run. Those points eventually unlock your usual array of bog-standard mini-games, but that's by the by.
Like the PS2 version it's designed with two players in mind, and full single card co-op is essentially a brilliant idea, yet the final result is slightly disappointing. By scaling it down from the original's joint adventure through the obstacle course, the touch screen player is now left with nothing much to do except stand there and knock back the occasional ghost while the other character hops along to the next puzzle. Often it's more entertaining to tackle things on your own, giving you more to challenge yourself with. But for all its limitations, it's fun to play through with a friend or to come to the aid of a younger player. It may not last long, but it's entertaining while it does.
7/10
Will you support Eurogamer?
We want to make Eurogamer better, and that means better for our readers - not for algorithms. You can help! Become a supporter of Eurogamer and you can view the site completely ad-free, as well as gaining exclusive access to articles, podcasts and conversations that will bring you closer to the team, the stories, and the games we all love. Subscriptions start at £3.99 / $4.99 per month.