Prison Break: The Conspiracy
Hard labour.
Objectives appear on your mini-map, and just in case the giant X isn't enough, you can hold down a trigger button to zoom the camera in on where you need to be. Every jump, every switch, every door reminds you which button you need to press. This isn't so much a game that holds your hand as puts you in a baby buggy and pushes you around.
Sneaking is what you'll spend most of your time doing when the game gives you the freedom to roam, but the woolly AI of the guards makes for a frustratingly inconsistent experience. There were moments when I was squatting in plain sight of a guard, mere feet away, yet he somehow never made the connection between the human-shaped object in front of him and the prisoners he was supposed to be watching. Equally, there are times when the game drops you in front of a sniper and gives you a split second to react to one of several clumsy quick-time-event prompts.
There are no takedowns or attack options, context-sensitive climbing commands are flaky in their response and every encounter is crudely scripted to the point of absurdity. Guards will only move from a particular spot when you stand in a certain place, while janitors mop the same six inches of floor for eternity, funnelling you down the solitary correct path as obviously as any brick wall.
Combat is even more simplistic, with just two attack buttons and a sluggish block manoeuvre on offer. You can use the weights and punchbag in the prison yard to beef yourself up, but the game doesn't have the sort of depth to make such half-hearted RPG flourishes necessary. No matter how much muscle you pile on, punches feel as weightless as throwing cotton wool balls at wet tissue paper. Most of the time you and your opponent simply swing wildly, arms passing through each other, until the other guy is weak enough for one of a handful of finishing move animations.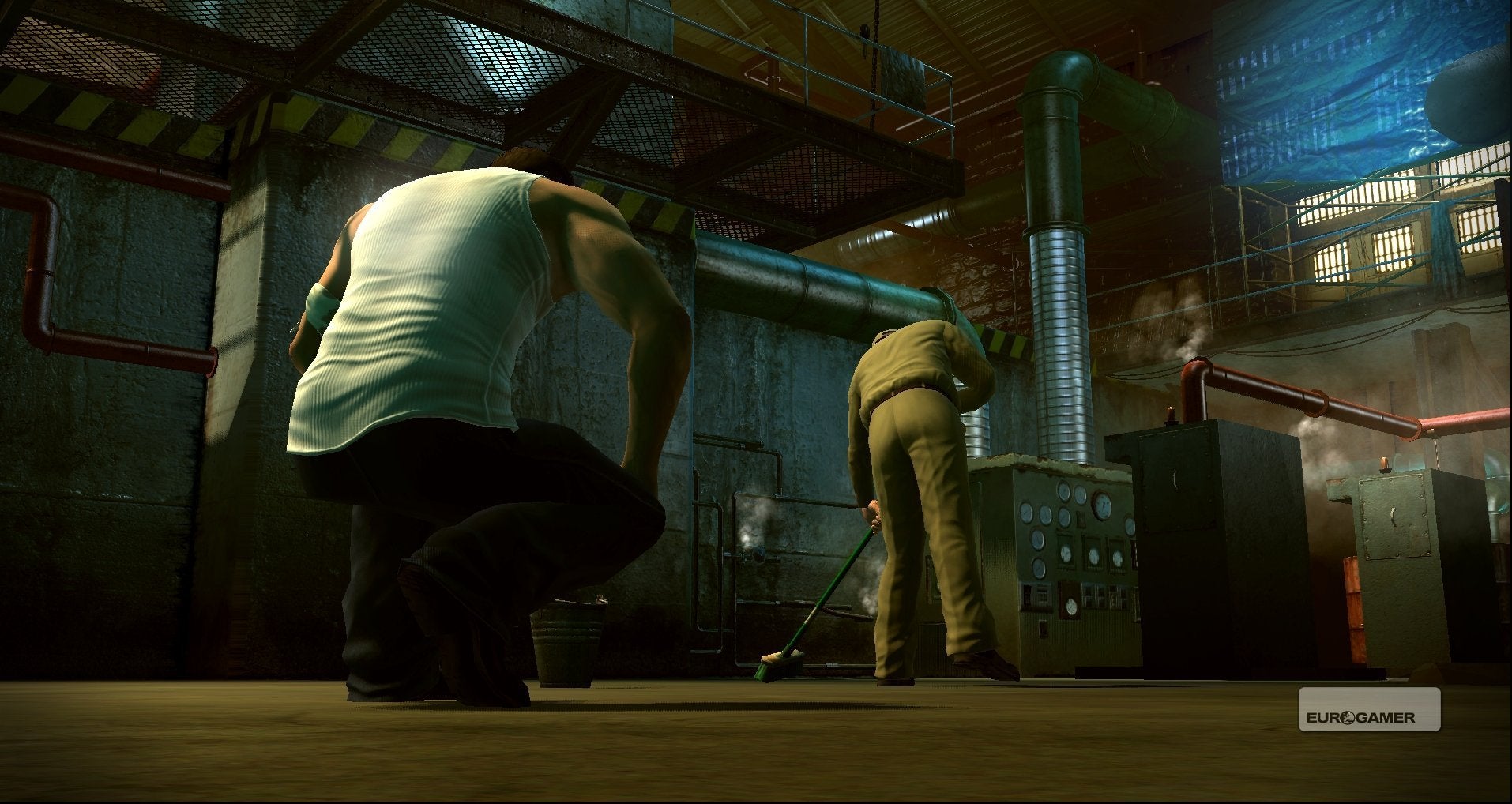 There's the chance to earn cash in underground fights, and you can get tattoos for each area you visit. Clearly, neither is essential since it was only when I was doing a study of the game's Achievements and Trophies during the final chapter that I remembered such distractions were even on offer. There's also a flimsy multiplayer component, which simply pits players against each other using the horrible fighting engine.
Fans may scrape some thin slivers of pleasure from unlocking characters from the TV show for use in this shallow brawl, but the atrocious graphics are sure to disappoint. Faces are bloated, while movements are robotic and stiff, and everyone walks around like they're holding in a really hard poo. The TV cast return to supply the voices, but the lacklustre performances suggest it was a contractual obligation rather than a passion project for them.
Prison Break stands little chance of making its mark against the current generation of ambitious stealth games. Usually, spin-off games can fall back on their inherited audience of existing fans, but with a pointless story that adds nothing to a tale already completed, it's hard to see how even the most devoted follower could get more than an evening of mild amusement from such a scrawny experience.
Will you support Eurogamer?
We want to make Eurogamer better, and that means better for our readers - not for algorithms. You can help! Become a supporter of Eurogamer and you can view the site completely ad-free, as well as gaining exclusive access to articles, podcasts and conversations that will bring you closer to the team, the stories, and the games we all love. Subscriptions start at £3.99 / $4.99 per month.