Music To Play Games By
Gaming's leading composers explain how videogame music is reaching new levels of critical acclaim outside of the industry.
Introductory Bars
The world's first videogame console, the Magnavox Odyssey, was mute. Its Kubrick-esque logo and smooth curved white and black casing, like the dashboard of a newborn space shuttle, may have been pure science fiction, but it was a system that asked players to simply imagine the sound effects to go with their on-screen actions. 38 years later, the latest videogames feature dynamic soundtracks, often performed by real orchestras conducted by the actions of the player, modifying rhythm and tempo to match the changing visuals.
From the blips and bleeps that marked gaming's emergence from the primordial soup, the medium's soundtracks have evolved in various directions, some matching the cinematic splendour of a Hollywood epic, others supporting their playfulness with bounding melodies. The result has been a tapestry of approaches as rich and diverse as the games their composers hope to characterize. The industry now attracts talent from top Hollywood composers, such as Metal Gear Solid/ Modern Warfare's Harry Gregson-Williams, to chiptune bands such as Anamanaguchi (Scott Pilgrim Vs. The World: The Game) to independent DJs and producers, such as Baiyon (Pixeljunk Eden).
But despite this hotbed of technical innovation and an influx of respected composers from other industries, the world of game music has to date remained obscure outside of its confines. Could this be set to change? Earlier this year, the prestigious Ivor Novello awards, which celebrate songwriting and composition across various media, introduced a videogame category, a spokesman saying at the time: "The Ivors have always sought to reflect the ever-changing world of songwriting and composing. Writing music for games requires a number of specialist skills such as non-linear and multi-layered composition, worthy of recognition."
Verse
Richard Beddow and his composing team for Empire: Total War were nominated for the inaugural award, something he hope signals that video game composition has entered a new era of acclaim and acceptance on wider stage. "The Ivors in particular is an important award for a composer of any medium because it is an award judged completely by the composing and song writing community – your peers judge you," he says. "So I'm very happy and humbled to have received a nomination for the award this year."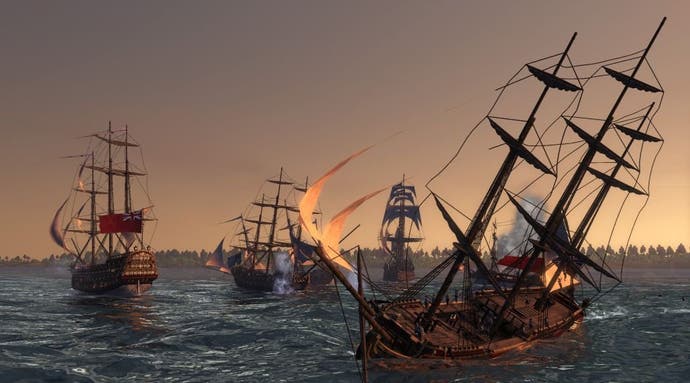 Beddow was always attracted to difficult careers. As a child, he wanted to be a fighter pilot, switching to musician when he realised he had a head for amplitude, not altitude. "I knew it was going to be a difficult road to travel," he tells me, "but I had the bug and just didn't want to do anything other than music. Everything I did was steered towards improving my musicianship. I took up additional instruments, music theory lessons, Associated Board and Guildhall exams, spending all the money I saved on music technology. I looked for university courses that would not only continue to help me improve as a musician but also provide me with a sound engineering background as I knew with how important technical proficiency was becoming in the area of composition."
Beddow joined Criterion Studios straight out of college in 1997. Prior to completing his degree, the young composer sent a VHS demo reel to various TV, film, radio and videogame companies in the hope of work. Of those that returned his call, Criterion seemed the most interesting to work with. It's a route into the industry shared by award-winning composer Richard Jacques, who has scored over 80 games over the course of his 16 years working in the industry, including contributions to Jet Set Radio, Super Smash Bros., Headhunter and Mass Effect plus, most recently, James Bond 007: Blood Stone.
"I began my career in the video game industry shortly after completing my music degree; my first role was as an in house composer at Sega," he explains. "I knew from a very early age that I would be a composer of music to picture, since this is where my passion lies. I enjoy composing for all forms of media, and the video game industry challenges me in many different ways, so it was a very natural fit."