Mobile Games Roundup
Hector! Rogue! Bounder! Jetpack! Contre!
Rogue Sky HD
Those clouds might look pretty, white and fluffy from down here, but the sky is dogged by just as much petty rancour as we get down on the ground. Just try flying a hot air balloon without being constantly manhandled, if you don't believe me.
If you're not being electrocuted to death, there's some other bugger firing pot-shots at you for no apparent reason. And then there are the floating mines. It makes you wonder if all this coin-collecting nonsense is strictly worth the muttered ill-will and raised blood pressure.
But you should also know by now that Chillingo has a fearsome and prolific knack for plucking gems from the mobile maelstrom, and Rogue Sky is certainly no exception.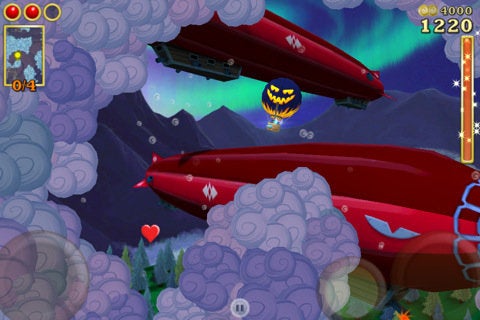 Pebble Bug's sky-raiding adventure wastes little time getting under your skin, with typically intuitive controls allowing you to slip straight into threading the grinning balloon through narrow gaps in the clouds.
Each level becomes a delicate balance of efficient against-the-clock object hunting with the gradual introduction of combat elements to up the ante. Getting through the level intact is one thing, gaining the bonus stars for skilled performances is another - but you won't mind the repeat visits one bit.
Like so many plying their trade in 2D action adventures, Rogue Sky wins the day through eye-catching art and simple, effective mechanics that always manage to avoid straying onto the wrong side of the challenge/frustration divide.
7/10
Jetpack Joyride
iPhone/iPad (universal binary) - £0.69
I don't know who Barry Steakfries is. I'm not aware what his problem is, or of the motivations for his unfairly addictive missions of destruction, but he's really done it this time.
His jetpack controls have become fused with his weapon system, causing bullets to spray out underneath him in an attractive arc as he tries to make his way through the confines of a secret laboratory. Who needs backstories when you can make your own?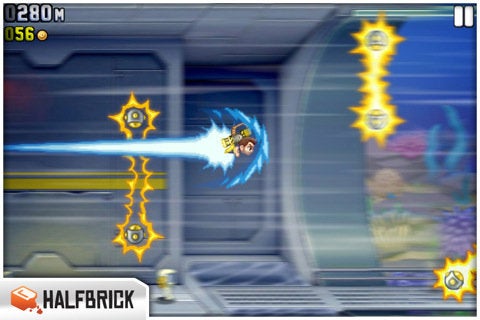 With lasers, traps, missiles and electrified arcs of death opposing him, escape is probably futile, but at least we can measure his heroic attempts in metres and collect coins in the name of one-more-go fun.
So, yeah, it's an endless runner of sorts, but one with a ridiculously moreish set of upgrade progression mechanics. The gameplay remains stripped down to the point of obscenity, with delicate prods simultaneously dictating Barry's level of elevation and weapons fire. No left, no right, no tilt even. Just a one-touch hazard-dodge complete with gleefully crazed vehicle pickups, including the Lil' Stomper mech, a massive motorbike and the money-s***ting Profit Bird.
With every turn you earn more coins, and with riches come superfluous-but-tempting upgrades. You're also tasked with meeting certain mission objectives in order to level up, and even though progress rarely brings truly tangible rewards, you'll eagerly chase down the next rank regardless.
Jetpack Joyride is further evidence of Halfbrick's unseemly knack for producing games designed to test both the battery life of handheld gaming platforms and the sanity of players. Needless to say, both run out eventually.
8/10
Will you support Eurogamer?
We want to make Eurogamer better, and that means better for our readers - not for algorithms. You can help! Become a supporter of Eurogamer and you can view the site completely ad-free, as well as gaining exclusive access to articles, podcasts and conversations that will bring you closer to the team, the stories, and the games we all love. Subscriptions start at £3.99 / $4.99 per month.