Metroid: Other M
Samus usual?
Five minutes into Metroid: Other M, Samus Aran already has a new skill. She's talking, and as is often the case when introducing a new mechanic, Team Ninja - the series' latest custodian - has gone a little bit overboard with it.
After years of near-muteness, Samus suddenly won't shut up, blathering away in cut-scenes to whoever will listen. Often it's the deep-space scientist, looking just like Woody Allen, who's trying to give her a basic tutorial.
Otherwise it's continuously mumbling about her feelings in voiceover, as if filling out a slightly melancholic postcard home. "Having a great time on Zebes, I guess. Hotel's lovely. Bit of a problem with a huge screen-filling lizard down at reception the other day, but live and let live eh? PS: I'm still turning into a ball fairly regularly."
Part of the idea behind Other M is getting to know Samus better, although you could argue that such a notion seems to fundamentally miss the point of a character audiences already relate to through her moves rather than her monologues.
Luckily, when it comes to the action, things are shaping up extremely nicely too: Team Ninja's take on Metroid is a bit like seeing the series' genome mutating in front of your eyes, at times, but it's a very likable process. As with Retro Studios, the developers of Ninja Gaiden have brought their own quirks and sensibilities to bear on Nintendo's classic franchise, but the result is a fascinating and very playable blend of old and new.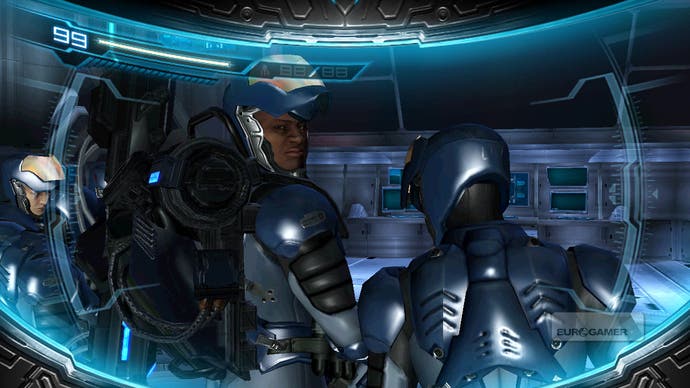 Metroid: Other M was announced at last year's E3 in a glossy blur of over-saturated colour. In amidst The Women's Murder Club and the sight of good sport Satoru Iwata with his finger stuck inside the Wii Vitality Sensor (his steely gaze suggesting that, not only had he found the future of digital entertainment, but it had been in the back of an ambulance all these years), Other M looked shiny and vivid and genuinely alive: a muddle of rich oranges and deep purples that seemed to blur game styles together without ever settling down.
Having a chance to play it at Nintendo's European press summit this week, it's clear that the plot settles down fairly quickly, however. Kicking off with a CG rewiring of the end of Super Metroid, in which Samus is saved from defeat by Mother Brain when a baby Metroid sits on her head for a vital few seconds, Other M takes place immediately after the events of the SNES classic, putting it before the Prime trilogy in the series timeline.
After a debriefing with a kind of galactic parliament, in which Samus informs the universe that the Metroid threat has been eradicated - all the while, pondering the fate of that poor baby who sacrificed herself for him, and generally feeling a bit motherly - the bounty hunter is off into the cosmos once more, answering a distress call that leads her to a decommissioned "bottle ship" space station where the real action begins.