Zynga shares tumble to all-time low as boss tells staff everything's okay
"Let's not lose sight of the bigger picture."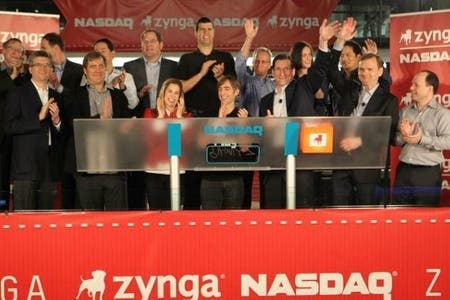 Shares in the social games behemoth Zynga tumbled to an all-time low last night as boss Mark Pincus told staff everything was okay at the troubled company.
Shares fell to $2.19 yesterday before settling in after hours trading at $2.28 after Zynga said it expects to make even bigger losses than once thought.
Zynga expects to report revenue of $300 million to $305 million for the third quarter ended 30th September 2012, a net loss of between $90m to $105m and a loss per share of 12 to 14 cents.
More importantly, Zynga lowered its outlook for the full financial year. Bookings will be down on expectations and earnings will be $147 million to $162 million, down on expectations of between $180 million to $250 million.
In a note to staff on the Zynga blog, Pincus said the challenges Zynga faced during the second quarter continued into the third quarter and the company faced "overall weakness" in the invest and express category.
He said Zynga will further invest in other genres, such as casino with Zynga Poker and what's called blue PVP, of which Mafia Wars is a part.
"While we're disappointed with these financial results, we're proud of the progress that our teams made on many fronts," he said. "We continue to see the power of our player network, launching three games, each achieving top 10 status with more than six million daily players."
Pincus pointed to ChefVille, which has 45 million monthly players, and FarmVille 2, which became the most popular social game within three days of launch, as evidence of the company's success.
"So why are we lowering 2012 guidance?" Pincus continued. "There are a few factors contributing to a weaker than expected outlook for Q4. The reduced performance of some of our live web games is continuing to impact results and we have several new games which are at risk of launching later than expected.
"We're addressing these near-term challenges by targeted cost reductions and focusing our new game pipeline to reflect our strategic priorities. At the same time, we are continuing to invest in our mobile business where we have one of the strongest positions in the industry. These actions support our strategy to transition from being a first-party web game developer to a multi-platform game network."
Pincus told staff not to "lose sight of the bigger picture". "The world is playing games, and is increasingly choosing social games. Zynga has become synonymous with social gaming serving 311 million monthly active users, the largest player network on web and mobile. When we offer our players highly engaging content they respond. FarmVille 2 has been our most successful launch since CastleVille. Our With Friends franchise is defining social play on mobile where Zynga represents three of the top five most popular mobile games in terms of time spent in the US according to Nielsen. While we're encouraged by our strong starting position on mobile, developing this new growth market to the scale of our web business will take time."
Zynga has had a tough time of it in recent months. In July it hit out at Facebook after its shares plummeted 40 per cent, and many analysts questioned the $182 million it paid for Draw Something developer OMGPOP.
It's also embroiled in a nasty legal tussle with EA, which accuses Zynga of copying its The Sims Social game. Two months ago Zynga executive and former EA suit John Schappert quit Zynga a week after he was stripped of his duties. The news came after EA pointed the finger at Schappert in its eye-catching lawsuit.