ZX Spectrum Classic Arcade Conversions
Preaching to the converted.
Visits to the seaside during the 1980's offered more than a wetting of one's feet in the salty, clear blue waters of the Pembrokeshire coast.
On arriving at the idyllic coastline destination, the first challenge was to find a suitable wind free pitch on the huge expanse of sand. The second was to help unpack the somewhat over laden baggage of beach toys, towels, cups, plates and picnic food that mum felt was essential for the afternoon trip. The third and most important by far, was to escape the confines of the family into the nearby town centre in search of the sights and sounds of the arcade emporium.
Coin after coin was used to burst each of the arcade machines into life for mere minutes of unbridled gaming nirvana. As the minutes passed, the coin supply slowly and surely diminished. With a weeks pocket money spent, building sand castles soon became the default source of entertainment for the rest of the afternoon.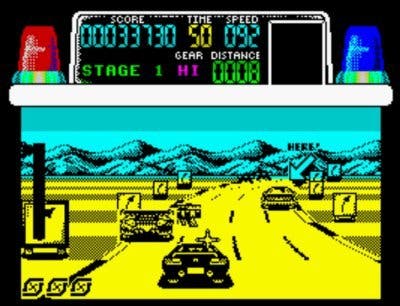 As the technological boundaries within the arcades marched forward, gamers craved the experience and delights of the latest titles on their humble home computers. The challenge for 8-bit development teams was to spring-board a game running on expensive dedicated hardware into technologically inferior 8-bit Pandora boxes?
Some titles failed horribly. One only has to look at Double Dragon on the Spectrum or Hard Drivin' on the Commodore 64 to witness conversion hell.
In the capable hands of companies like Elite or Imagine though, the gameplay of the arcade original was ported faithfully to the 8-bit generation. Fans of the arcade could play their favourite coin-op games in the comfort of their bedroom without having to look for loose change.
The collection of games in the Spectrum Coin-Op Conversions movie represents the 25 arcade titles that we feel deserve special mention in the plethora of games that migrated from their arcade home to the ZX Spectrum. Ok, the graphics might not have been as good, but the gameplay almost always shone through.
Let us know if your favourite is in the movie, and if it isn't let us know.