Zelda: Breath of the Wild - How to beat Stone Talus for easy Ruby, Flint, Amber, Opal, Sapphire and Diamond
How to get some easy gemstones by taking down a mini-boss.
Zelda: Breath of the Wild's Stone Talus is a mini-boss that appears all over Hyrule.
While it's an intimidating foe, there's a simple few steps to taking it down, rewarding you with some valuable gemstones, such as Ruby, Flint, Amber, Opal, Sapphire and Diamond.
If you're after help for parts of the game, consult our Zelda: Breath of the Wild walkthrough and guide.
How to beat Stone Talus
When Stone Talus first emerges from the ground, sprint away. If you are up close while it's 'upright', then can throw its rock fists your way, so it pays to keep your distance while it's active.
The main attack of a Stone Talus is throwing rocks at you, which can incur some serious damage. Keep your distance and always have something between you - a boulder on the ground, or a tree - so the rocks will bounce off. It isn't a direct throw, so there's a chance the rock will land to the side and clip you, so keep an eye on where debris is landing.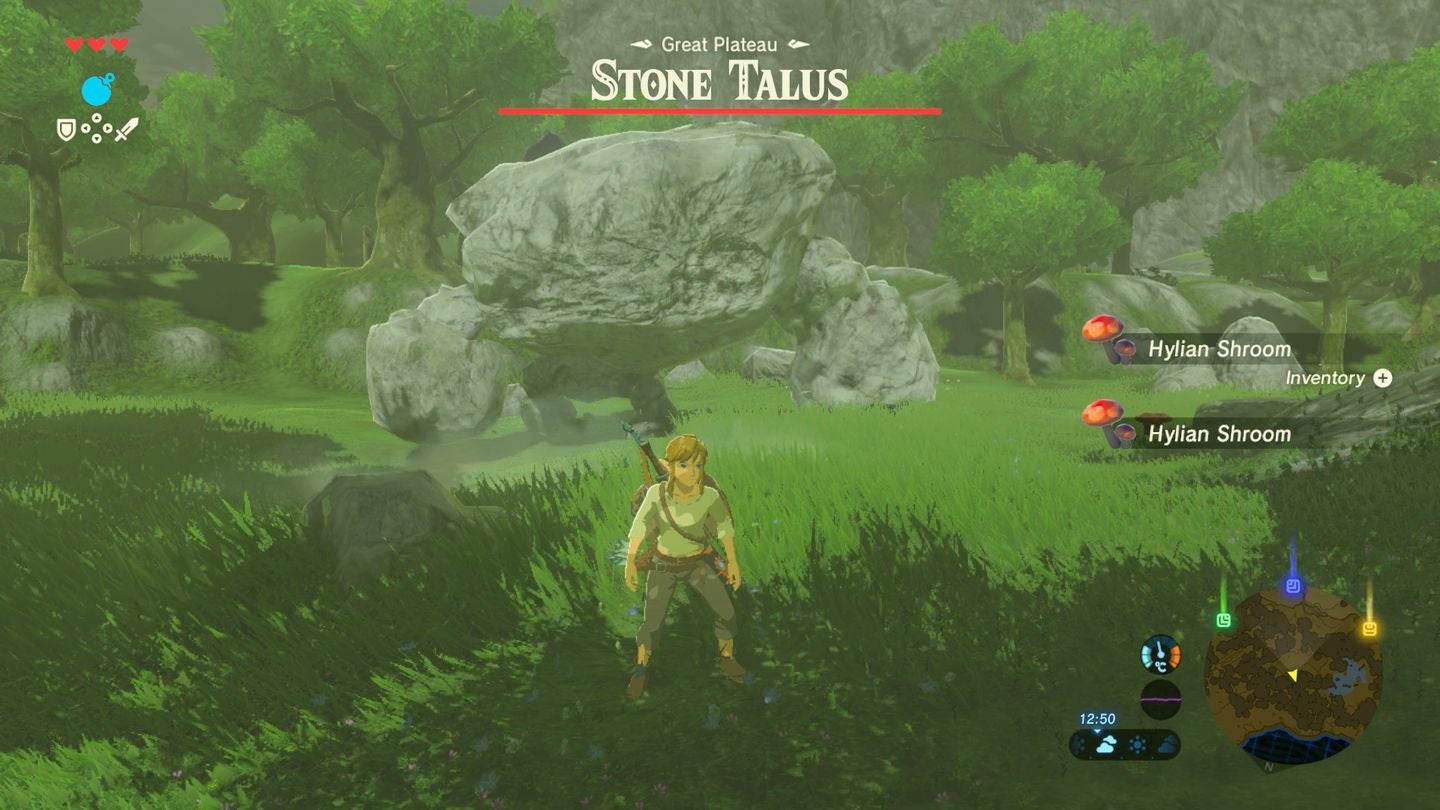 To attack it, there is a darker rock on its shoulder that you should be able to see from most angles. Fire off an arrow and you'll do a small amount of damage, but more importantly, it'll briefly collapse.
Quickly sprint forward, climb up onto its shoulders and wail away with a melee weapon. You should be able to do this for some time, until you are thrown off by the Stone Talus.
When you drop off, retreat and repeat the process again. After enough attacks, it'll die and leave a lot of valuable resources in its wake - Ruby, Flint, Amber and Opal - or even the more lucrative Sapphire and Diamond.
---
Thanks to a new update, it's now possible to play Zelda Breath of the Wild in VR. Want help with the main game? Our Zelda: Breath of the Wild walkthrough can help complete Divine Beasts Vah Ruta, Vah Rudiana, Vah Medoh and Vah Naboris and more. There's also how to get the Master Sword, Hylian Shield and all Zelda Captured Memories and Great Fairy Fountain locations, while our Shrines locations and Shrine maps hub explains where to find and solve every puzzle room, including dragon locations and Labyrinth solutions. We also have a DLC 1 guide and DLC 2 guide, including all Tingle, Majora's Mask, Phantom, Midna outfit locations.
---
Where to find Stone Talus
Stone Talus is a reoccuring mini-boss throughout the game's open world. One of which can be found early on the Great Plateau in a clearing west of Hopper Pond, while the others will be dotted around multiple regions.
It's appearance can be a bit of a surprise, since it is camouflaged as a pile of rocks, so listen out a change in music and a telltale on-screen introduction so you know one is standing nearby.
The game also has some more powerful variants as you explore, including a 'Senior' type, a fire-type, and even little baby ones that a bomb will take care of.
Though they hold valuable resources, Stone Talus are common are enough that you should naturally bump into a few as you explore. Better yet, when the Blood Moon happens, they will respawn, allowing you to take them down again to get even more resources. The two we return back to regularly are:
On top of the Duelling Peaks. Fast travel to the region's tower, glide off east, climb up the nearest incline and a Senior one will be there. Despite its name, it's fairly weak, making this an easy fight.
Next to Tabantha Tower. Fast travel there, then glide east to the nearby road going north to Rito Village. You'll encounter a powerful one just before cliffs to the east, but should be carrying Diamonds to make it worth your while.
If you find any others that easy to get to for ore farming, let us know and we'll add them to the list!