Zelda: Breath of the Wild - Windblight Ganon boss fight strategy
How to defeat the Vah Medoh dungeon boss.
How to reach the Windblight Ganon boss fight
With the five terminals activated from the Vah Medoh dungeon, you can reach the Main Control Unit outside on the Beast's back.
If you forgot how to get up there, use the vertical air flows outside from the wings and in the starting area.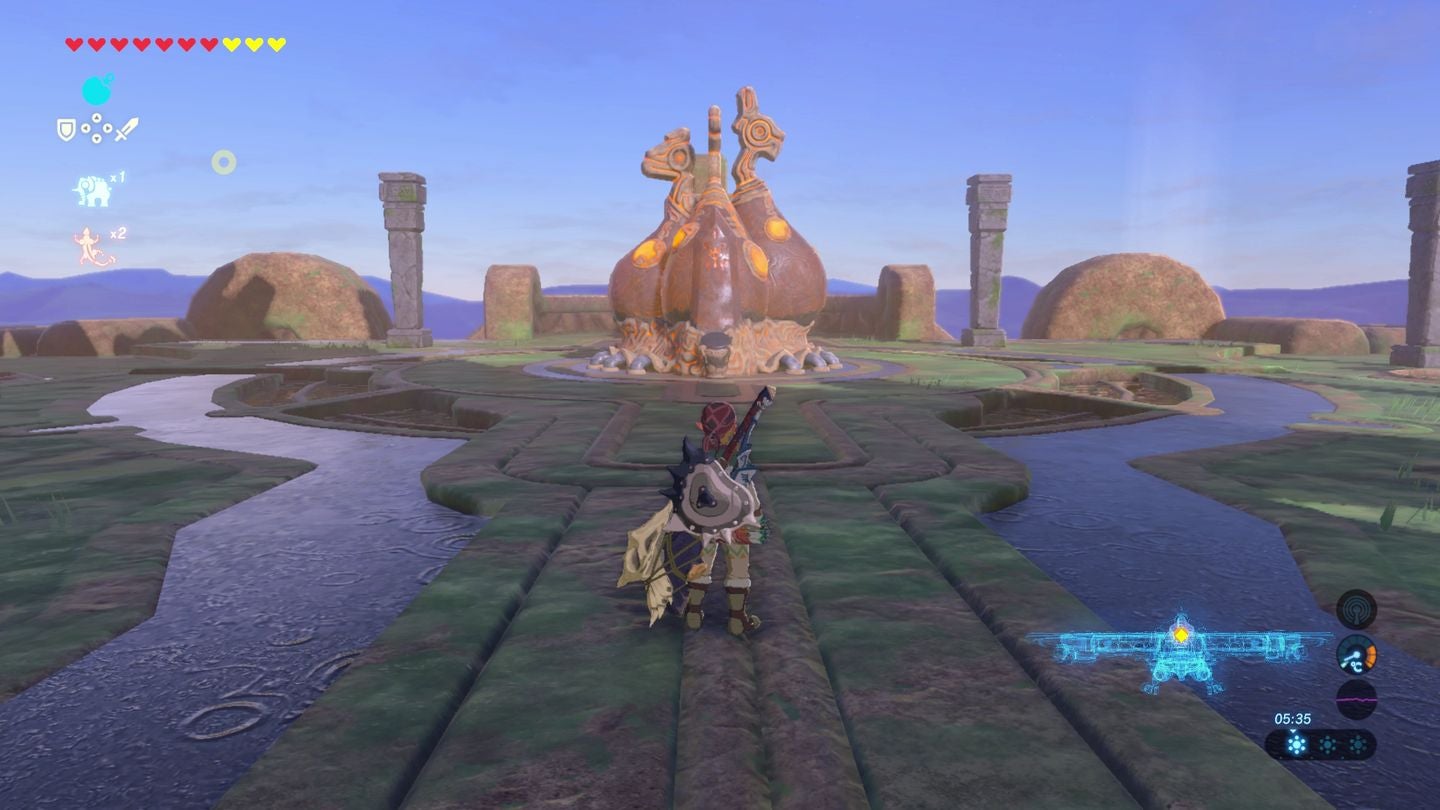 As with other bosses, it's worth travelling away to sleep in a soft or water bed, pack some status boosting recipes and getting the best weapons and armour you can (which aren't wooden) to set you up as best as you can.
You'll need a healthy complement of arrows - ideally Bomb Arrows - for this battle, so make sure you come with plenty in tow. Almost all villages will stock both - Rito Village and Hateno Village will for example - so clear them out and come back.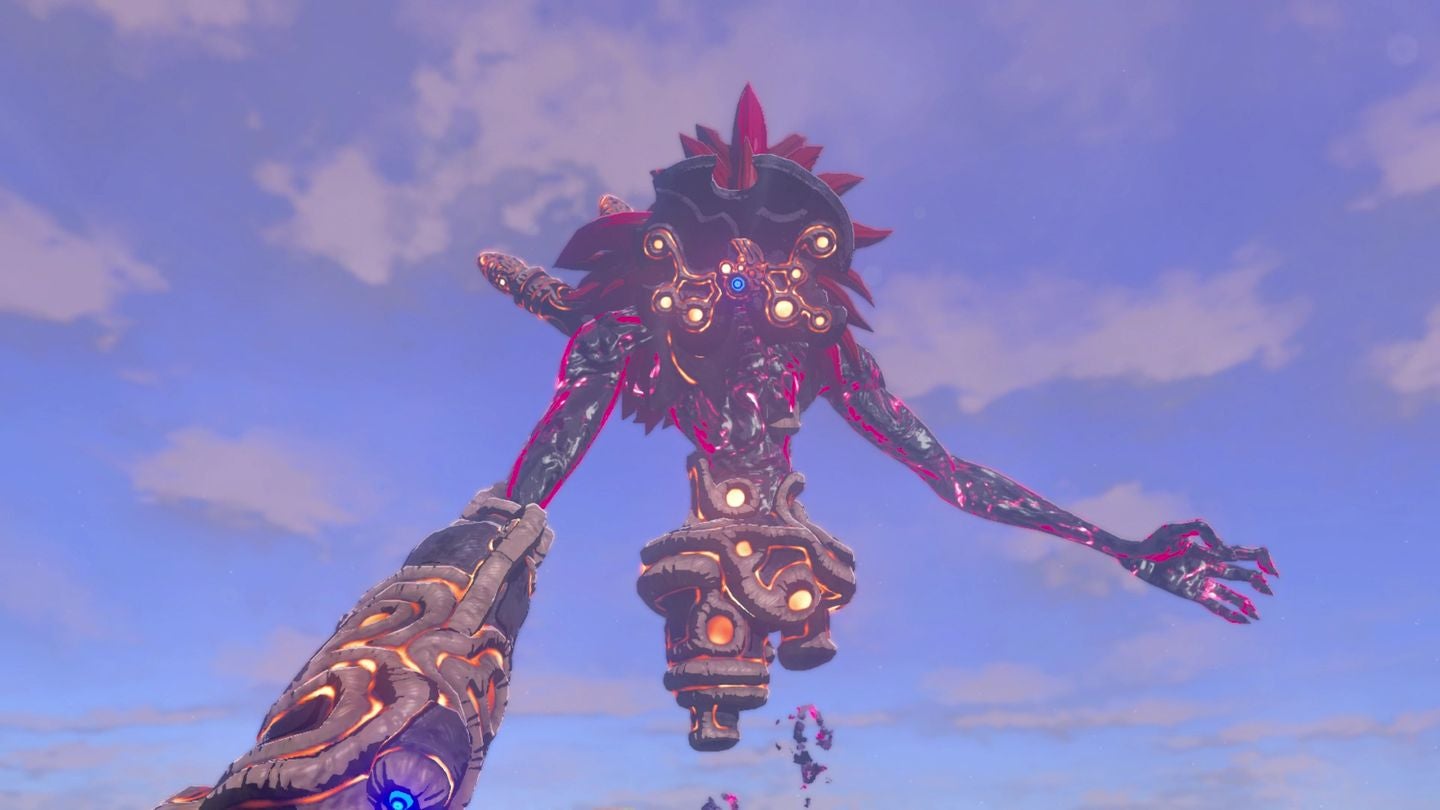 How to beat the Waterblight Ganon boss
In the first phase, Windblight Ganon will fire at you with a gun in several bursts. There's two ways to evade this, by hiding behind columns or the central main control unit, or by sprinting around him.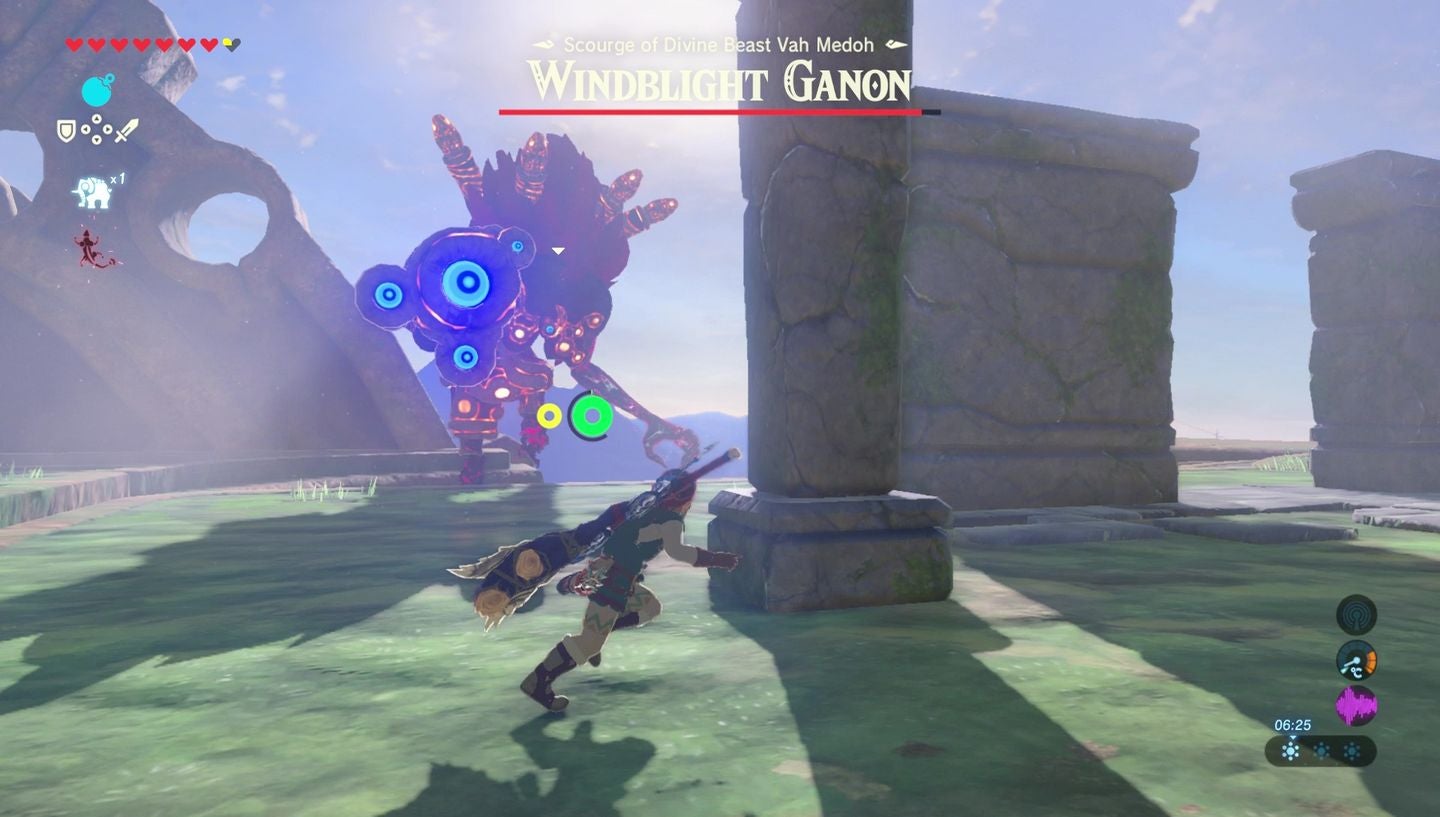 He also can cast a tornado, which is a little more difficult; sprint away in the opposite direction if your safest option, or if you can, use the air flows at either end of the arena to glide up and out of the way.
Be wary the tornado can destroy stone columns, so cover points may slowly disappear as the battle goes on.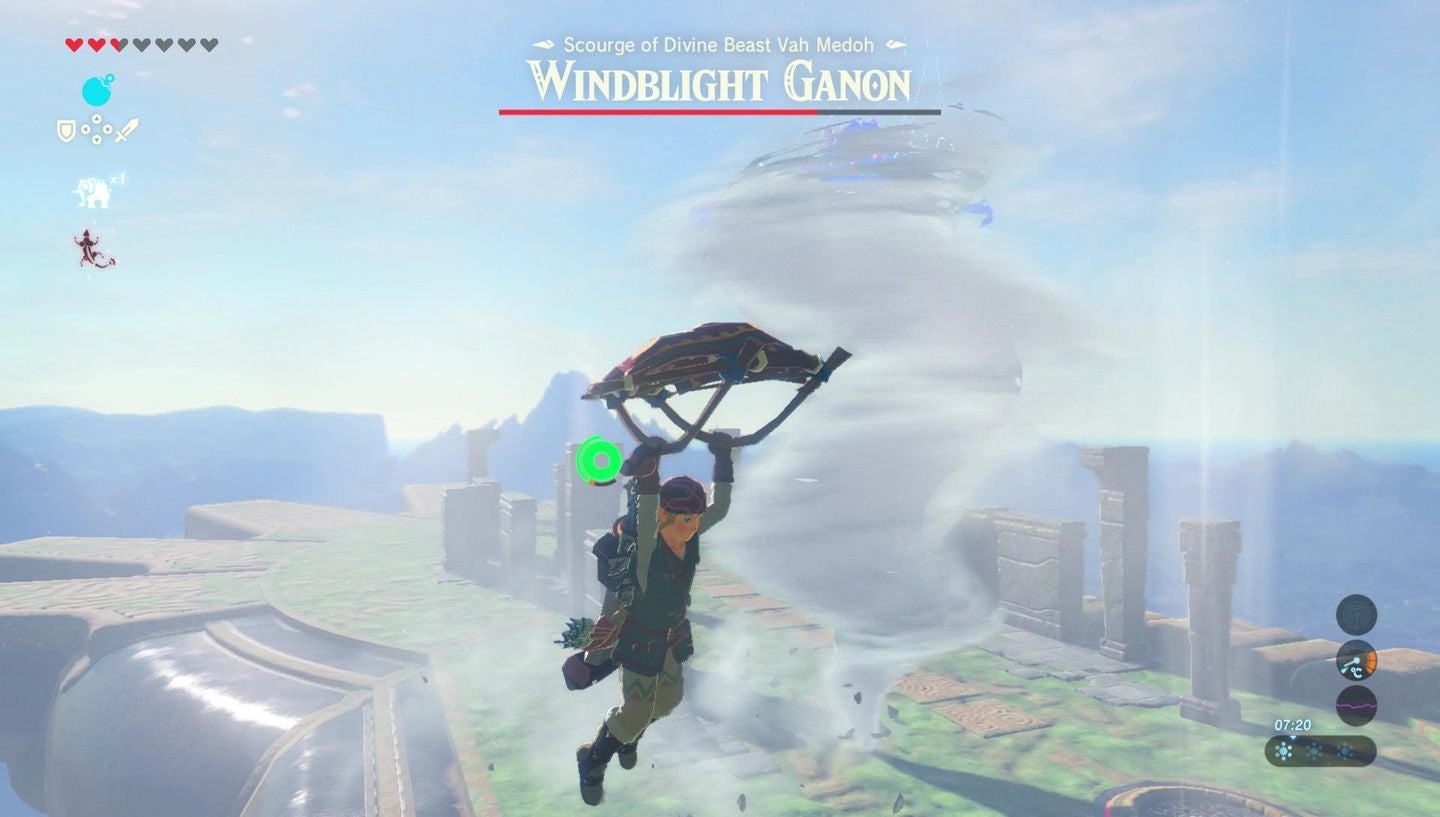 He'll be either at ground level or up in the air when doing either of these attacks, and whenever you can, you should fling bow at its eye for critical hits.
If you do enough damage while it's in the air, it'll drop down to the ground and you can get a few melee attacks in, too.
At half health, phase two will begin. This is much the same as the first phase, except four drones will appear and hover in the air.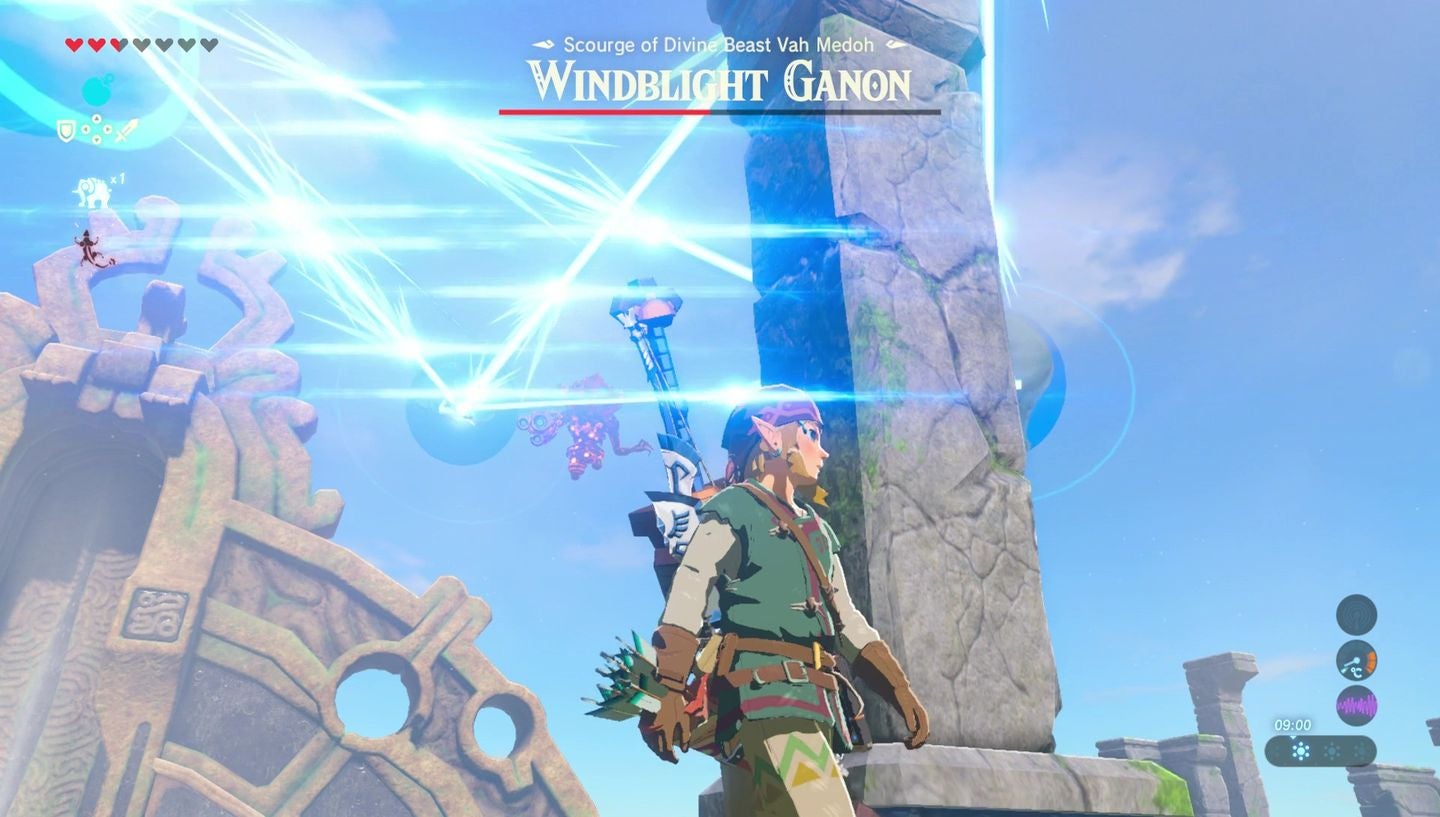 With these activate, he'll fire the gun at them, spreading the damage between all four, and direct them across the battlefield.
These are much harder to dodge than his regular shots since they're delivery is much more random - you can use the central main control unit as cover, though if the drones are directly above that's not much help - so you must act preventatively and shoot them all down when they're stationary. They'll regenerate slowly, but it should give you enough breathing room to get a few arrow shots in.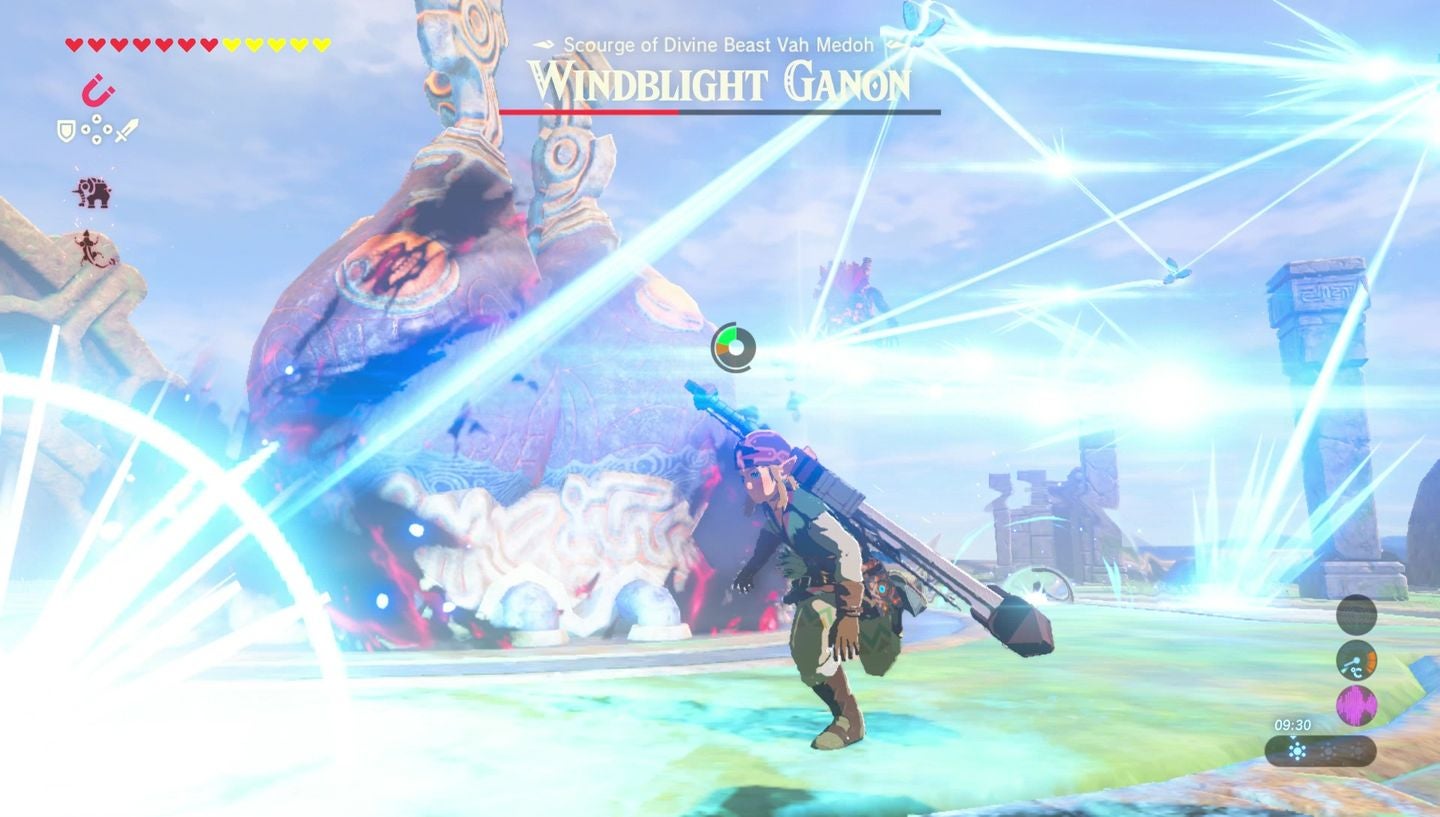 The drones can also be sucked in by the gun for a powerful attack, but again, as soon as you do this, sprint to the side and dive for cover. Otherwise, it's business as usual; attempt melee attacks when he's on ground level, otherwise stick to arrows and plenty of cover.
---
Thanks to a new update, it's now possible to play Zelda Breath of the Wild in VR. Want help with the main game? Our Zelda: Breath of the Wild walkthrough can help complete Divine Beasts Vah Ruta, Vah Rudiana, Vah Medoh and Vah Naboris and more. There's also how to get the Master Sword, Hylian Shield and all Zelda Captured Memories and Great Fairy Fountain locations, while our Shrines locations and Shrine maps hub explains where to find and solve every puzzle room, including dragon locations and Labyrinth solutions. We also have a DLC 1 guide and DLC 2 guide, including all Tingle, Majora's Mask, Phantom, Midna outfit locations.
---
After the Windblight Ganon boss fight
When the battle has concluded, you'll be given a Heart Container - make sure you pick it up before you leave, or it is likely gone for good! - and a cutscene where you'll receive Revali's Gale.
This activates when you jump, giving you a little extra spring in your step, which is useful for gliding around the game's world.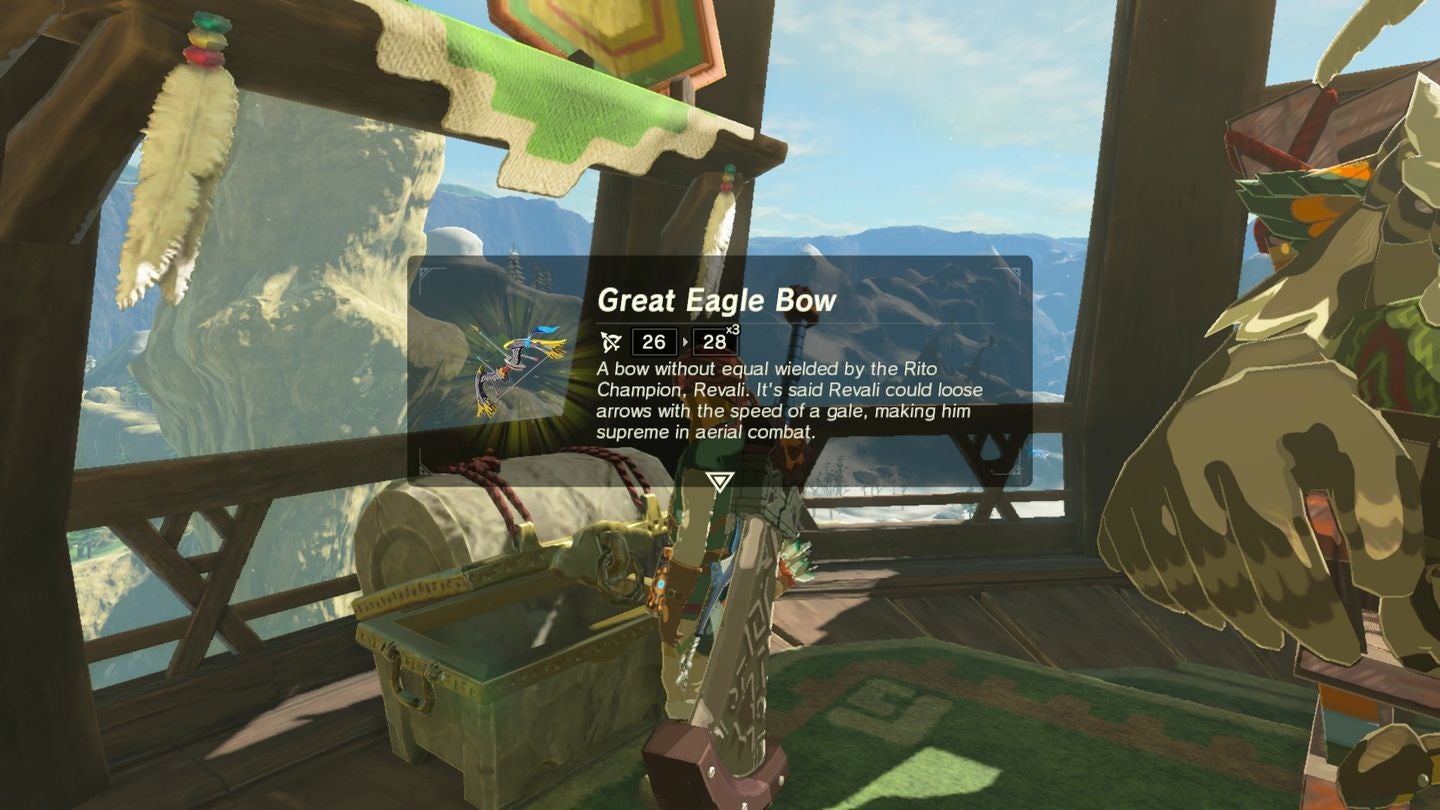 After the cutscene, you'll be back in Rito Village. Talk to the village chief Kaneli to receive the Great Eagle Bow, which isn't the most powerful weapon, but fires three arrows at once while only spending one arrow at a time. Useful!
Next, it's worth paying a visit to another Divine Beast you've yet to visit, whether it's Vah Ruta, Vah Rudiana or Vah Naboris, unless of course you fancy taking on the final mission, Destroy Ganon. The choice is yours!