Zelda - Sah Dahaj and Power of Fire trial solution in Breath of the Wild
How to find and solve Sah Dahaj and Power of Fire solution in the Eldin region.
Where to find Sah Dahaj
This is in the south east of the Eldin (or Death Mountain region), specifically between Broca island and Cephla Lake.
The easiest way to get there is to warp to Eldin Tower and fly directly east, and as you spot the large enemy compound on top of a plateau, look down and to the south, and you'll see the shrine nestled at the bottom of the cliff.
No puzzles or quest required - just pop your tablet in and enter.
Sah Dahaj and Power of Fire solution
The opening room has you burn the leaves ahead to create a path onward. Easiest way is to use a bow and arrow; take aim, and walk into the upright torch to set fire to the arrow, and let it go.
The next room has a Guardian Scout, followed by another wall of leaves that require burning. Shoot down the lantern above, then swipe it with your sword to burst it open and start the fire.
The final room is littered with hanging lanterns. Some of these are hovering over leaves.
---
Thanks to a new update, it's now possible to play Zelda Breath of the Wild in VR. Want help with the main game? Our Zelda: Breath of the Wild walkthrough can help complete Divine Beasts Vah Ruta, Vah Rudiana, Vah Medoh and Vah Naboris and more. There's also how to get the Master Sword, Hylian Shield and all Zelda Captured Memories and Great Fairy Fountain locations, while our Shrines locations and Shrine maps hub explains where to find and solve every puzzle room, including dragon locations and Labyrinth solutions. We also have a DLC 1 guide and DLC 2 guide, including all Tingle, Majora's Mask, Phantom, Midna outfit locations.
---
The one on your right allows you to burn a wooden ledge for a chest (containing a Royal Bow) and the two near the gated off section will burn the wooden boxes, dropping the metal slate and pressing the switch, opening the way to the altar.
While you're here, here are other Shrines within this region:
Eldin and Death Mountain region (9 Shrines)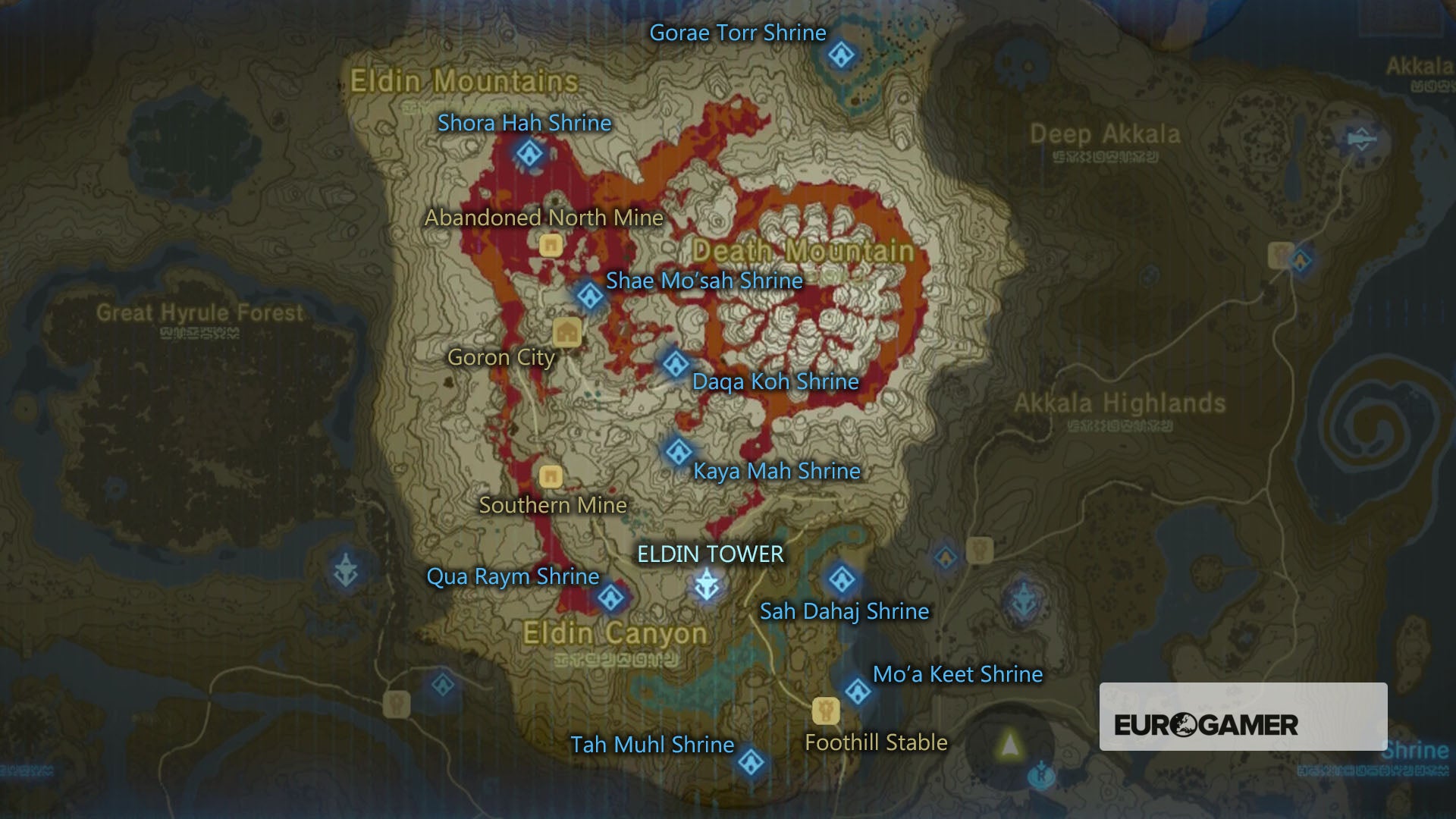 If you're after other trials, then our Zelda: Breath of the Wild Shrine locations and maps hub page can help with other regions.