Zelda - Gorae Torr and The Gut Check Challenge in Breath of the Wild
How to find and solve Gorae Torr and The Gut Check Challenge in the Eldin region.
Where to find Gorae Torr
Gorae Torr can be found on top of the steep Gut Check Rock at the far northern part of the Eldin region. The easiest way to get this is to first unlock the Divine Beast for the Death Mountain region, fast travel to the top of the mountain, and glide over.
You can see it in the distance, and a few stamina upgrades will allow you to get there easily.
Once there, chat to the Goron sat in front of the shrine, giving you The Gut Check Challenge, a mini-game of climbing up the outside of the rock, collecting 100 Rupees along the way. Pay the 20 Rupees then get started.
Gorae Torr and The Gut Check Challenge
Provided you have some stamina upgrades, this will be easier than it first appears, as there are several ledges you can drop onto to recover your energy before continuing.
The Rupees dotted up the wall will lead you to ledges, though further up some Red rupees (worth 20) are a little off the beaten path - though it's well worth going out the way and getting them as you go, as it'll mean you'll easily meet your target.
Though we'd recommend leaping up the wall (and if in a pinch, remember to leap when the gauge is red for an even further last ditch jump) don't feel you need to do it constantly, as you should have plenty of time remaining by the time you reach the top with the quota filled.
Once done, the Goron will allow you access into the Shrine.
---
Thanks to a new update, it's now possible to play Zelda Breath of the Wild in VR. Want help with the main game? Our Zelda: Breath of the Wild walkthrough can help complete Divine Beasts Vah Ruta, Vah Rudiana, Vah Medoh and Vah Naboris and more. There's also how to get the Master Sword, Hylian Shield and all Zelda Captured Memories and Great Fairy Fountain locations, while our Shrines locations and Shrine maps hub explains where to find and solve every puzzle room, including dragon locations and Labyrinth solutions. We also have a DLC 1 guide and DLC 2 guide, including all Tingle, Majora's Mask, Phantom, Midna outfit locations.
---
Pop down, and there is no puzzle - just a chest to open, containing a Great Frostblade, and the altar with the Shrine Orb beyond.
While you're here, here are other Shrines within this region:
Eldin and Death Mountain region (9 Shrines)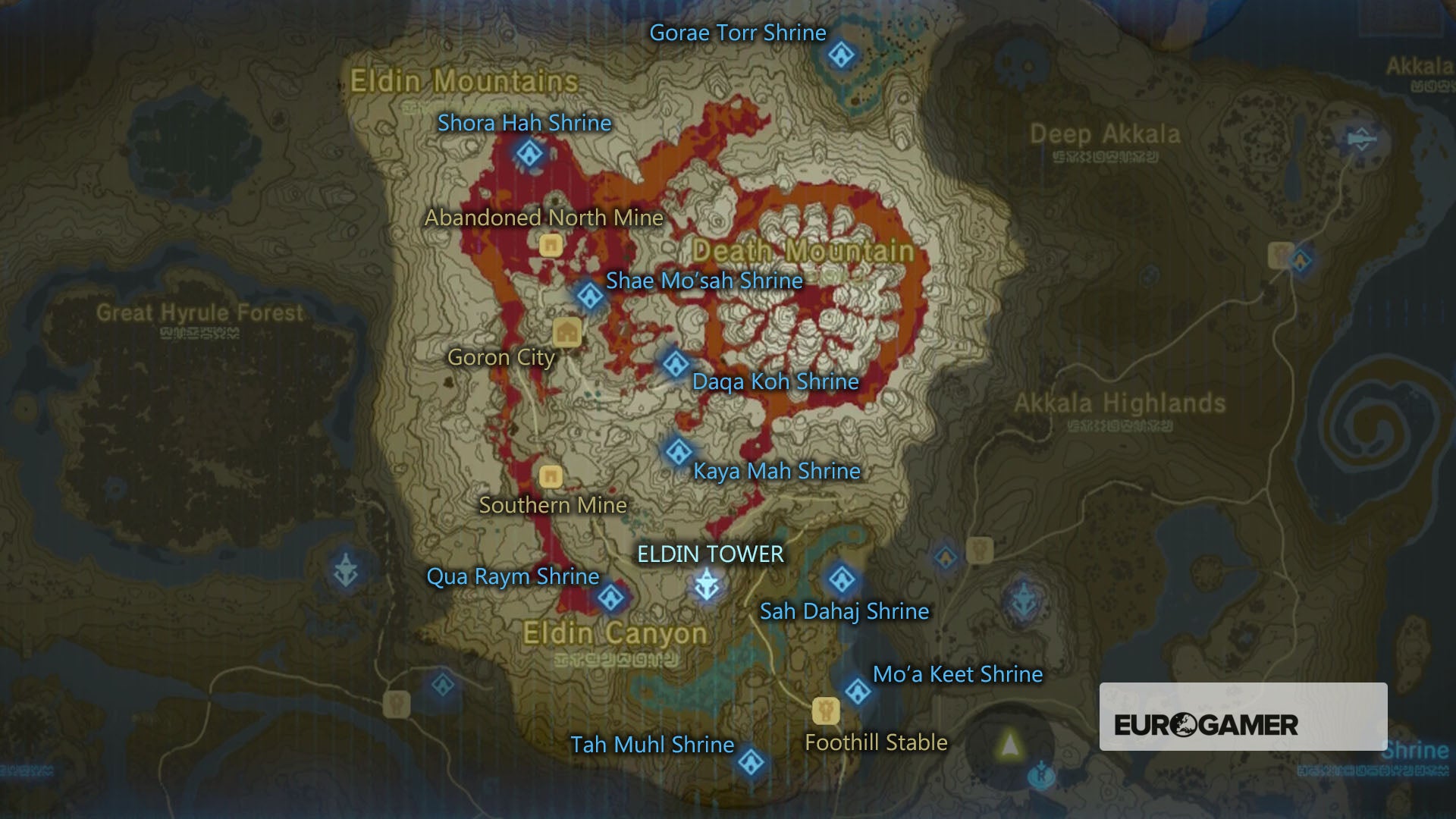 If you're after other trials, then our Zelda: Breath of the Wild Shrine locations and maps hub page can help with other regions.