Zelda - Shoqa Tatone and the Guardian Slideshow quest in Breath of the Wild
How to find and solve Shoqa Tatone and the Guardian Slideshow quest.
Shoqa Tatone is one of the many shrines located throughout Zelda: Breath of the Wild. Found in the Lake region, it follows completing the Guardian Slideshow quest.
If you need help finding and solving other Shrines, our Shrine location maps page can help, while our Zelda: Breath of the Wild walkthrough and guide covers other aspects of the game.
Where to find Shoqa Tatone
At the south-most Lake region, go along to where the river meets the Faron Sea, and to the east is Puffer Beach.
There, you'll find Loone under the cliff face, who gives you the Guardian Slideshow quest. To complete it, you must look for Guardians - in her words, "flying ones", "small ones" and "ones that walk around" - and take pictures of them with your camera rune.
If you have been playing the game long enough, these Guardian types should all sound familiar. They are smaller Guardian Scouts, the flying Guardian Skywatcher, and the standard Guardian Stalker. Note even if they are already in your album, you must take new photos of them again in order to complete the quest.
You might have a few ideas where you can go find them already, but if not, our recommendation is to head to the Katah Chuki shrine in Central Hyrule. There, you'll find walking Guardians to the east and flying ones to the west.
The shrine itself is a Test of Strength, where you'll find a small one. If you're already completed that shrine, then if you've had a Blood Moon recently, it will reappear inside - otherwise just find another Test of Strength shrine in the meantime.
Once you have taken pictures of all three types - again, these must be new pictures since starting the quest - head back to Loone, who will give you access to the orb.
Drop it into the nearby pedestal and the Shrine will appear.
---
Thanks to a new update, it's now possible to play Zelda Breath of the Wild in VR. Want help with the main game? Our Zelda: Breath of the Wild walkthrough can help complete Divine Beasts Vah Ruta, Vah Rudiana, Vah Medoh and Vah Naboris and more. There's also how to get the Master Sword, Hylian Shield and all Zelda Captured Memories and Great Fairy Fountain locations, while our Shrines locations and Shrine maps hub explains where to find and solve every puzzle room, including dragon locations and Labyrinth solutions. We also have a DLC 1 guide and DLC 2 guide, including all Tingle, Majora's Mask, Phantom, Midna outfit locations.
---
Go inside, and you'll find this is one of the game's many Test of Strength combat shrines, which pit you against a Guardian Scout. The prior link explains how take these on, and find other such combat shrines.
While you're here, here are other Shrines within this region:
Lake region (6 Shrines)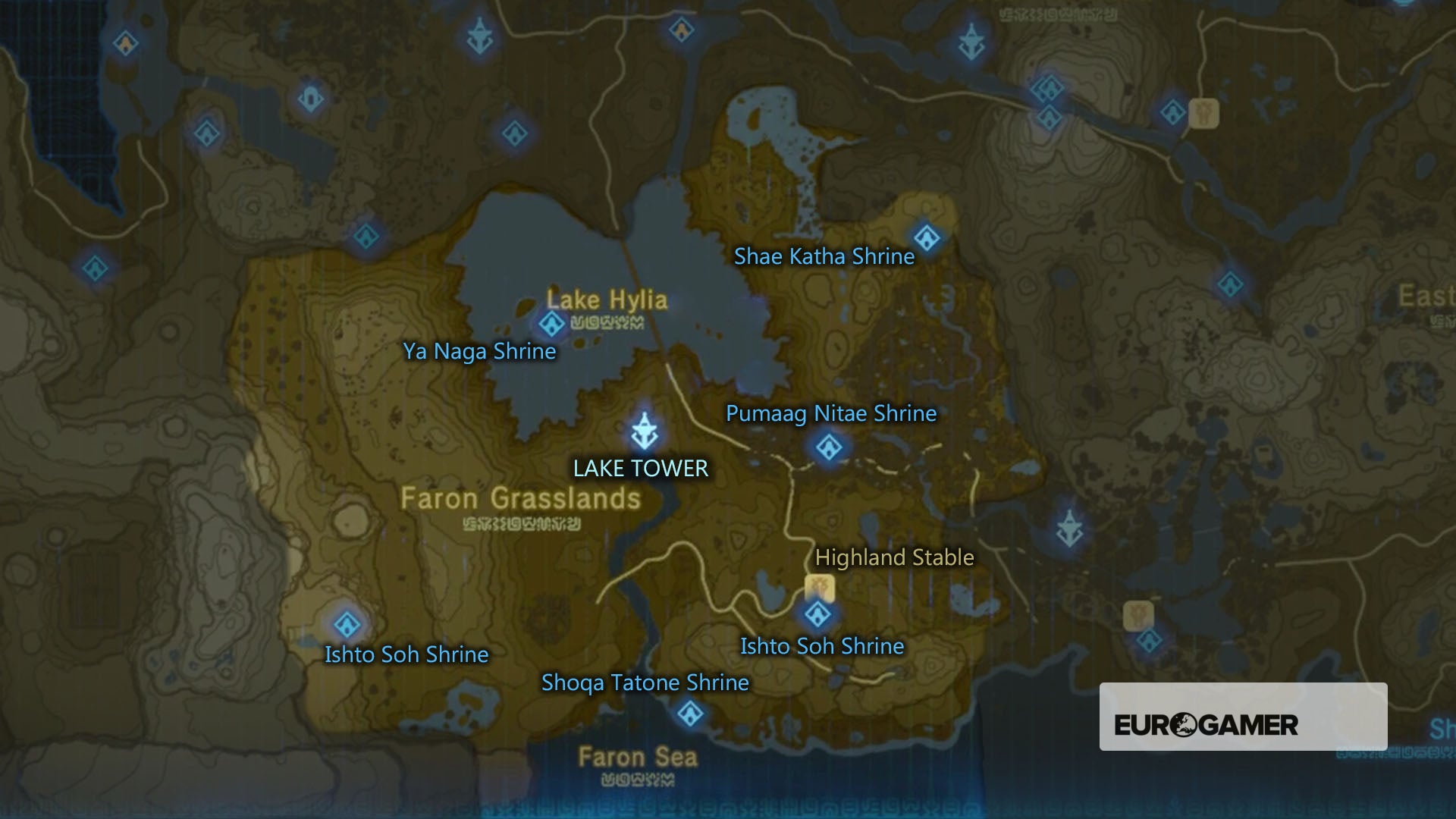 If you're after other trials, then our Zelda: Breath of the Wild Shrine locations and maps hub page can help with other regions.