Zelda - Ta'loh Naeg and Ta'loh Naeg's Teaching trial solution in Breath of the Wild
How to beat the Duelling Peaks challenge.
Ta'loh Naeg is one of the many Shrines located throughout Zelda: Breath of the Wild. The challenge inside, named the Ta'loh Naeg's Teaching trial, is less a puzzle and more a tutorial, that has you battle an ancient machine to learn various combat moves. Defeat the machine, and you can walk out with weapons and an Opal as reward.
If you need help finding and solving other Shrines, our Shrine location maps page can help, while our Zelda: Breath of the Wild walkthrough and guide covers other aspects of the game.
Where to find Ta'loh Naeg
The Ta'loh Naeg shrine is located within the Dueling Peaks region, specifically due north of Kakariko Village, which you'll visit at an early stage of the main story. To get there, head nort-east of the Duelnig Peaks Tower, or due north from Dueling Peaks Stable, which has a road that leads through the surrounding mountains directly to the village.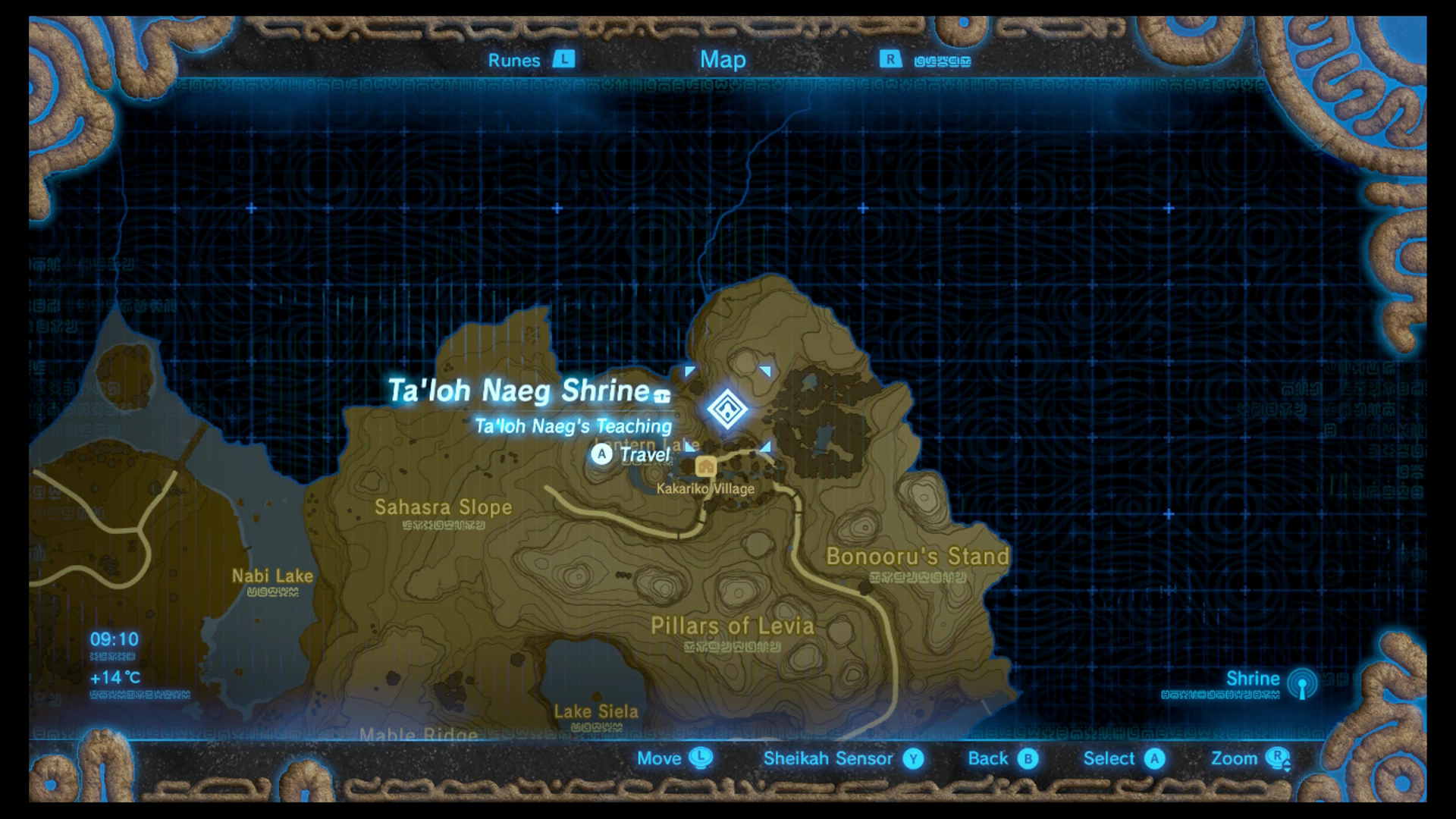 Once in Kakariko Village, the Shrine is on your right, raised up just out of sight on a ledge. Climb up directly north of the town, and you'll soon find it, directly above a building in the grassy hills.
There's no puzzle to solve here in order to access the shrine, so simply dive in when you're ready - note that weapons are provided inside, too, so there's no need to prepare.
Ta'loh Naeg and Ta'loh Naeg's Teaching trial solution
Inside Ta'loh Naeg shrine you'll find two chests: to your left, one that contains a shield, and to the right one that contains a sword. Ahead of you, lies a semi-functional machine. Approach it to start the trial.
The basic task here is to follow the instructions for performing certain combat moves: a dodge, a backflip, and a counter.
To dodge, hold down the block button and then press jump and either left or right to hop in that direction. Time it right, then hit the machine, to move onto the next.
---
Thanks to a new update, it's now possible to play Zelda Breath of the Wild in VR. Want help with the main game? Our Zelda: Breath of the Wild walkthrough can help complete Divine Beasts Vah Ruta, Vah Rudiana, Vah Medoh and Vah Naboris and more. There's also how to get the Master Sword, Hylian Shield and all Zelda Captured Memories and Great Fairy Fountain locations, while our Shrines locations and Shrine maps hub explains where to find and solve every puzzle room, including dragon locations and Labyrinth solutions. We also have a DLC 1 guide and DLC 2 guide, including all Tingle, Majora's Mask, Phantom, Midna outfit locations.
---
To perform a backflip, hold down block and perform the same maneuver as a dodge, but this time press down as if backing away from the machine.
Finally, to perform a counter, you need to not block, wait for the machine to attack, and then press block at just the right time to repel the attack. The machine's arm swings pretty slowly, so wait until it actually begins to move before you press the block button.
That's it! Head forwards through the now open door to claim an opal as a reward from the chest, and you're all done with Ta'loh Naeg's Teaching trial and the Ta'loh Naeg shrine.
While you're here, here are other Shrines within this region:
Dueling Peaks region (9 Shrines)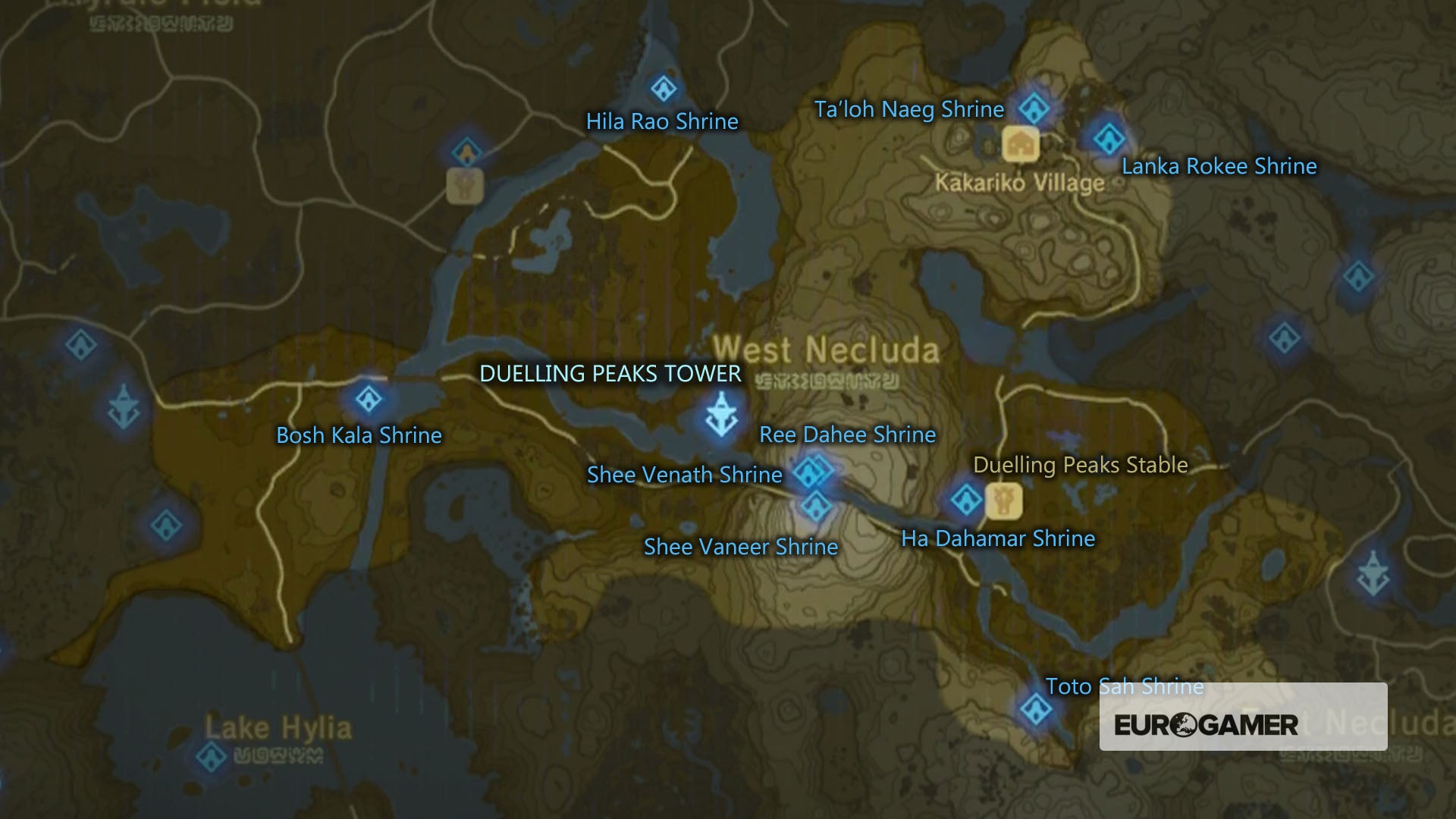 If you're after other trials, then our Zelda: Breath of the Wild Shrine locations and maps hub page can help with other regions.