Zelda - Rona Kachta and the Forgotten Temple solution in Breath of the Wild
How to find and beat Rona Kachta and the Forgotten Temple.
Rona Kachta is one of the many shrines located throughout Zelda: Breath of the Wild. Found in the Woodland region, you'll need to tackle the Forgotten Temple challenge to complete it.
If you need help finding and solving other Shrines, our Shrine location maps page can help, while our Zelda: Breath of the Wild walkthrough and guide covers other aspects of the game.
How to find Rona Kachta and the Forgotten Temple
The Forgotten Temple is an easily missed, but very interesting and challenging location, slotting in the giant ridges that course throughout the map, specifically between the Hebra Mountains and Hyrule Forest in the north west part of the map.
The easiest way to get there is to glide north east from the Hebra Tower, where the entrance to the ruins will be visible from the south.
How to beat the Forgotten Temple and reach Rona Kachta
The Forgotten Temple is essentially several halls filled with stationary Guardians from all different heights. As such, it's highly recommended you tackle this in the late game, when you have a high amount of hearts, strong weapons and armour (Ancient Armour, Ancient weapons and / or the Master Sword is recommended) and some experience fighting Guardians previously.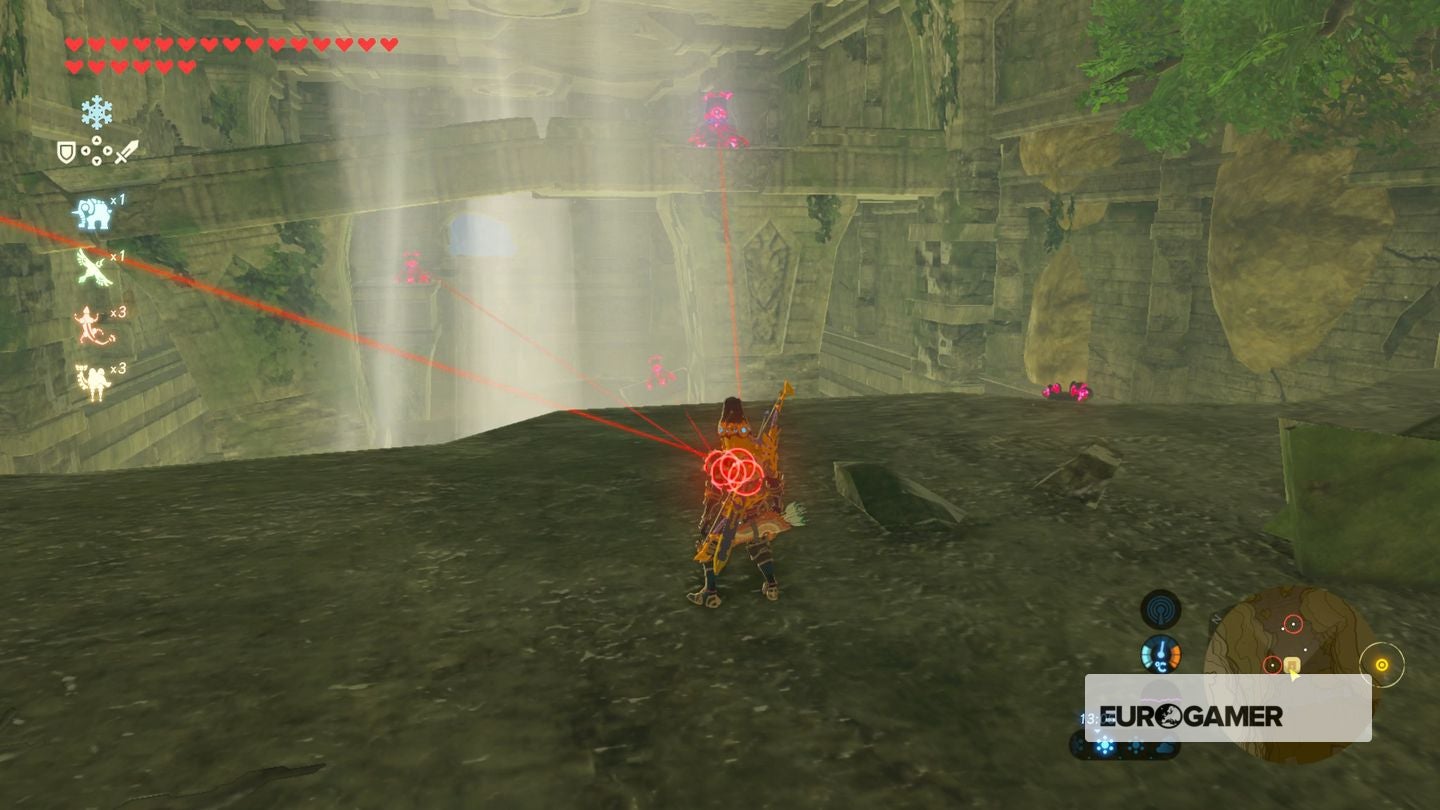 As soon as you enter, a handful of lasers will lock onto you at once, and this will be the case as you continue to explore. The trick is to take down one Guardian at a time safely. Use nearby debris to block them, and the gusts of wind to go between Guardians without getting hit (there is a delay on their projectiles, so as long as you are some distance and travelling at speed, they won't hit you).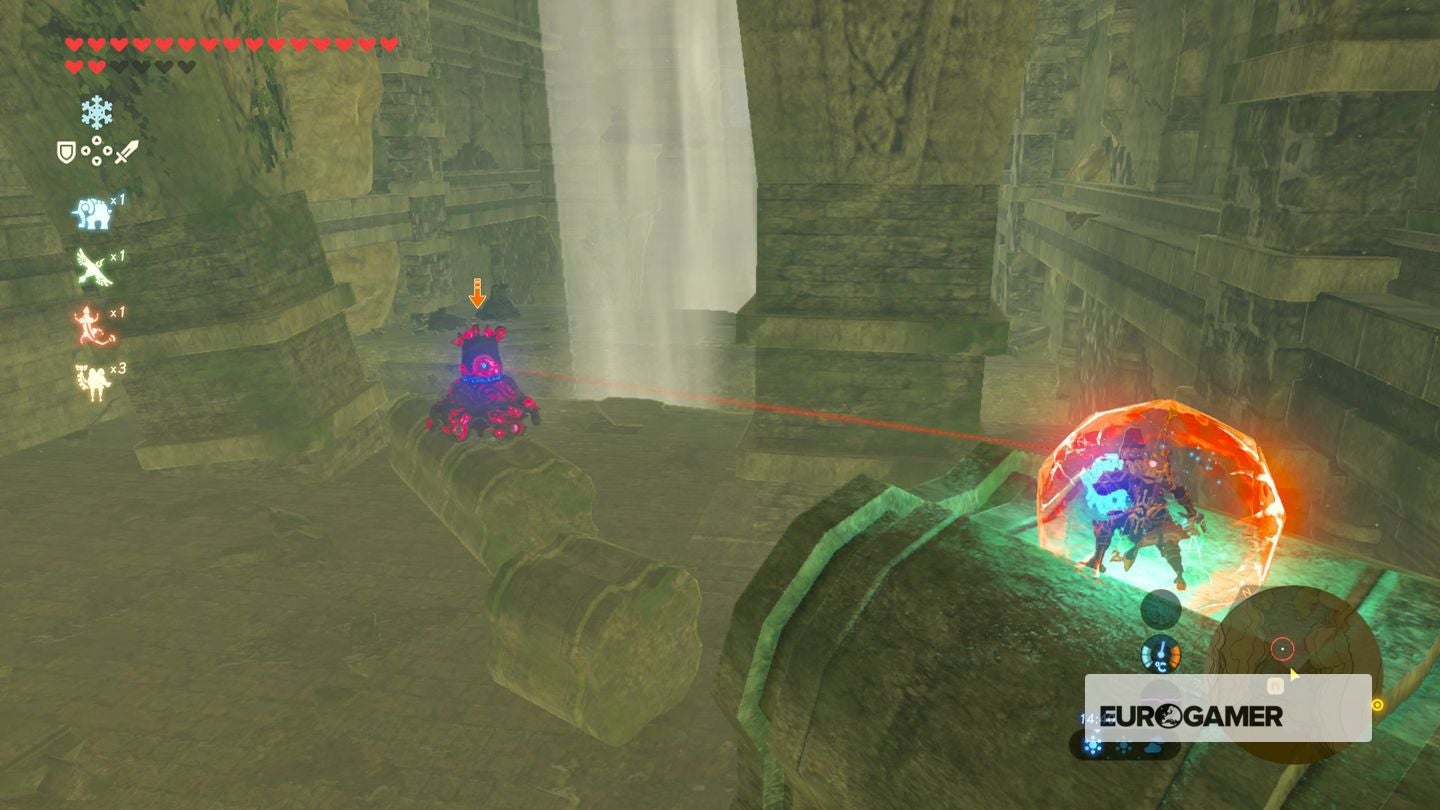 The best way of tacking down each one is to go head-to-head. By standing next to one of the Guardians in the right spot, you can block all the other lasers with it. Now fire an arrow at its eye - stunning it temporarily - and whack away with your sword. Soon enough it'll go down. You'll want to repeat this process - selecting the next easiest Guardian - until they are all done for.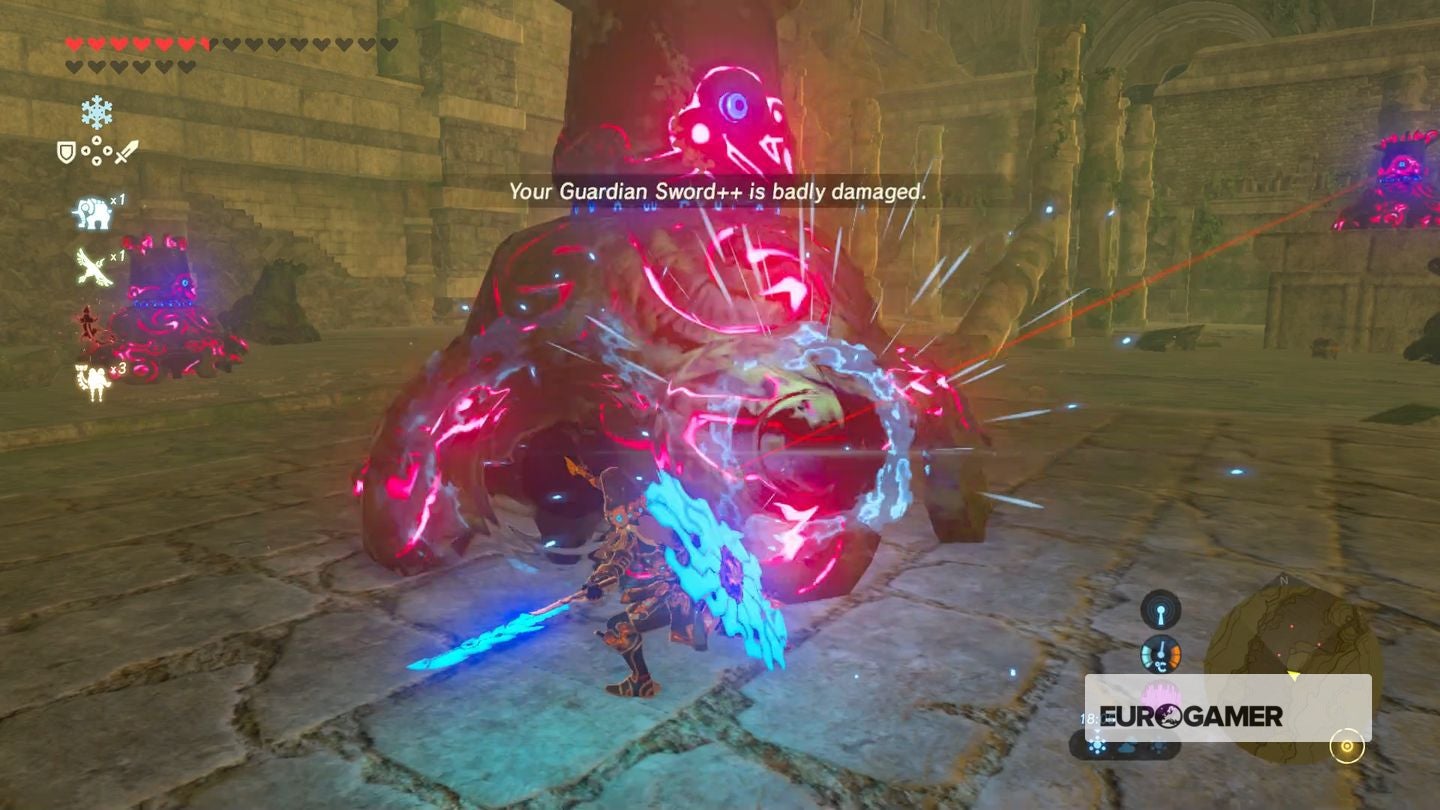 ---
Thanks to a new update, it's now possible to play Zelda Breath of the Wild in VR. Want help with the main game? Our Zelda: Breath of the Wild walkthrough can help complete Divine Beasts Vah Ruta, Vah Rudiana, Vah Medoh and Vah Naboris and more. There's also how to get the Master Sword, Hylian Shield and all Zelda Captured Memories and Great Fairy Fountain locations, while our Shrines locations and Shrine maps hub explains where to find and solve every puzzle room, including dragon locations and Labyrinth solutions. We also have a DLC 1 guide and DLC 2 guide, including all Tingle, Majora's Mask, Phantom, Midna outfit locations.
---
Alternatively, you can reflect lasers coming your way back at the Guardian, but not only is this an advanced technique, with several beams locked onto you, this isn't an ideal strategy.
There are two halls of Guardians, so take your time and keep your health up. Once you are done, make sure you mop up all the Ancient materials each one drops - useful for upgrades - as well as plundering two chests you may have missed; there are in alcoves at the base of the giant gusts of wind (second gust in the first hall, first gust in the second hall) giving you 300 Rupees and a Giant Ancient Core.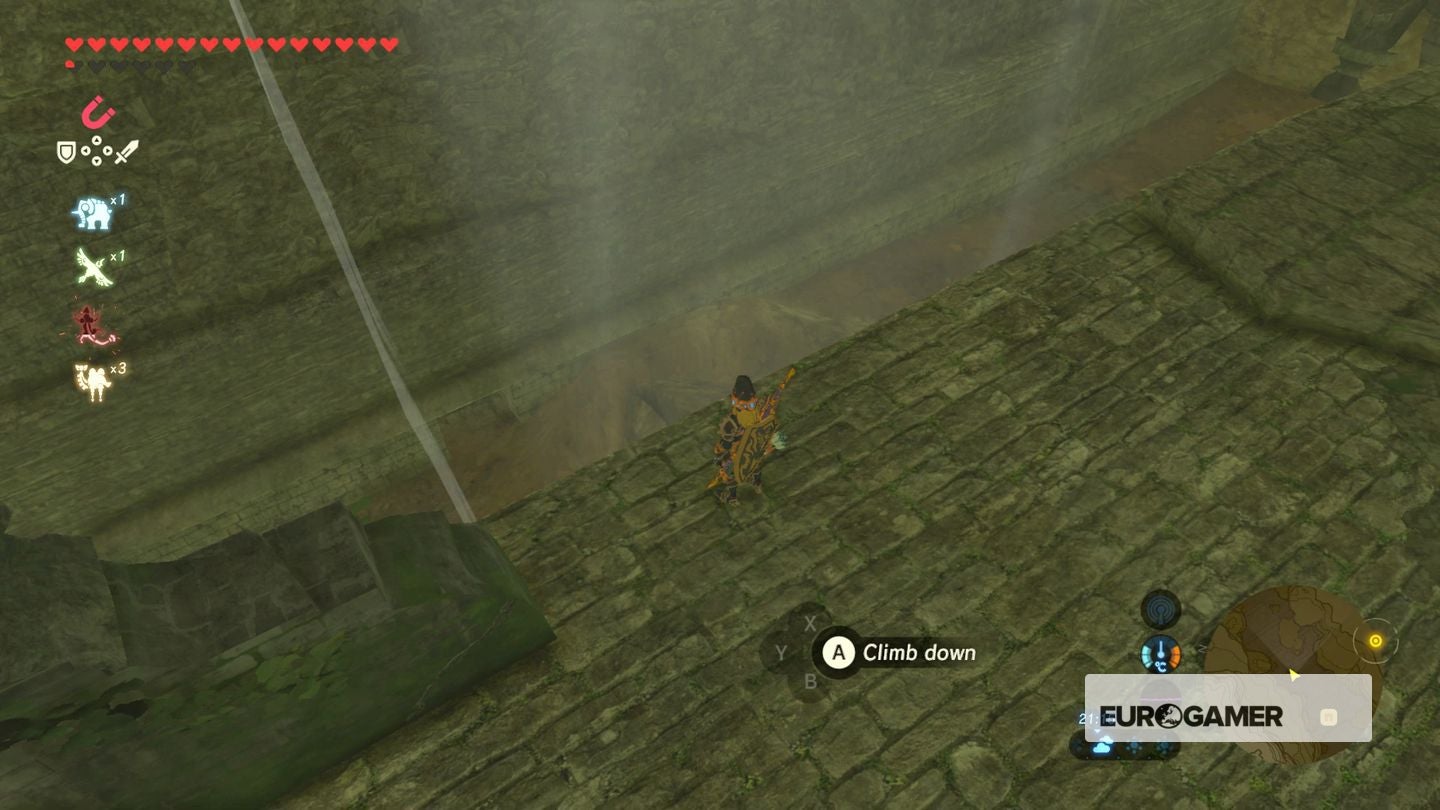 At the end is a Shrine, with thankfully no other trial, but a chest containing a Flameblade.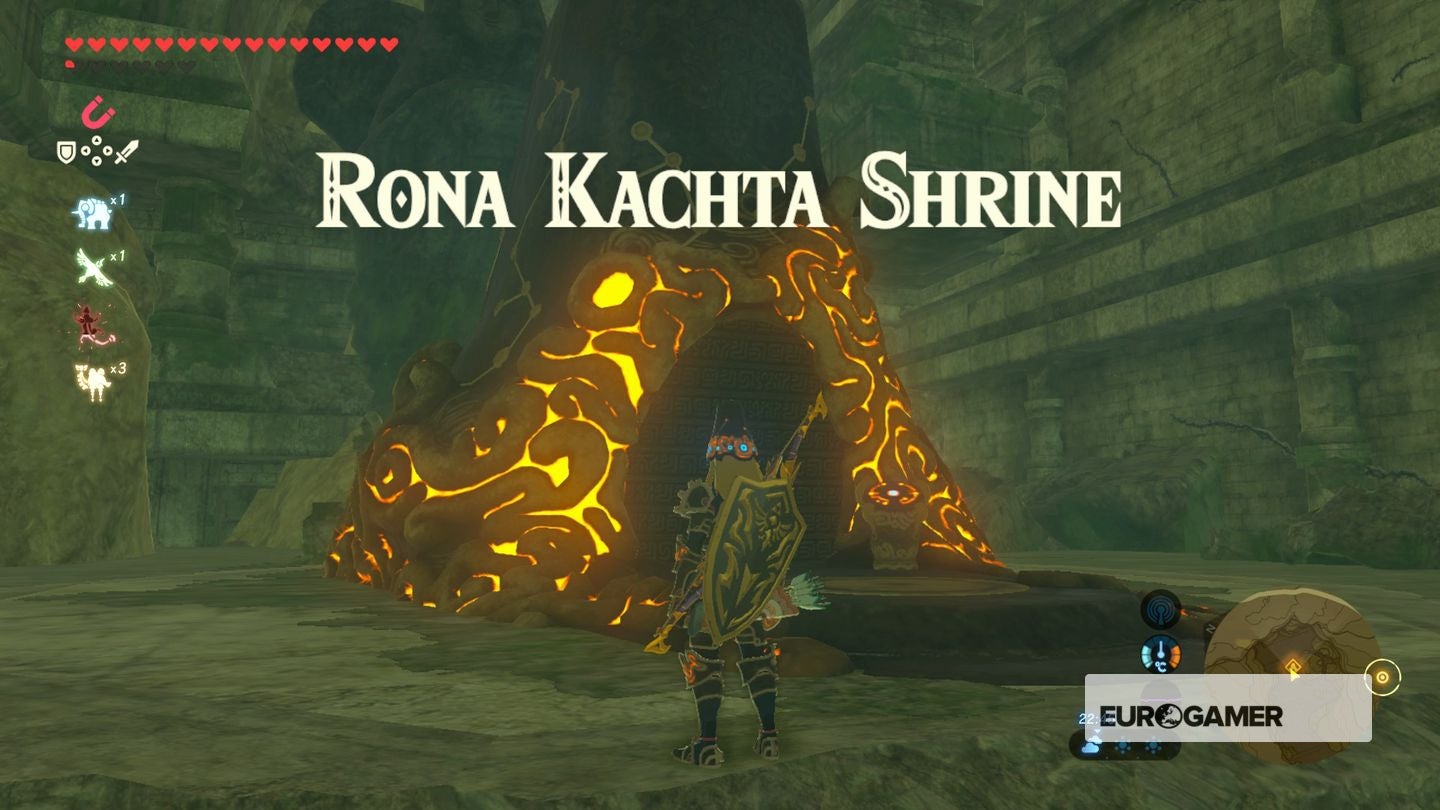 Note the Forgotten Temple also features a statue you can pray at behind the shrine if you want to spend your Spirit Orbs, and is a useful place to farm Guardian materials after every Blood Moon - though these stationary types won't drop any valuable Ancient Cores.
While you're here, here are other Shrines within this region:
Woodlands region (8 Shrines)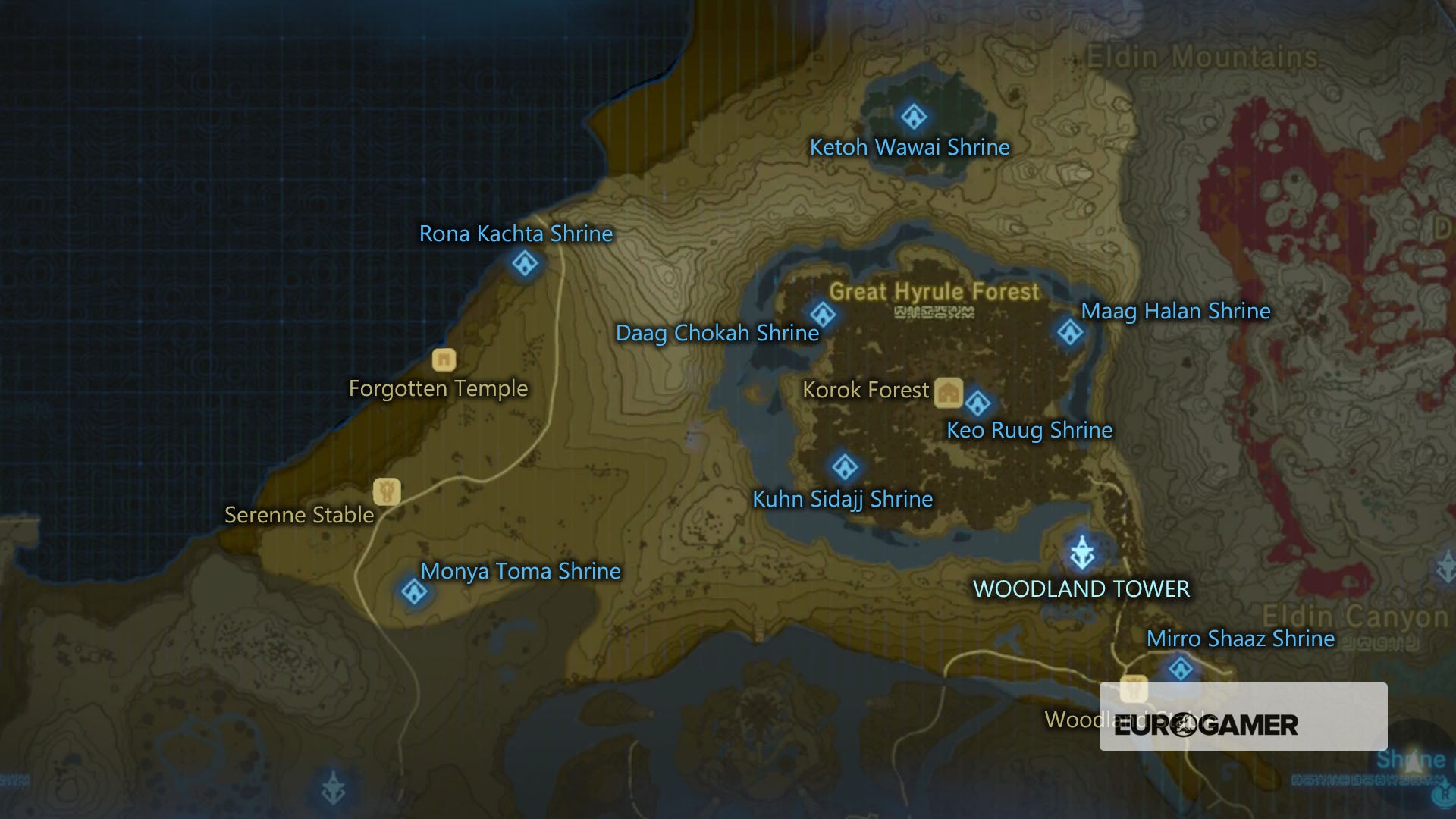 If you're after other trials, then our Zelda: Breath of the Wild Shrine locations and maps hub page can help with other regions.