Zelda Illusory Realm bosses: How to beat Waterblight Ganon, Windblight Ganon, Fireblight Ganon, Thunderblight Ganon
How to beat all four redux Ganon bosses in DLC 2's Illusory Realm.
Illusory Realm bosses have you take on redux encounters as part of The Champions' Ballad, the main quest in Zelda: Breath of the Wild's second DLC.
Once you have done the corresponding bosses, you must face Waterblight Ganon, Windblight Ganon, Fireblight Ganon and Thunderblight Ganon once again, but with specific items and restrictions.
If you're after help for the main game itself, then consult our Zelda: Breath of the Wild walkthrough and guide.
How to beat Illusory Realm Waterblight Ganon
When you leave the shrine you'll see a falling star land on Vah Ruta. Warp over to the Divine Beast, approach its front and a cutscene will play out.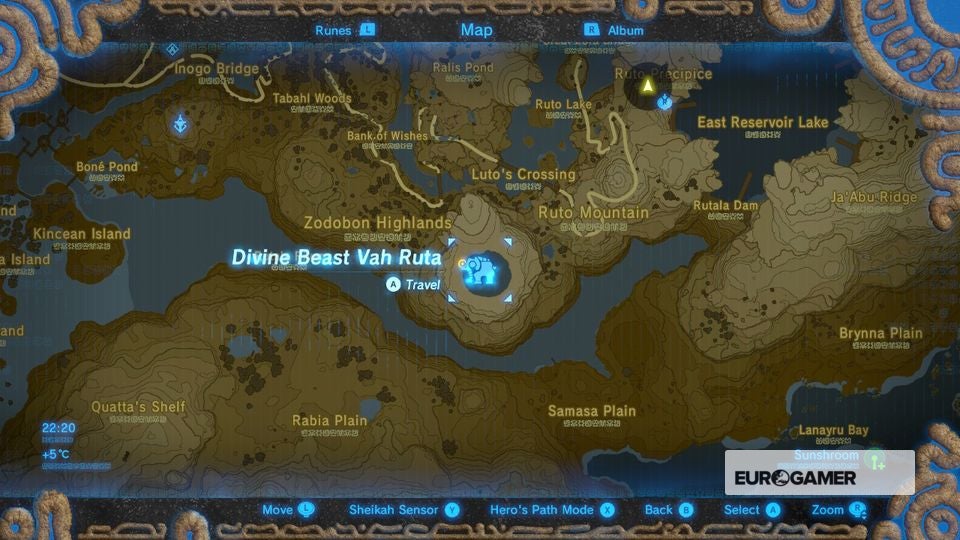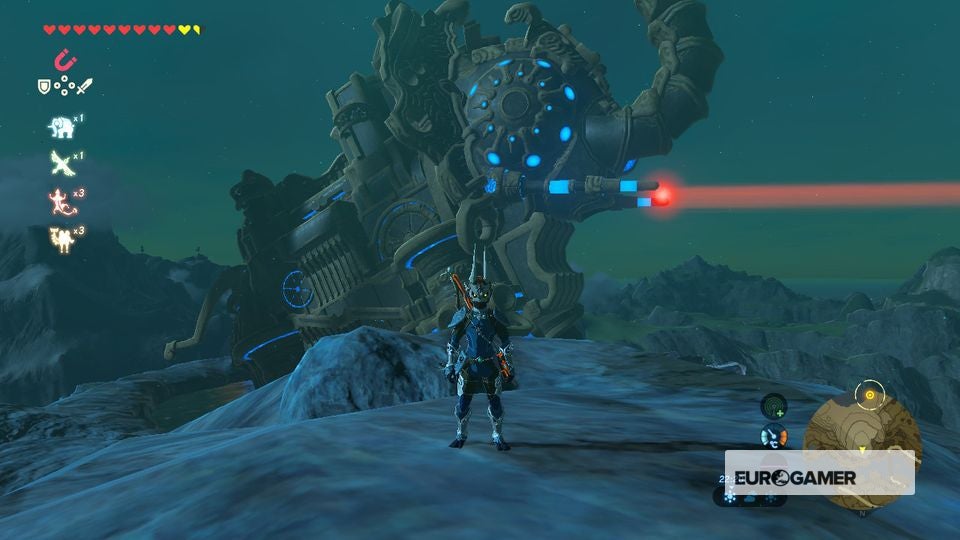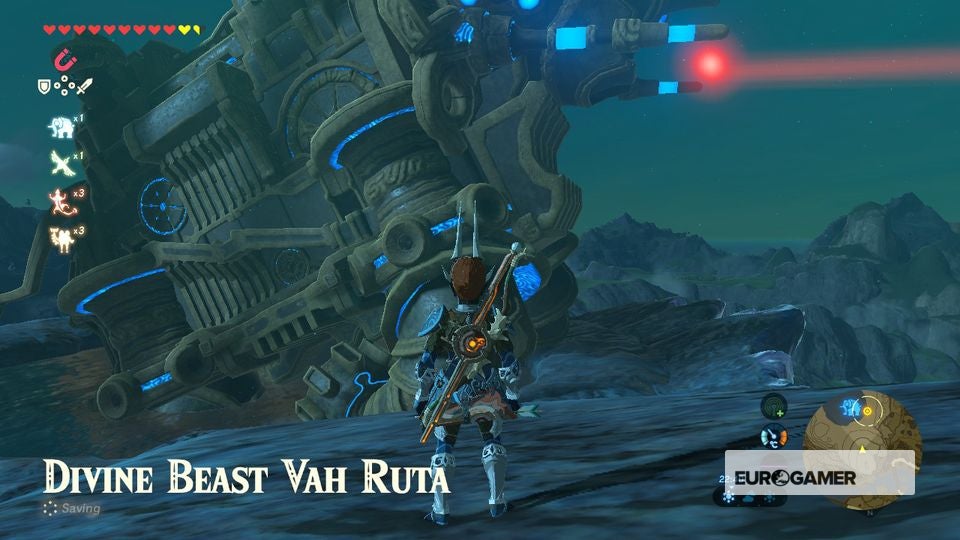 You'll now have to fight Waterblight Ganon again, only this time he's meaner and you've only got a certain number of tools at your disposal. Those tools comprise:
Lightscale Trident
Ceremonial Trident x2
Silver Bow
Arrows x10
Zora Set (level 2 upgrades)
Hyrule Bass, Hylian Shroom, Fleet-Lotus Seeds
Aggression is the key to winning this fight, so sprint towards Ganon as fast as you can and start pummelling him with your trident. Since you're so close, his normal sweeping attack or straight on attack will be useless. Eventually he'll rise up and slam his pike into the ground causing a shockwave.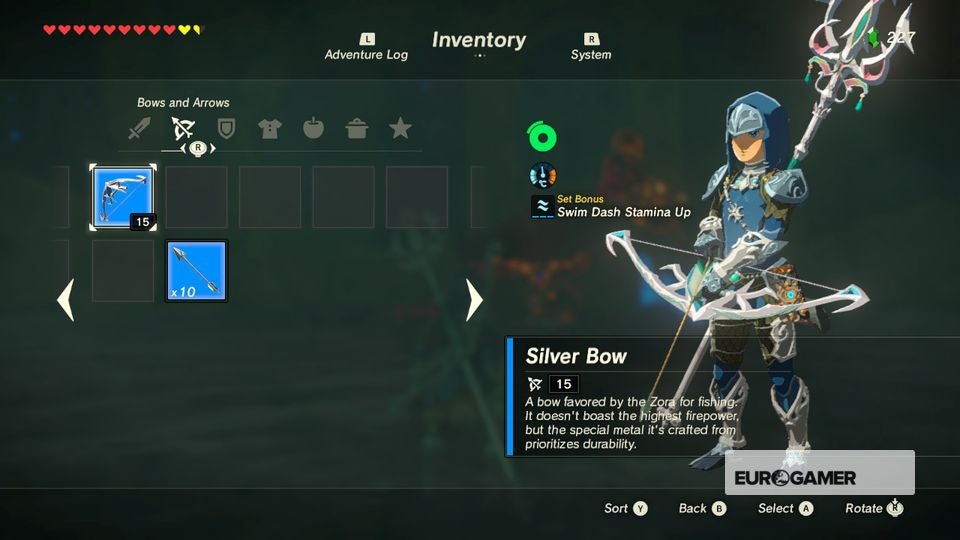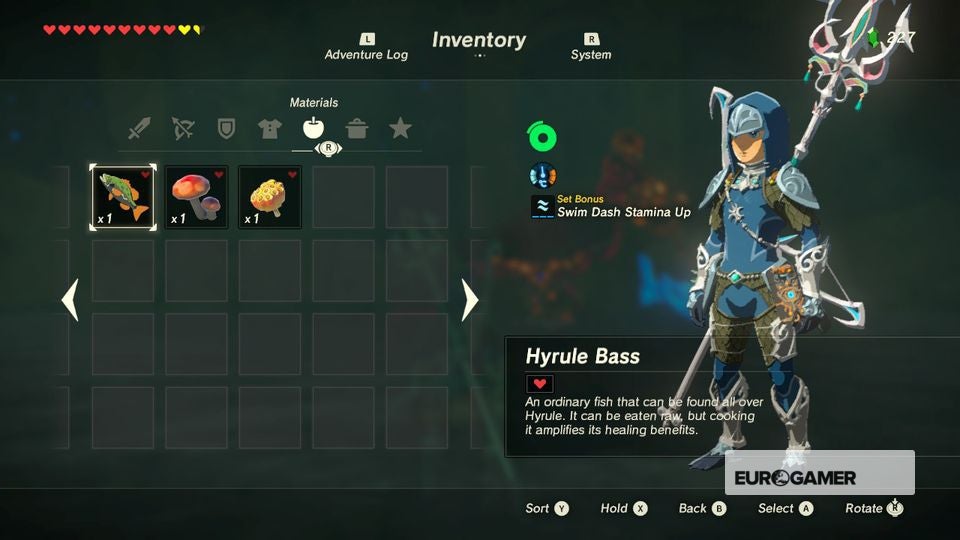 Keeping hitting him until the last minute then hold 'LZ' to bring up your shield and initiate Daruk's Protection. Repeat this once more and Ganon's health should be half done. It may take a third effort to reach halfway depending on how many strikes you've landed in between his shockwave move.
The second phase of the fight will see the boss raise four stone platforms and flood the rest of the room. Swim to the nearest platform, make sure Cyonis is selected and use it to shatter the ice block he throws at you. Now place an ice platform in the water, close enough that you can jump to it. Now shatter the next ice block he throws at you.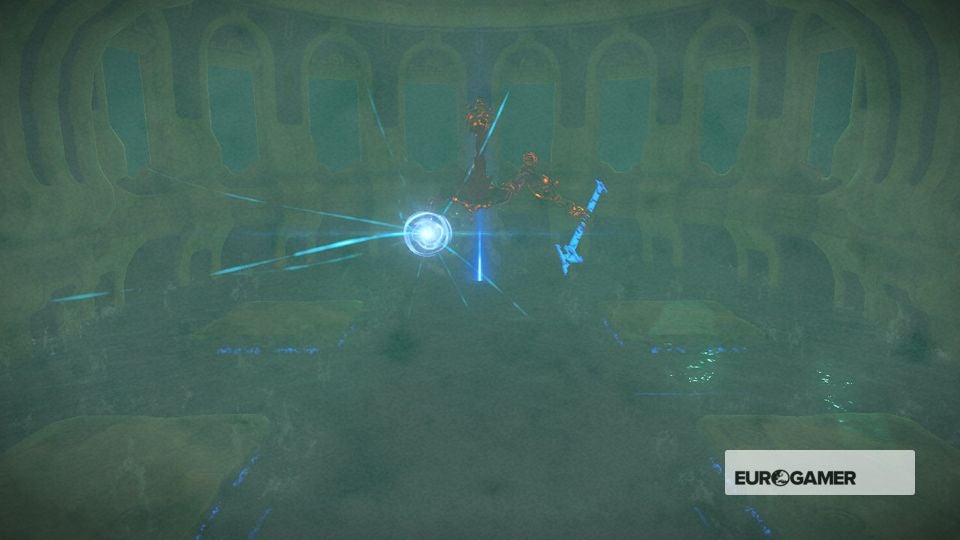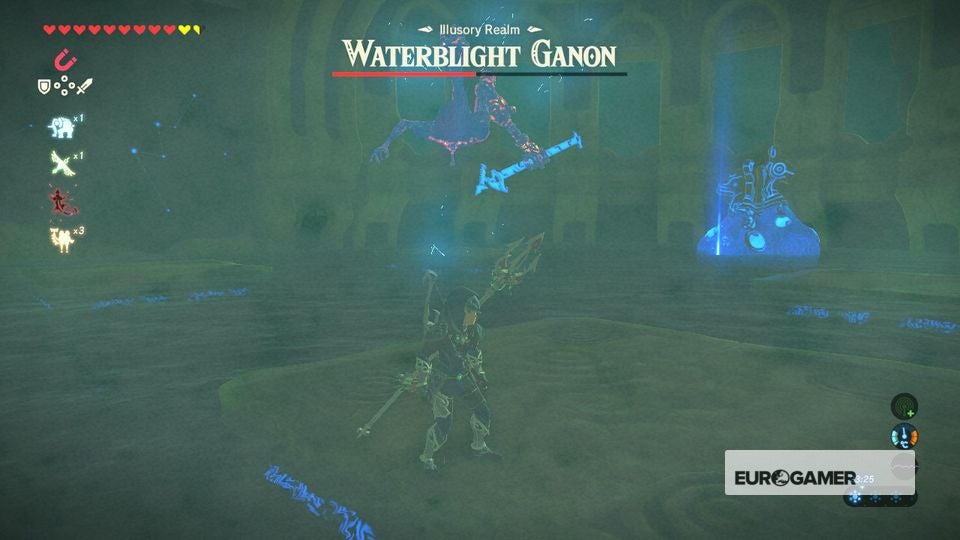 Now climb the ice pillar, and glide over to the platform the boss is hovering above. Now hold 'Y' and initiate Urbosa's Fury. This attack is powerful enough to stun the boss, causing him to fall (just be careful as technically he can hurt you by landing on you). Pummel him with strikes until he rises up and teleports away.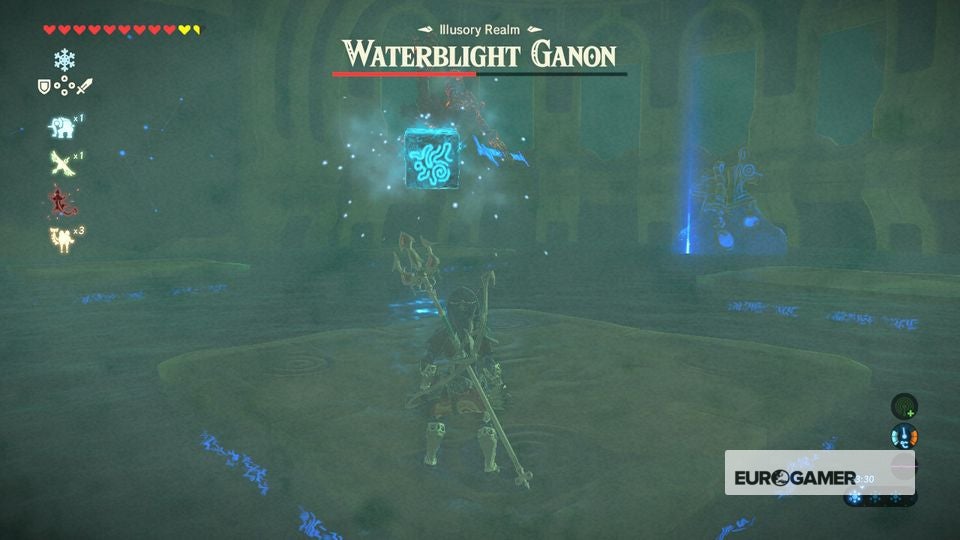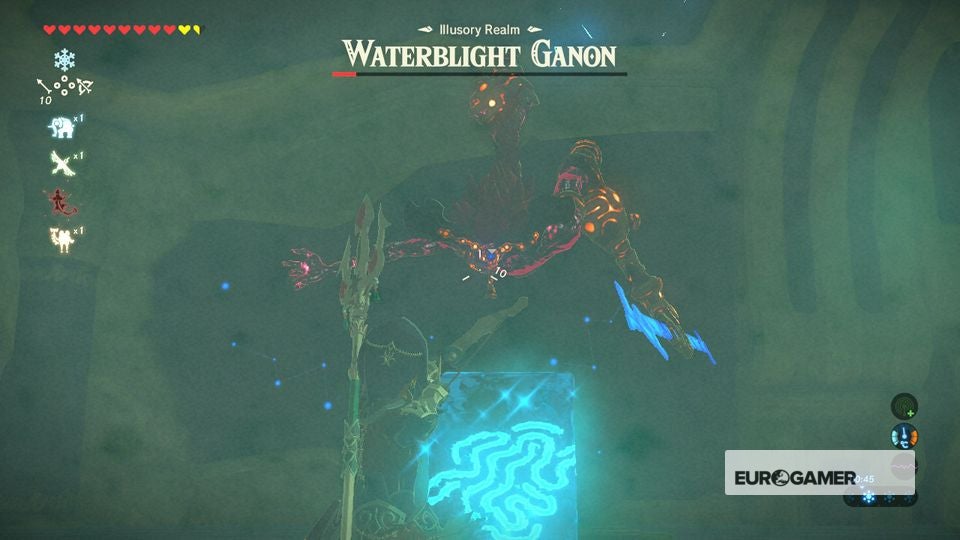 He'll now send either three or five ice blocks at you (depending on how far down his health is). Repeat the process, or simply shatter the blocks and use your arrows to bring him down permanently.
Be careful in the meantime as he can sometimes throw his pike like a spear, jump clear to avoid it but don't jump too far as swimming back could leave you open to those ice blocks.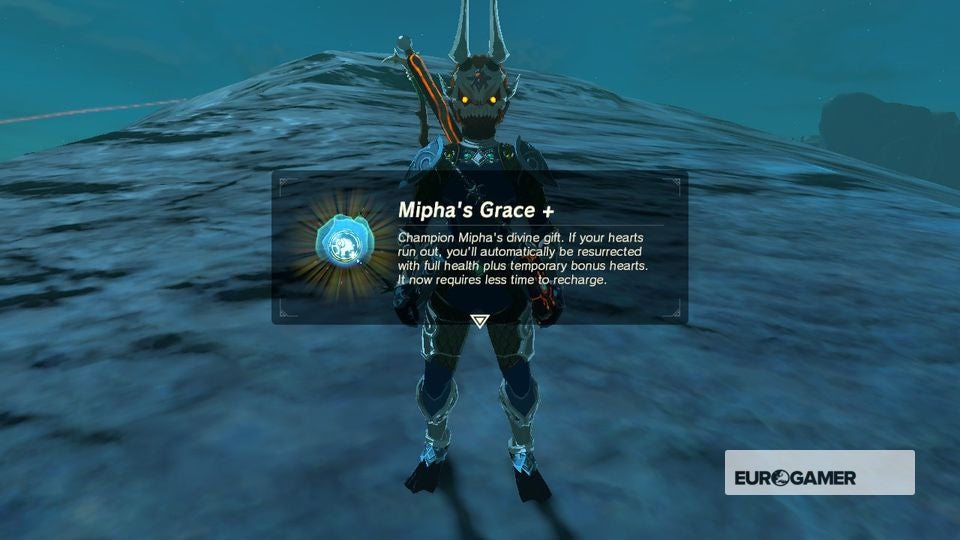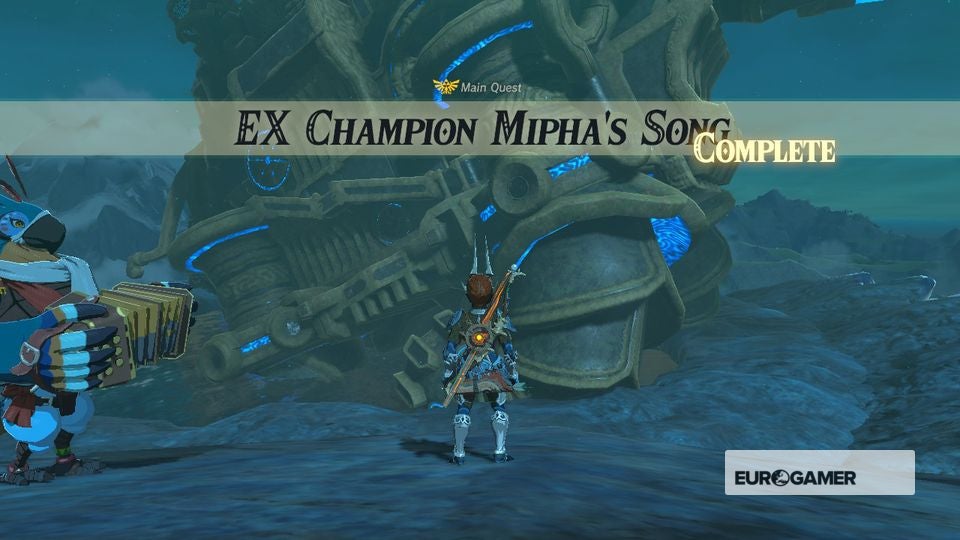 When the boss is defeated, you'll return to reality and encounter Kass. He'll sing a song of Mipha, unlocking a new memory about her, Zelda and a super cute miniature version of Sidon. When it plays out, you'll get Mipha's Grace +, which recharges at a much faster rate than the vanilla one you've been using for so long.
How to beat Illusory Realm Windblight Ganon
Warp to Vah Medoh, approach the Divine Beast a cutscene will ensue.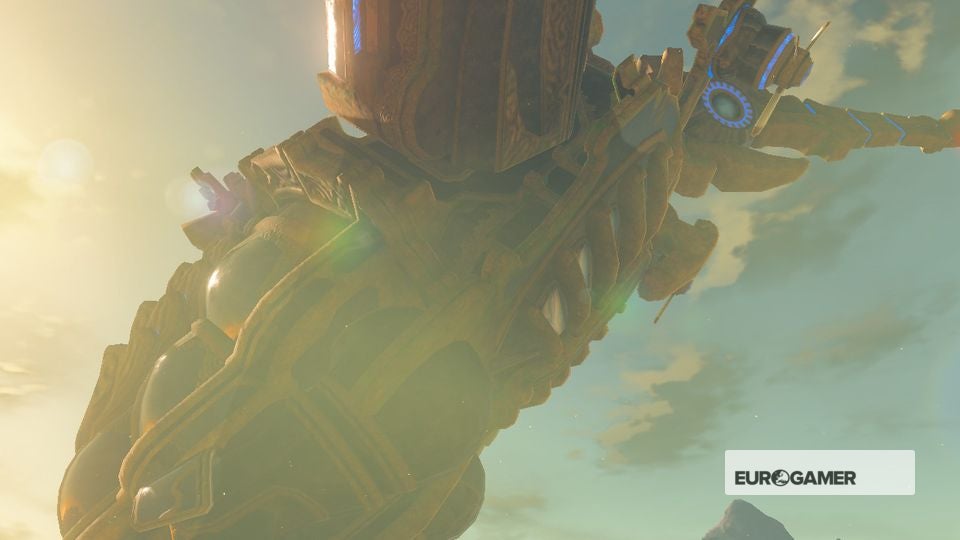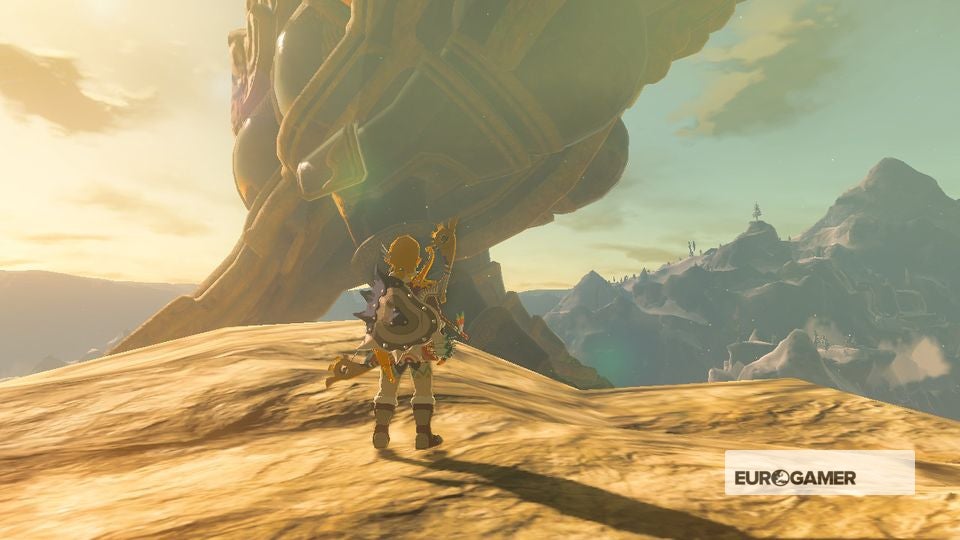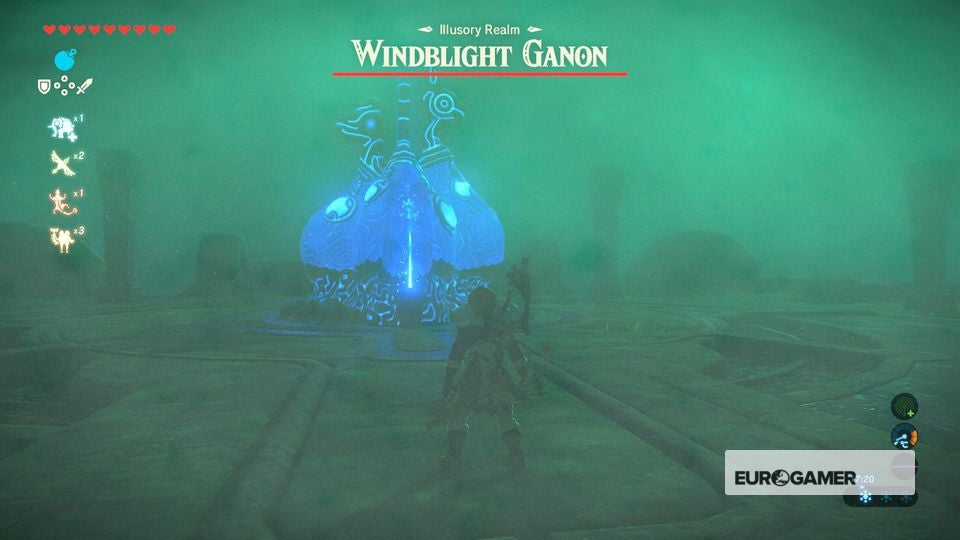 When it's over, you'll have to fight Windblight Ganon all over again. As with the other redux fights, you'll only have access to the gear provided by the game itself: That gear is as follows:
Feathered Edge
Falcon Bow
Duplex Bow
Phrenic Bow
Arrow x100
Bomb Arrow x5
Snowquill Set (Level 2 Upgraded)
Wildberry, Endura Shroom, Raw Bird Drumstick
Thankfully, the fight is just as easy as the first time around - just so long as you're smart about how you take it down.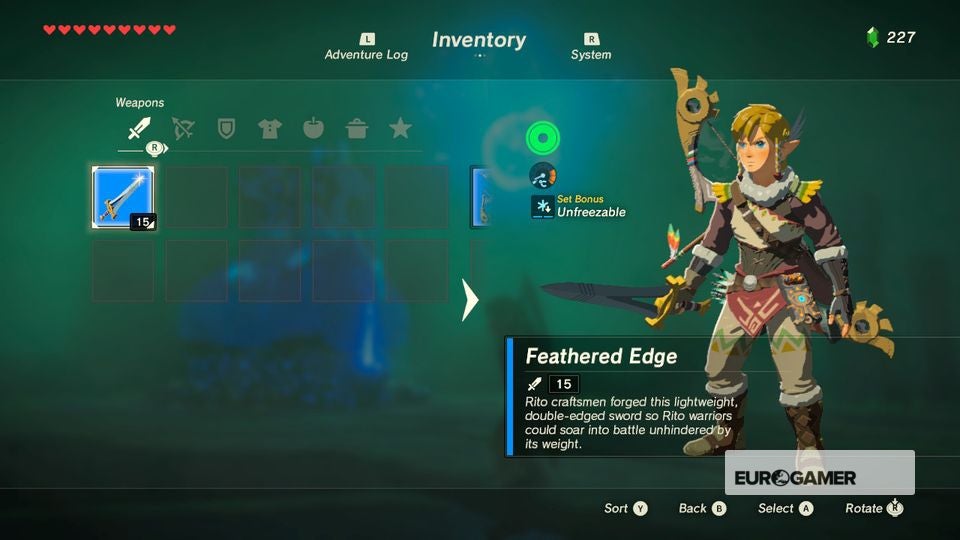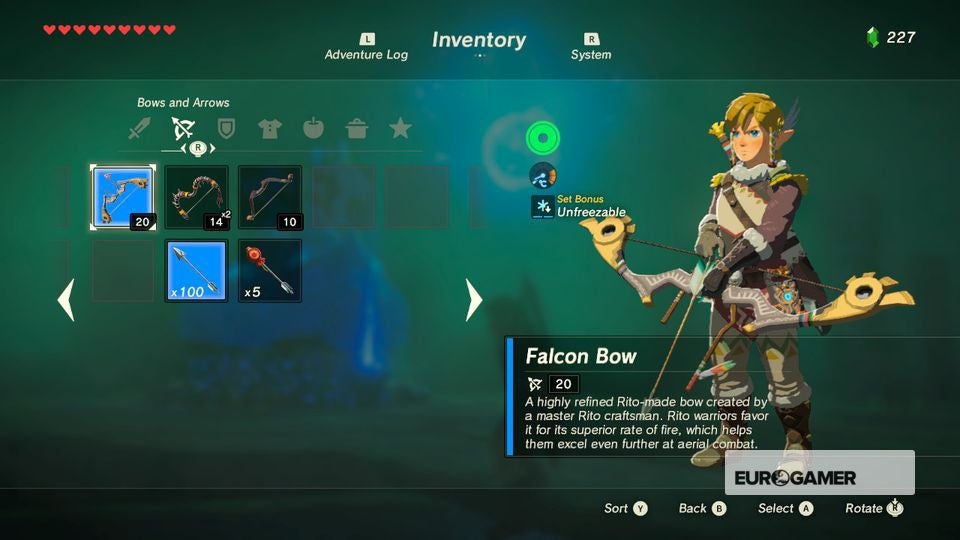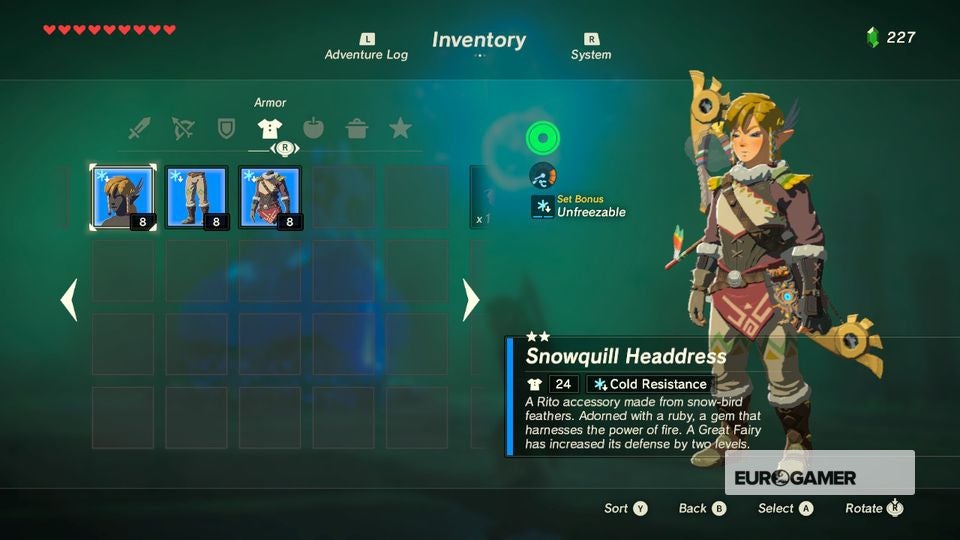 When the battle starts, locate the boss and head for one of the updrafts. Glide into the air, then use the slow-mo on your aim to hit Ganon in its eye. Three hits and it'll fall.
For the best results, make sure you're as close as you can be so you sprint to it and either a) hit it loads with your sword b) hit it with Urbosa's Fury or c) hang back and it it with arrows.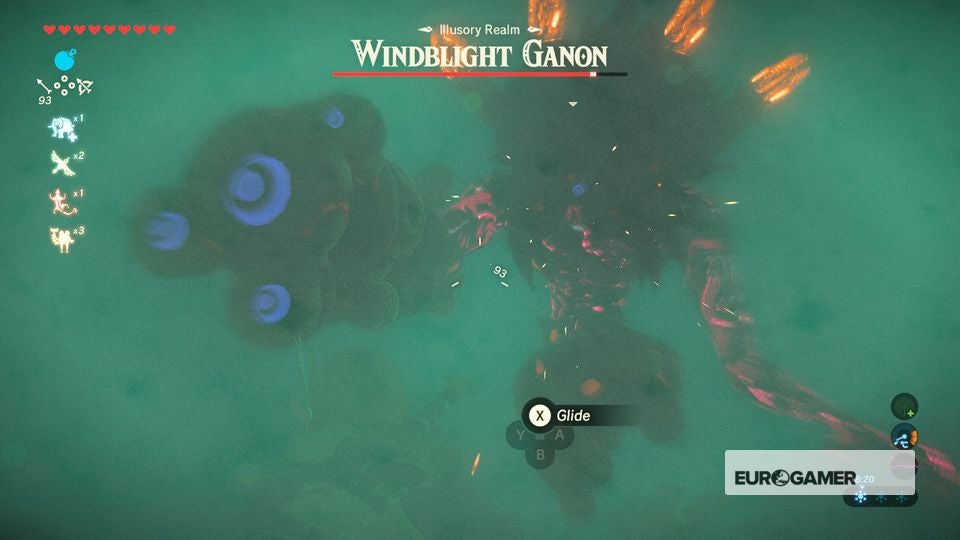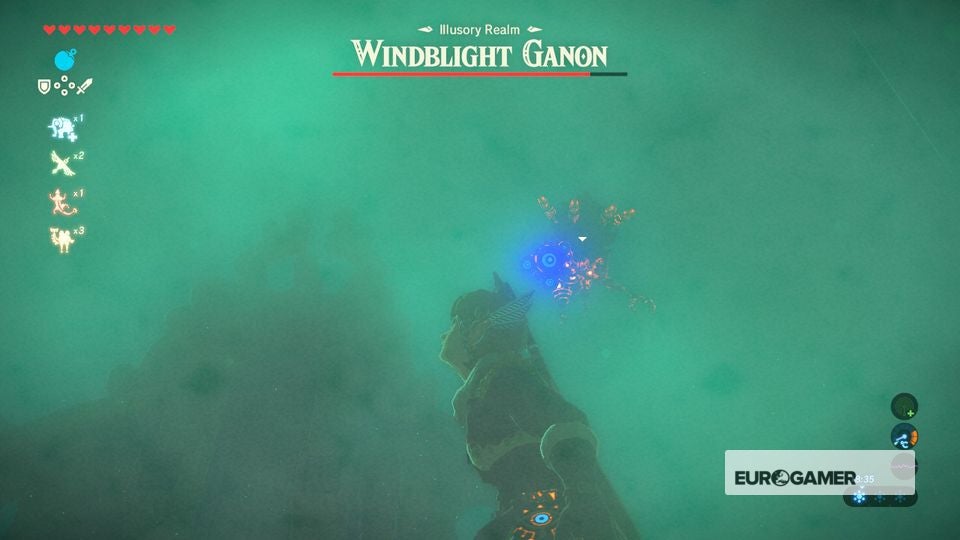 You have 100 regular arrows, so as long as you're not a terrible shot, you should be able to rinse him down to half health with this method without wasting too many. When he hits 50%, he'll get more aggressive and call up those annoying sentries.
The same method applies, but you'll need to sprint for cover when those sentries form a circle and try to snipe you. Keep peppering its eye with arrows and it'll soon be toast.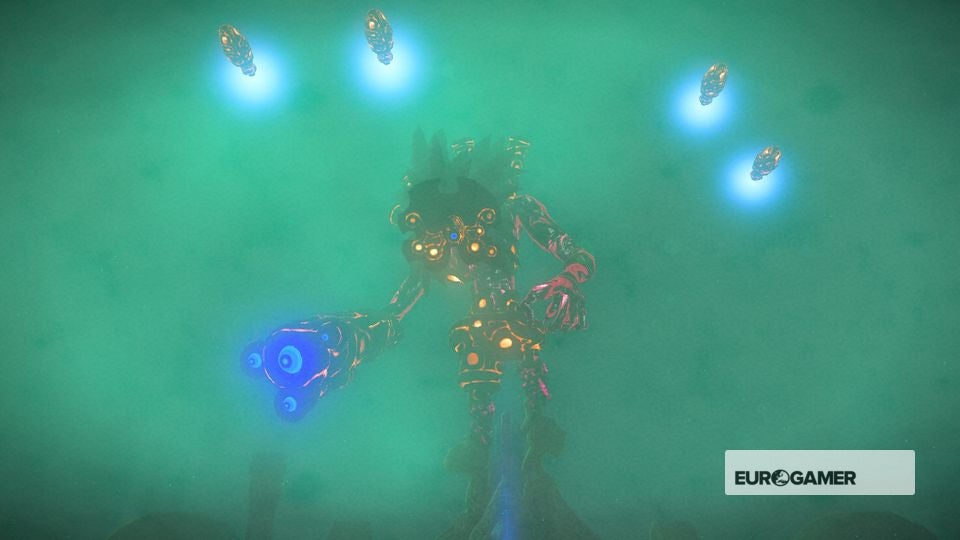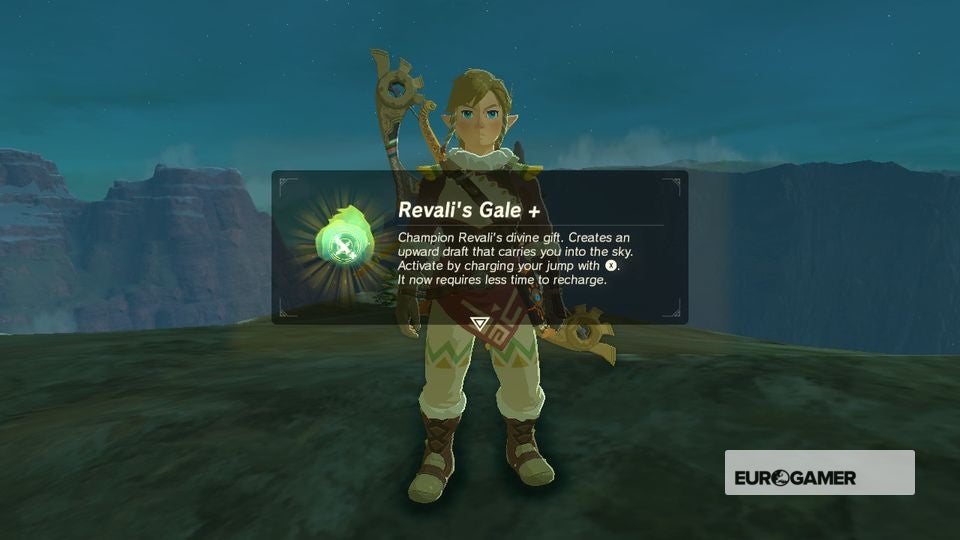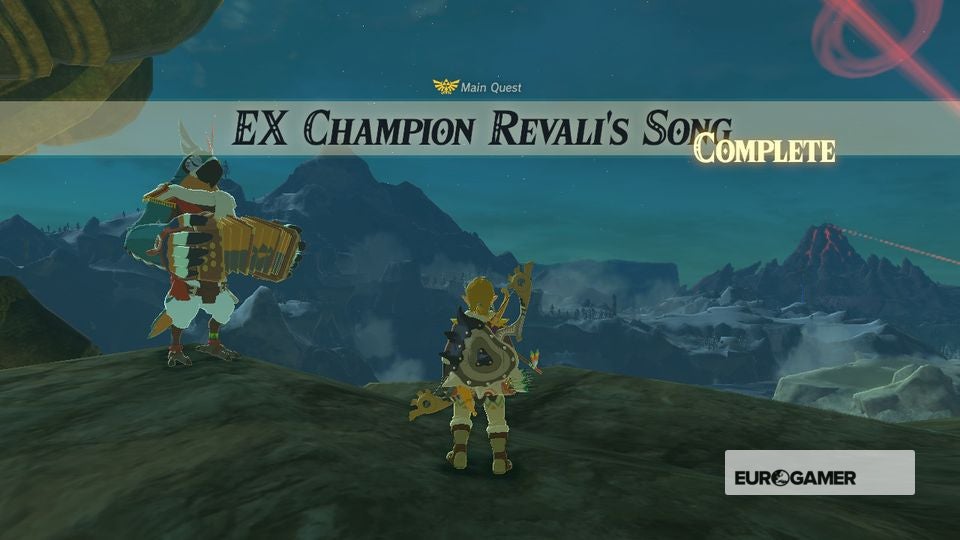 How to beat Illusory Realm Fireblight Ganon
Warp to Vah Rudania, approach the Divine Beast and you'll enter your memory and the illusionary realm - it's time to fight Fireblight Ganon again. As before, you'll only have access to a strict set of gear, which includes:
Boulder Breaker
Knight's Bow
Ice Arrows x5
Flamebreaker Set (Level 1)
Seared Steak, Toasty Ironshroom, Baked Apple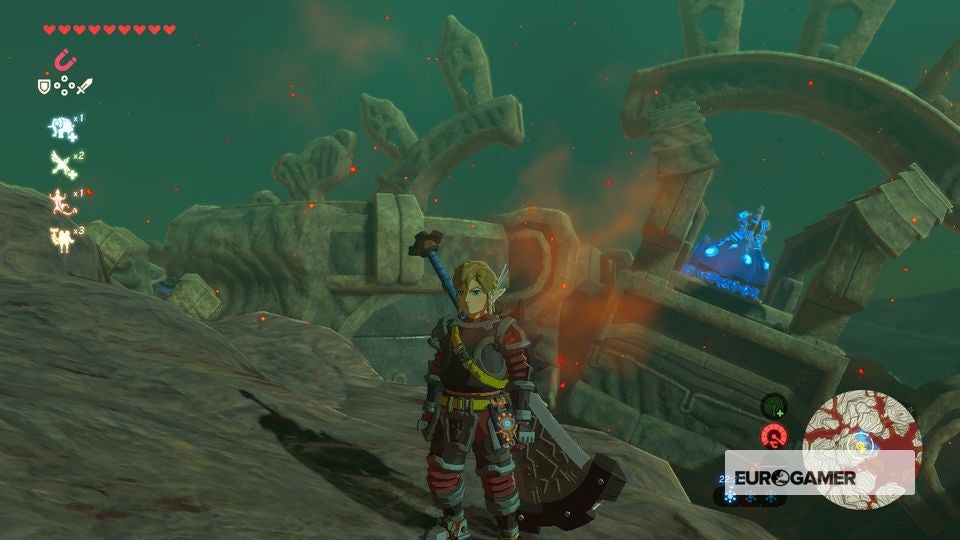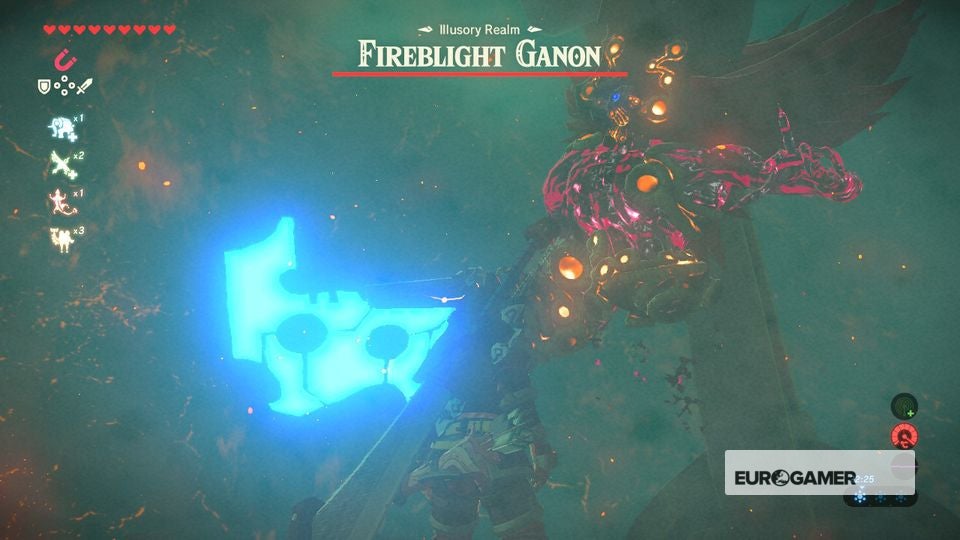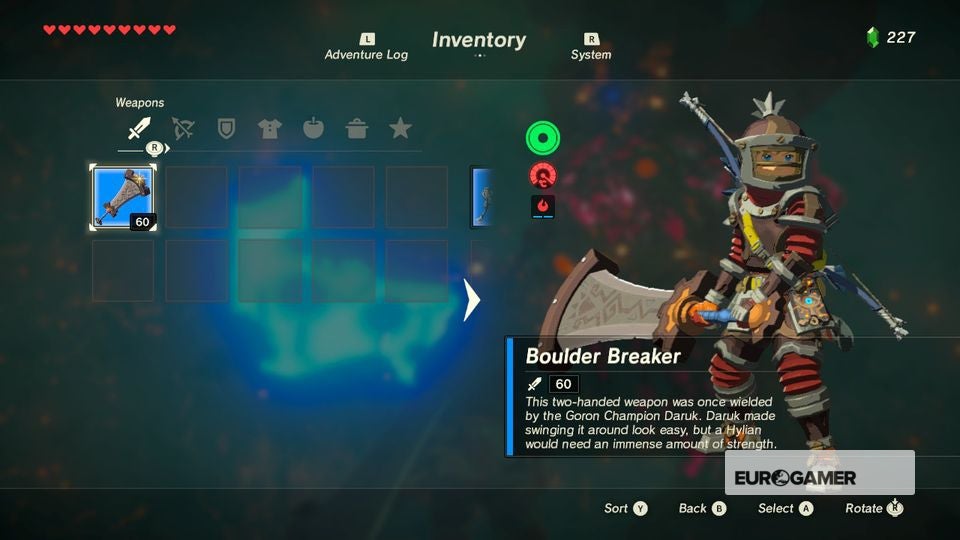 To kick things off, make sure your Daruk's Protection is full charged with three uses at your disposal. Run right underneath the boss and hold LZ to surround yourself with your shield. Now start laying into it with your Boulder Breaker.
If you're right underneath it, most of its attacks will miss. Those that do connect will be stopped with your shield barrier.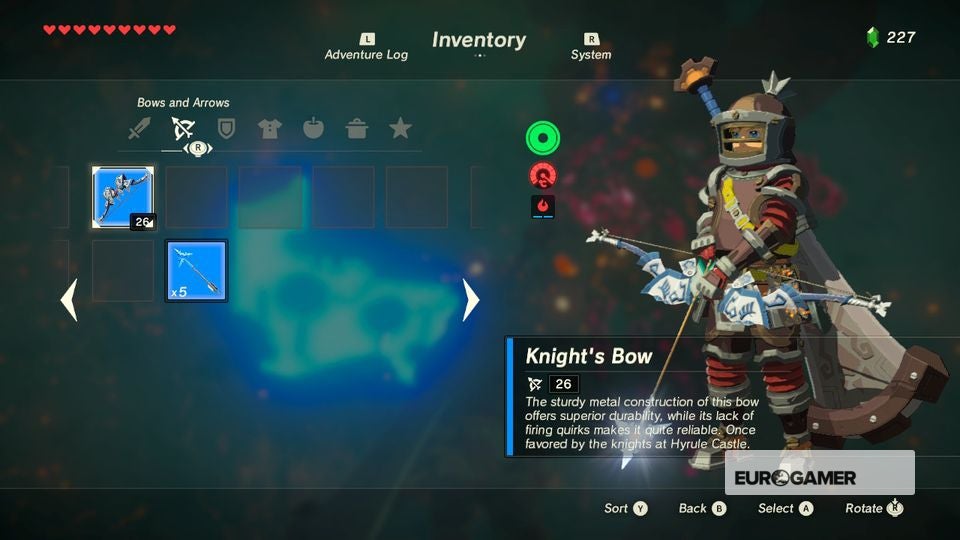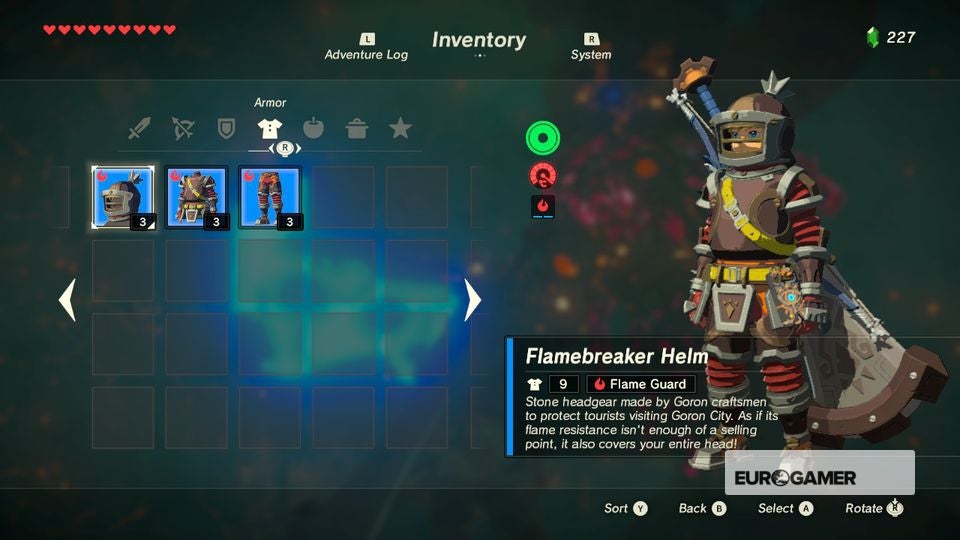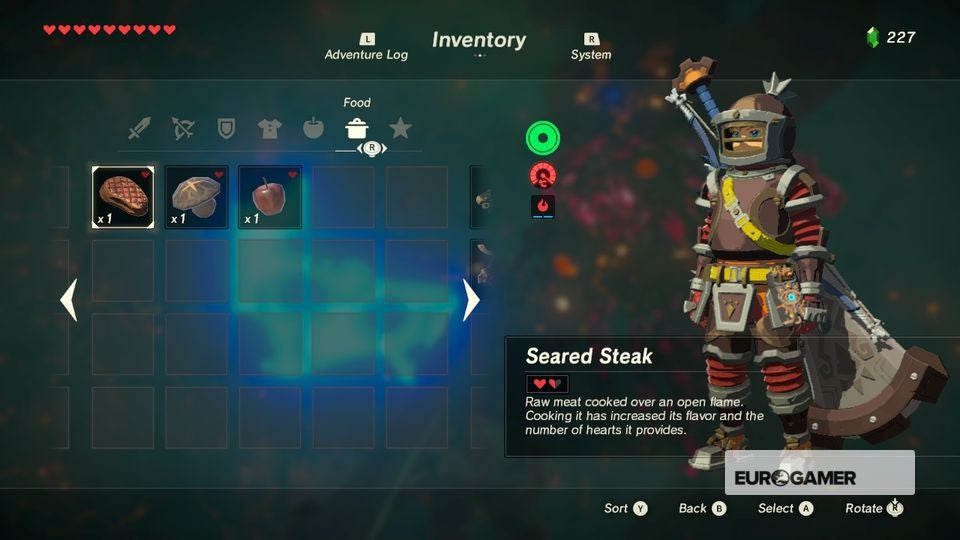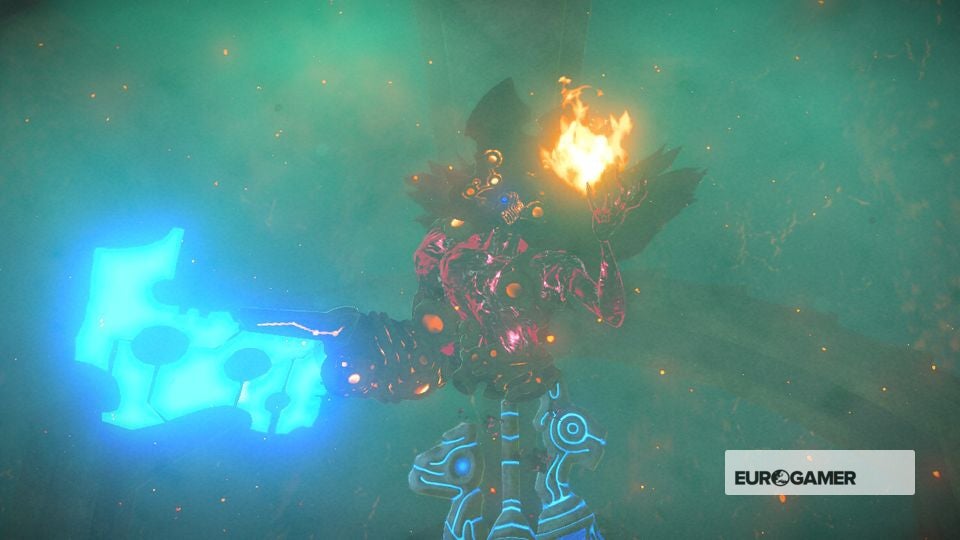 When it's down to half health, it'll pull away and surround itself with its own shield. Equip your Remote Bomb and throw it when it starts sucking scenery towards itself.
Detonate it when the bomb enters his shield, then run up and lay into him with your Boulder Breaker. You should him down to a quarter of his health - or close to it - by this stage.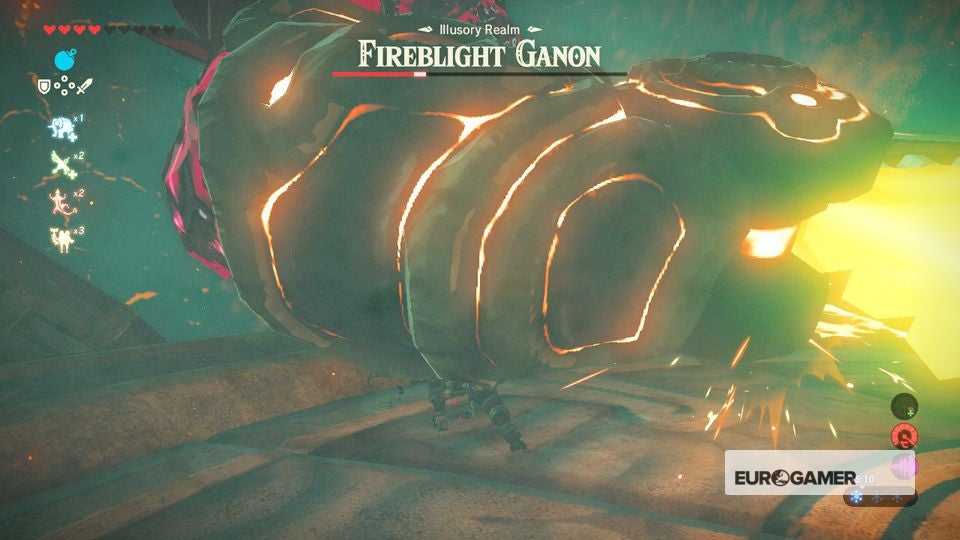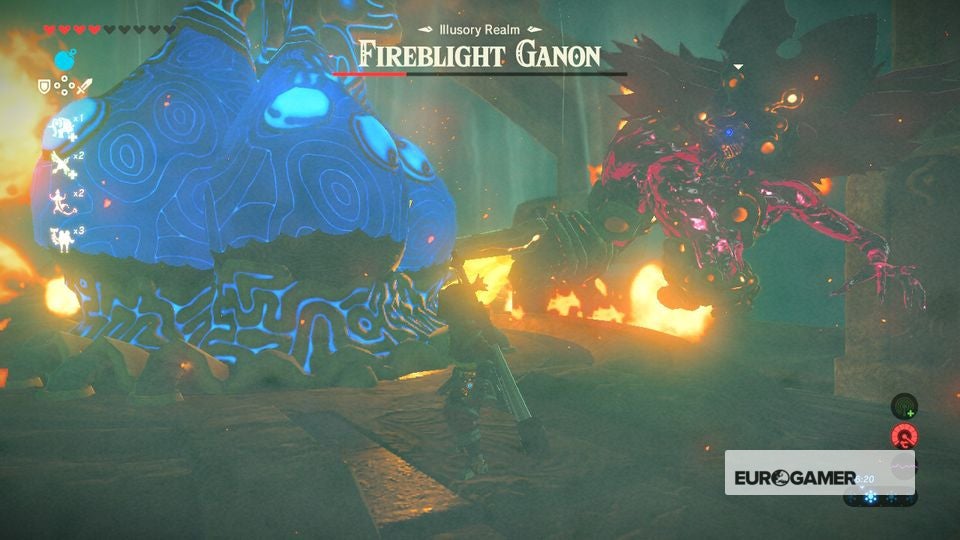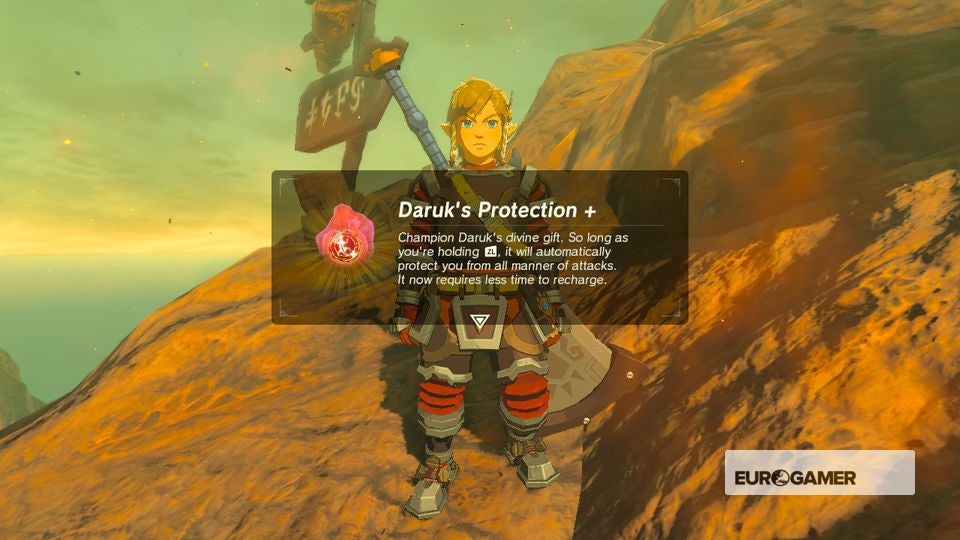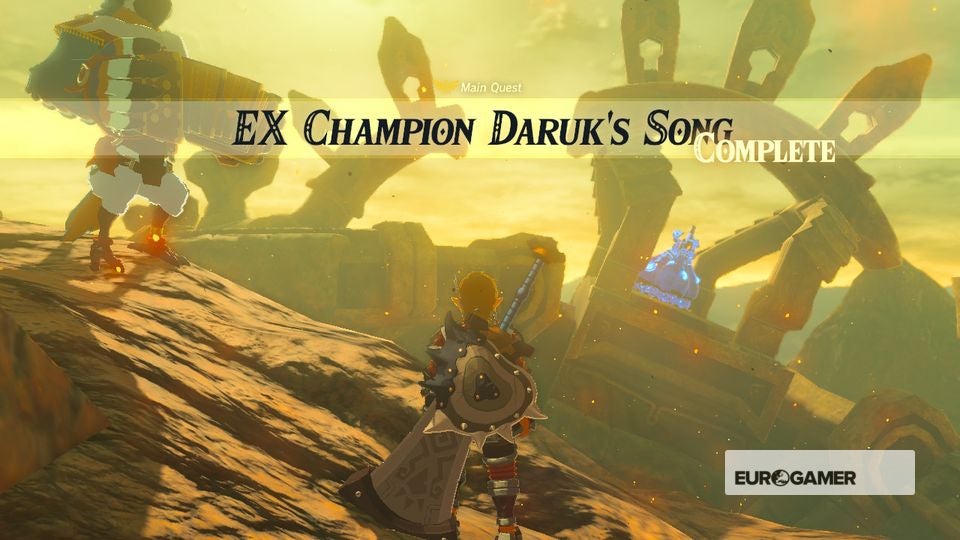 When he pulls away, either hit him with a Remote Bomb or an Ice Arrow to stun him. Run in and finish him off with your Boulder Breaker or use your shield barrier and strike him until he's beat.
When he falls, the third of the four songs will be complete. Daruk's Protection will now be stronger and recharge faster.
---
Thanks to a new update, it's now possible to play Zelda Breath of the Wild in VR. Want help with the main game? Our Zelda: Breath of the Wild walkthrough can help complete Divine Beasts Vah Ruta, Vah Rudiana, Vah Medoh and Vah Naboris and more. There's also how to get the Master Sword, Hylian Shield and all Zelda Captured Memories and Great Fairy Fountain locations, while our Shrines locations and Shrine maps hub explains where to find and solve every puzzle room, including dragon locations and Labyrinth solutions. We also have a DLC 1 guide and DLC 2 guide, including all Tingle, Majora's Mask, Phantom, Midna outfit locations.
---
How to beat Illusory Realm Thunderblight Ganon
Head to Vah Naboris and you'll face the fourth and final redux fight against those pesky Blight Ganon.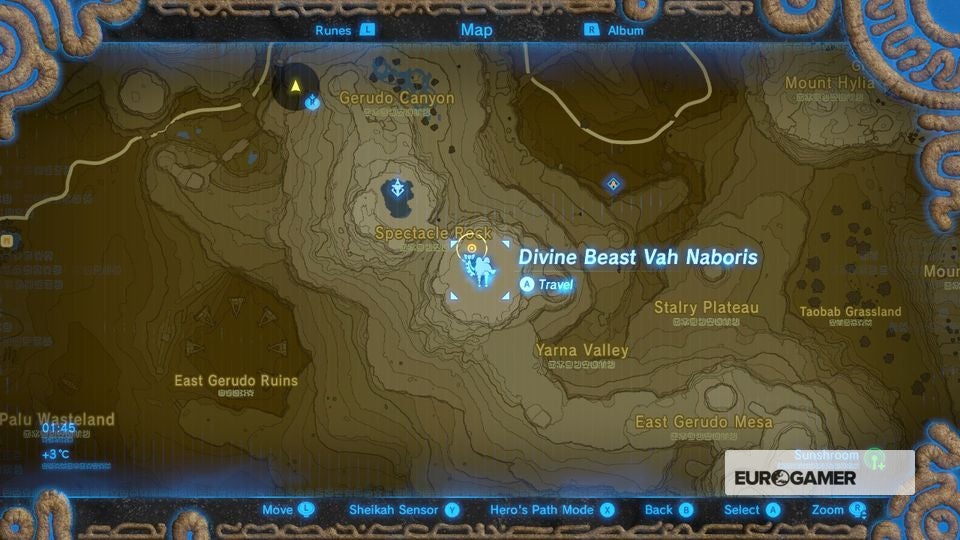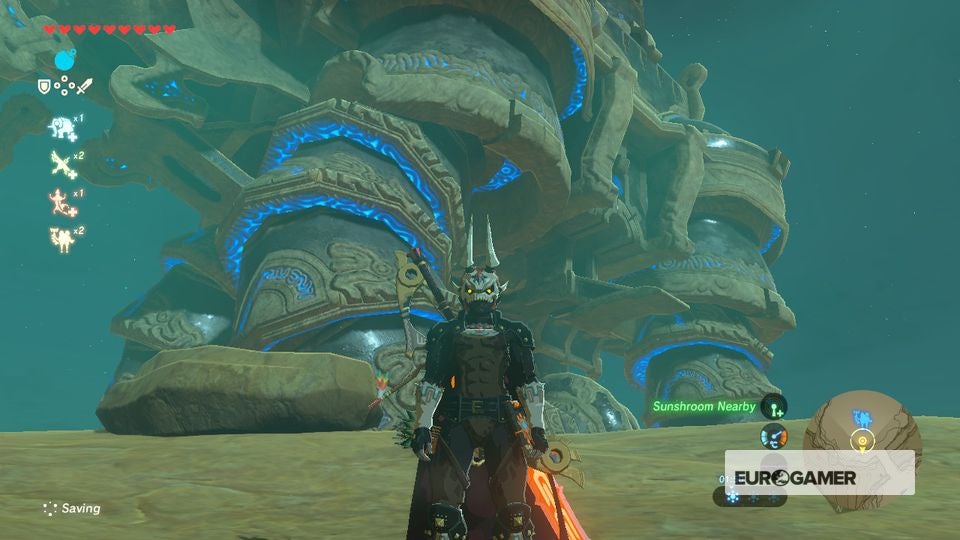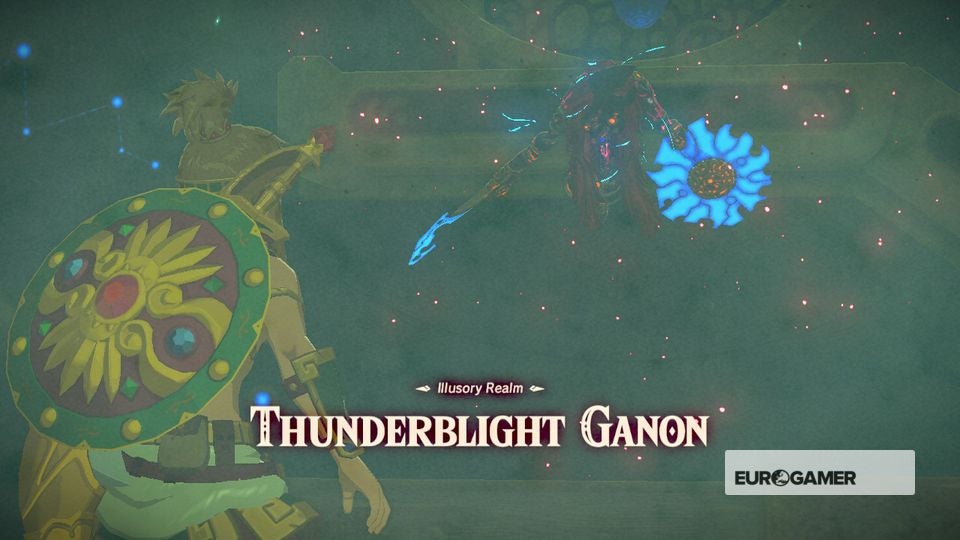 In this case, it's the super tough Thunderblight Ganon, only this time you're limited to a strict number of items, including:
Scimitar of the Seven
Edge of Duality
Daybreaker
Shield of the Mind's Eye
Desert Voe Set (Level 2 Upgraded)
Voltfruit, Zapshroom, Raw Meat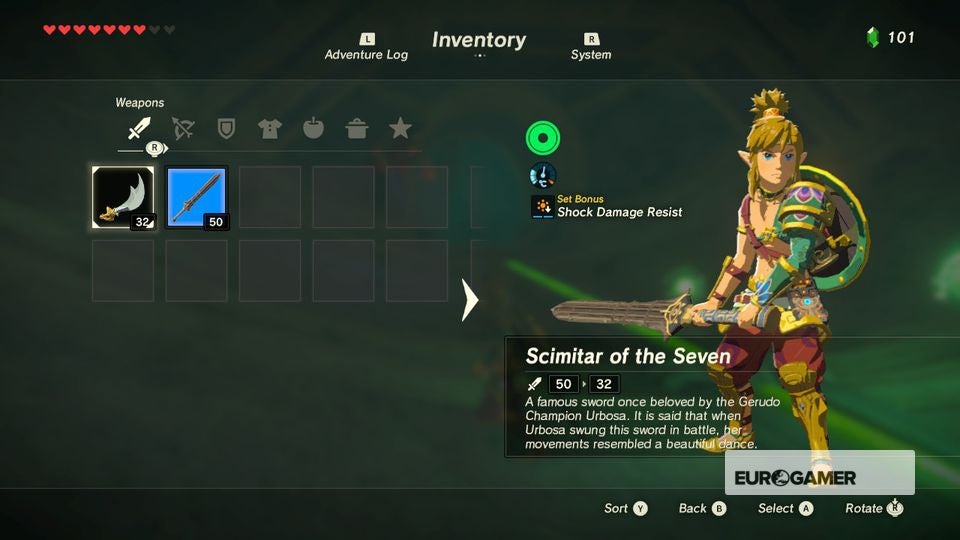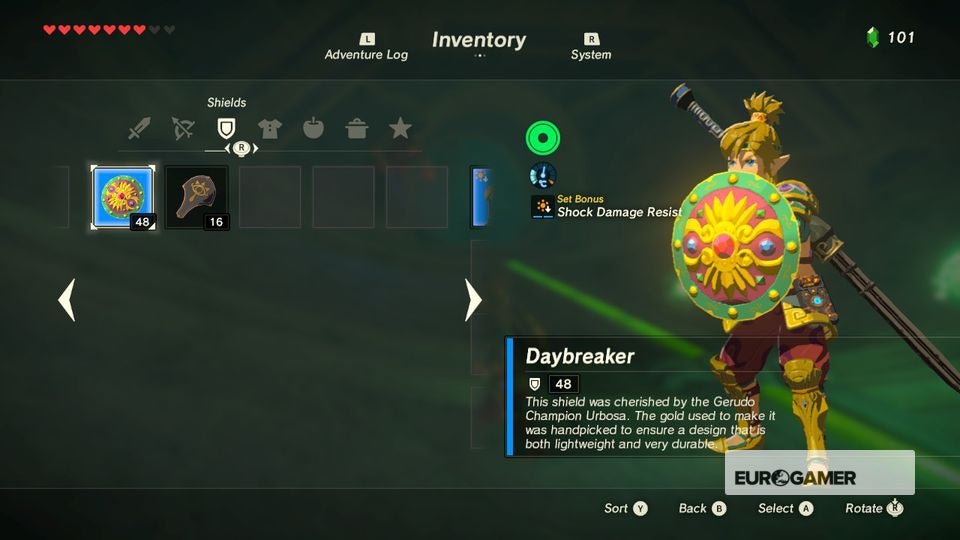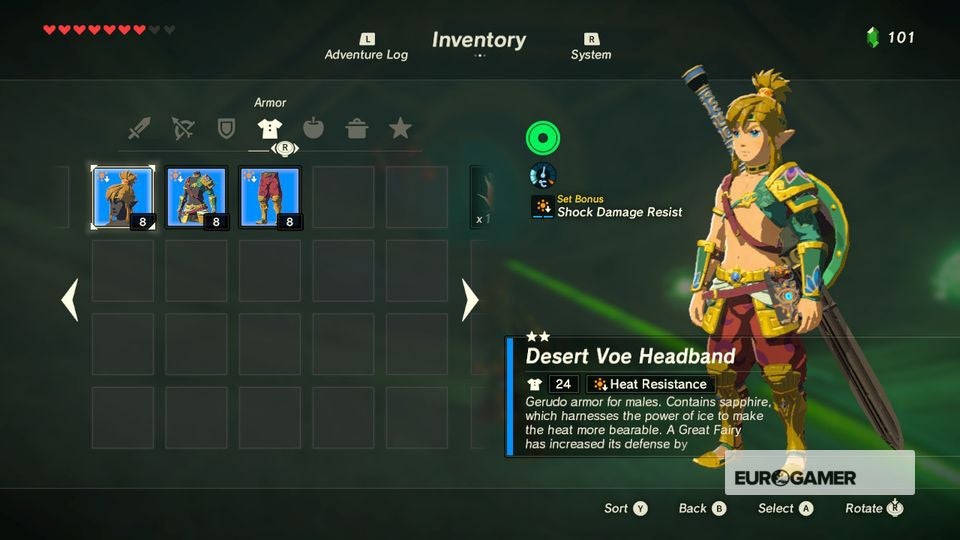 Thunderblight Ganon's first phase has two elements - it'll either pull away and launch shock orbs from on high (which will damage you and make you drop your currently equipped gear) or zig zag towards you with a slashing attack.
So strafe to avoid the orbs then hold your shield out to parry its slash attack, then lay in to it with Edge of Duality (as it causes more damage per hit).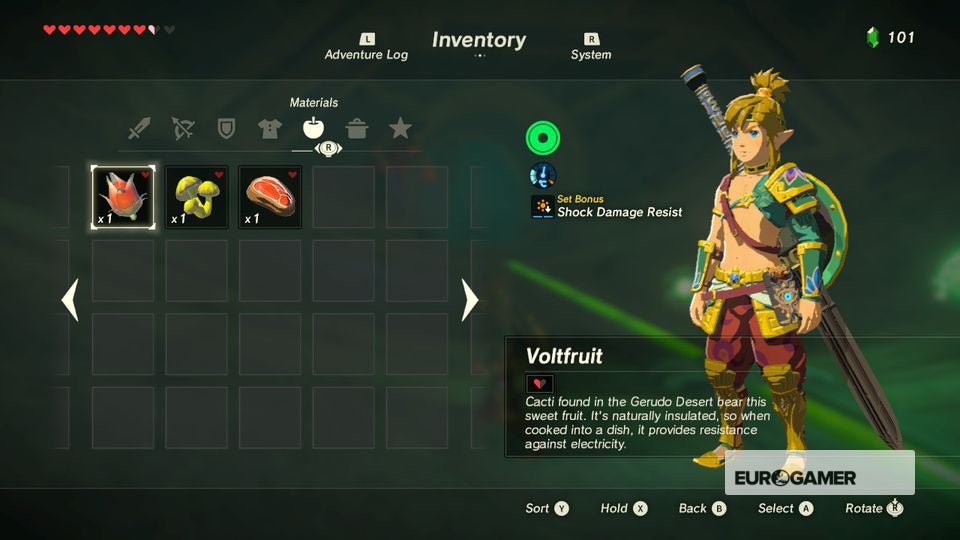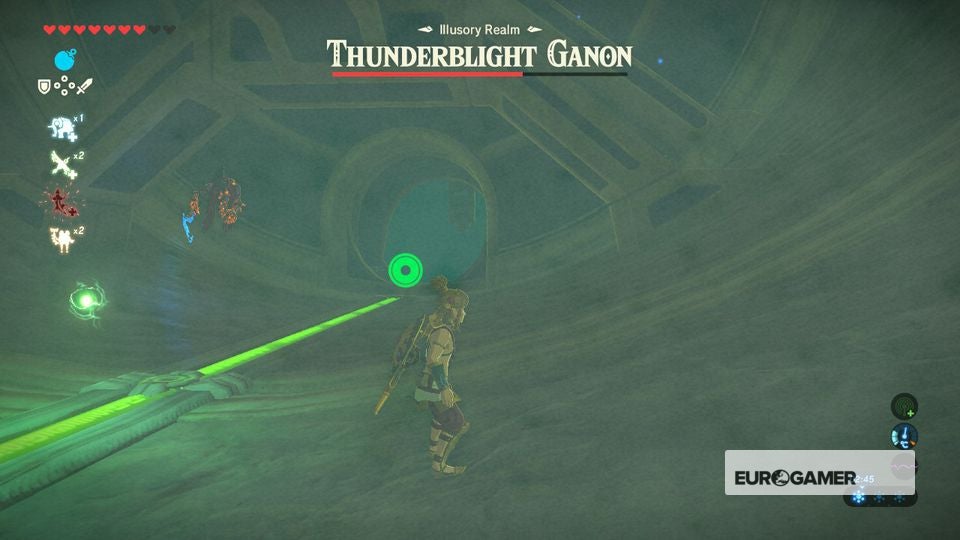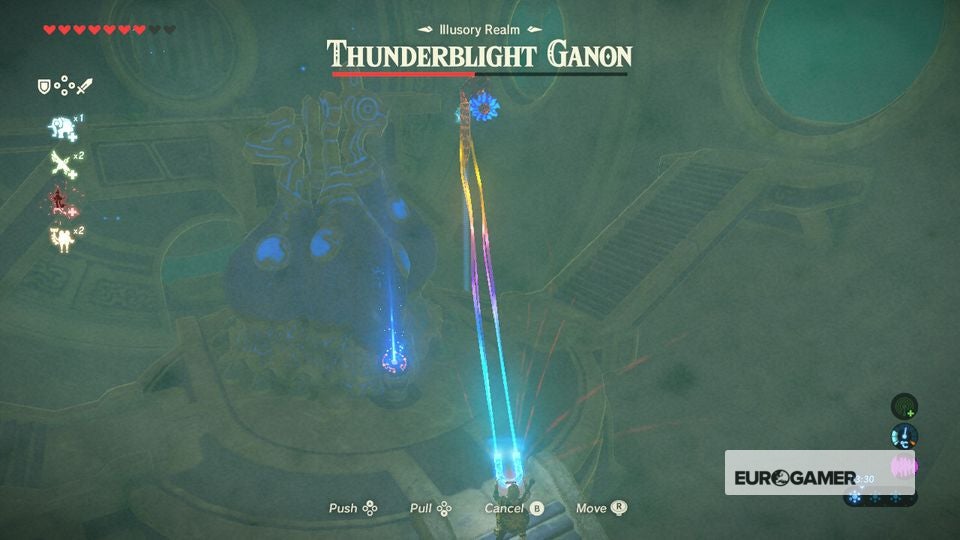 We found using Stasis Plus useful here as it gave us a longer window to inflict damage. Repeat this process until its health bar reaches halfway. A short cutscene will follow, then it'll pull away and send electrified posts into the ground.
Use Magnesis to pull one out, then hold it beneath it to shock Ganon. When he hits the deck, use Stasis Plus and lay into it.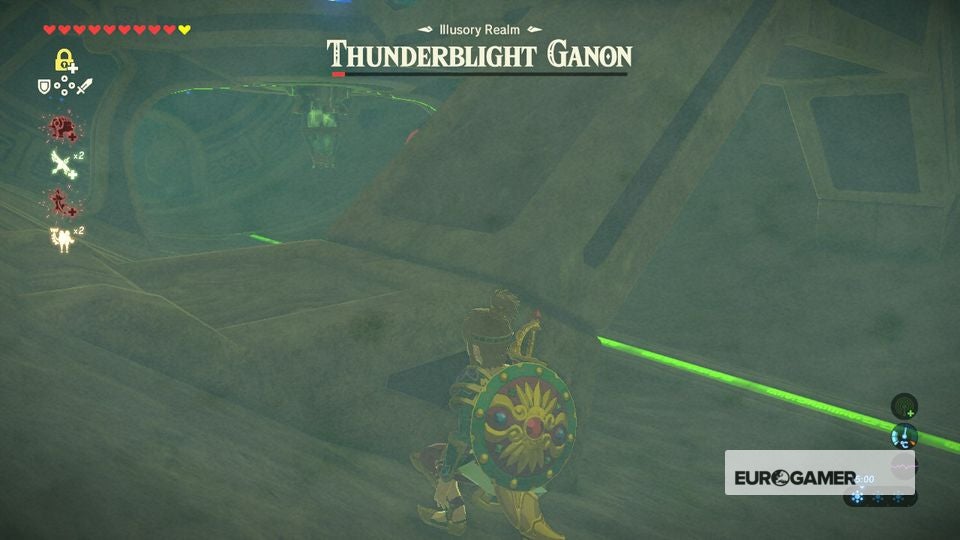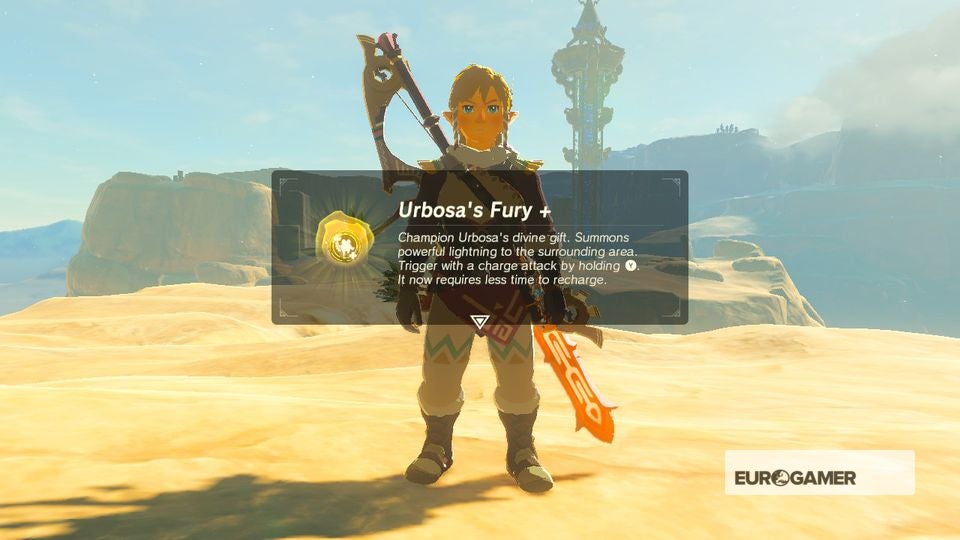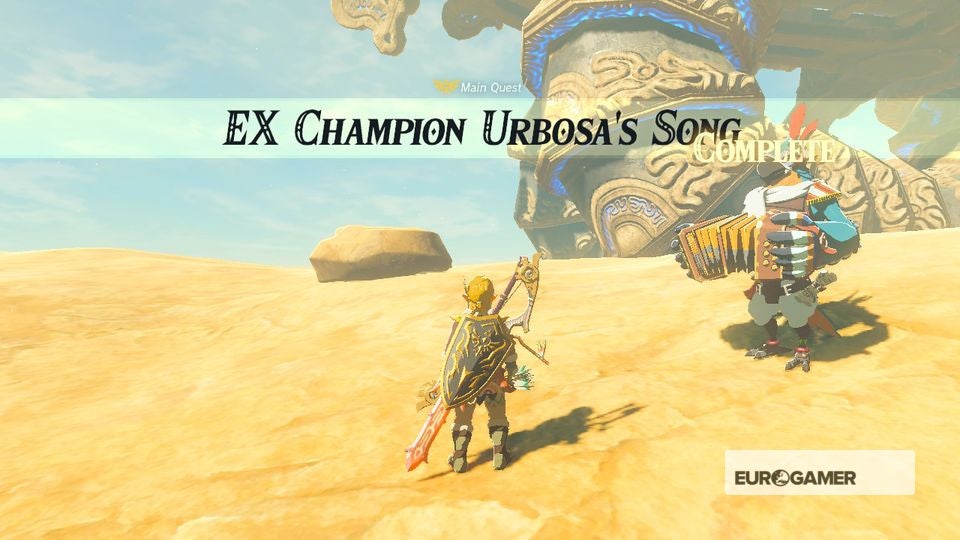 It'll now use the same attacks from the first phase, only now its weapons are electrified so parrying it will cause you to drop all your weapons.
Use the pillars around the edge of the room to dodge its attacks (and the occasional laser beam it uses), then use Stasis Plus to freeze it and finish it off.
If you have completed the above bosses, you can then progress to The Divine Trial, the final dungeon in DLC 2.