Yucatan is the neo-Mexican space punk racer you've been waiting for
Road trip.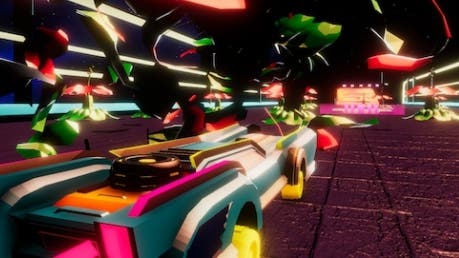 It's really been far too long since we last saw a neo-Mexican space punk racing game, hasn't it? I've certainly been waiting a fair while for one, which makes the arrival of Yucatan's demo earlier this month such a pleasant surprise; this ticks all the right boxes.
The work of developer Joe Bain - with a little help from his friends - Yucatan plays like a tequilla-soaked Trackmania (and there's probably a fair dose of peyote included in that cocktail, too), a psychedelic racer that pits your gloriously proportioned ride against a series of impossibly cruel tracks.
Dig down into the detail and there's a lot to like. The drifting feels fantastic, a dedicated button enabling long, lurid slides in which your softly sprung car looks like it's about to dance out of control, but which in the hand feels brilliantly pliable. The tracks, from what's in the demo, have some real teeth, featuring deathly obstacles and layouts that ask for a little reserve with the throttle if you're to see them through.
But what really makes Yucatan, right now, is its style. It's a slightly scratchy affair, as you'd expect from a demo that right now feels like a brief proof of concept for the full-featured version that's arriving on PS4 and PC early next year, but that scratchiness really helps sell the low-poly, lo-fi nature of it all. Yucatan, with its Day of the Dead stylings and spiky guitar soundtrack, feels like a bootleg EP of a new favourite indie that's been listened to one too many times on an old C90.
How's it going to fare when it comes to the full LP that's coming in 2019? I'm not sure, but the feature list does look promising, with some two hours worth of tracks promised, all delivered in an intriguing Metroidvania style with a vast interconnected world, new areas becoming available once you've unlocked new abilities.
I'm looking forward to see how all that comes together, but for now I'm happy tinkering around a little longer with Yucatan's short but sweet demo. I've been looking forward to a proper neo-Mexican space punk racing game for a while, so I can wait a little longer for the final thing. You can find the free demo and play it for yourself by heading over here.