You can own this rare 1987 version of The Legend of Zelda for $110,000 (and rising)
Don't forget to add on the $20K+ "Buyer's Premium", though.
A sealed, rare variant of Nintendo's 1987 classic The Legend of Zelda is currently for sale via auction. At the time of writing, with five days left to go on the auction, the lot has a current bid of $110,000 (£72,300).
This lot, called a "NES R" variant, is particularly significant because this version was "only produced for a few months in late 1987". Rev-A replaced it in early 1988.
The only version considered more valuable than this one is a "NES TM", and there's reportedly only one sealed copy in existence "and there is no telling whether or not that copy will ever come to market". Therefore, this cartridge is likely "the earliest sealed copy one could realistically hope to obtain" and sits at a grading - or wata rating - of 9.
Calling it "a true grail among games", auctioneer Heritage Auction says "of all of the games we've offered in our auctions, this sealed, early production copy of the first game in the groundbreaking Legend of Zelda series is no doubt the apotheosis of rarity, cultural significance, and collection centerpieces. A proverbial trifecta of collector perfection that only one will receive the honor of calling their own".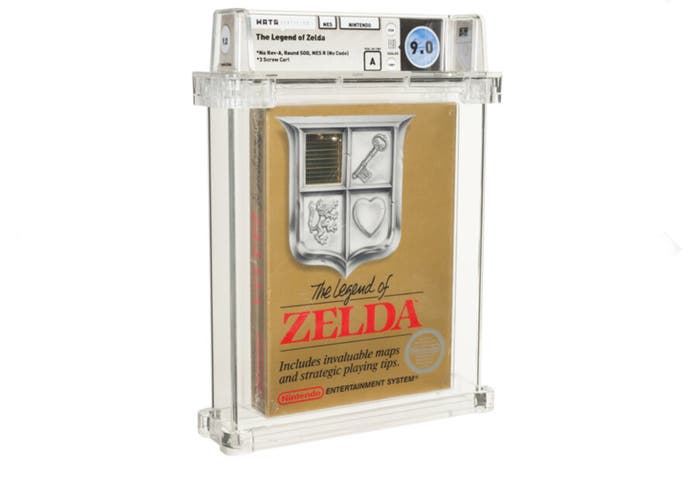 "None of the copies we've offered of this title previously could even attempt to hold a candle to this one due to its incredibly rare variant that holds early production status," the item description explains. "This matter is completely inarguable. This is the only copy from one of the earliest production runs that we've ever had the opportunity to offer, and, possibly will have the opportunity to offer, for many years to come."
ICYMI, Nintendo recently released a trailer detailing the handful of enhancements coming to The Legend of Zelda: Skyward Sword HD. Expect Fi the sword spirit to pop up less often, the game to bother you with item notifications less frequently, and for game progress to be saved automatically, in addition to manual saves.