This Xbox Series S bundle includes free Fortnite and Rocket League content
Available for Delivery from Dec 13 for £249.99.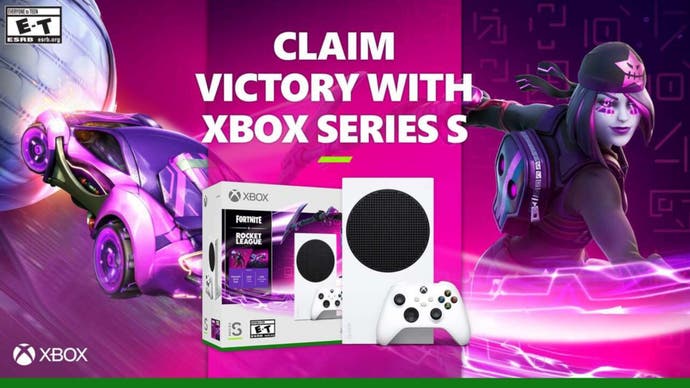 If you don't have an Xbox Series X or S already but all of the hype around Halo Infinite multiplayer footage is making you reconsider, there's a new Xbox Series S bundle available in the run-up to Christmas that includes downloadable content for Rocket League and Fortnite for £249.99/$299.99
Yes, Rocket League and Fortnite are both free to play, but this console bundle includes an exclusive cosmetics pack for Rocket League (Midnight Drive pack), 1000 Rocket League credits and 1000 V-Bucks. It's hard to price up the Midnight Drive pack as it's exclusive to this bundle, but you're getting around £15 of downloadable content for free. Rocket League is super fun, by the way.
This is the best Xbox Series S bundle we've seen so far. It's been available through GAME for a while but they charge an additional fee for delivery/collection, so you're best off grabbing it through Amazon, AO, or any other retailer offering free delivery. The only downside to this bundle is the dispatch date isn't until December 13, so if you want to dive into Halo Infinite's campaign on day one, we've left links to individual consoles below.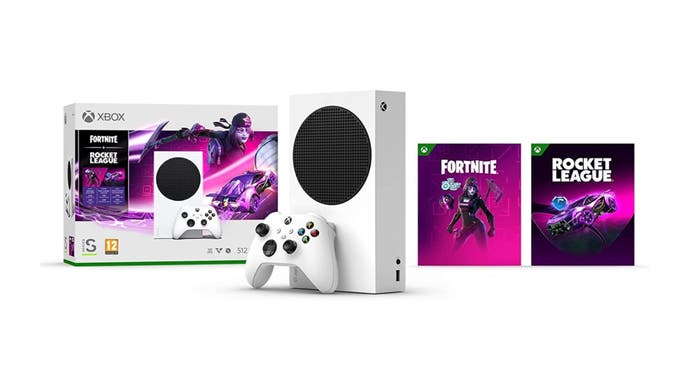 In the UK
In the US
If this is your first time picking up an Xbox Series S, or if you're buying the console as a gift, you may want to consider an Xbox Game Pass Ultimate subscription too. Most of the best Xbox games are available on the subscription-based service, including Halo Infinite, Forza 5, Back4Blood and loads more.
If you're new to the service, you can get your first month for £1 from Microsoft. You can also save a fiver on a 3-month subscription from ShopTo right now who have it for £24.95.
And for more Xbox deals, make sure you check out our full list of the best Xbox Black Friday deals here. Even though the big sales event took place on Friday 26th November, a lot of the deals from the sale are still available over Black Friday weekend, such as the 1TB Seagate Storage Memory Card for £184.99, which is the only way to upgrade your Xbox console's internal memory.