Xbox 360 SmartGlass app launches free this week
Compatible games include Forza Horizon, Dance Central 3.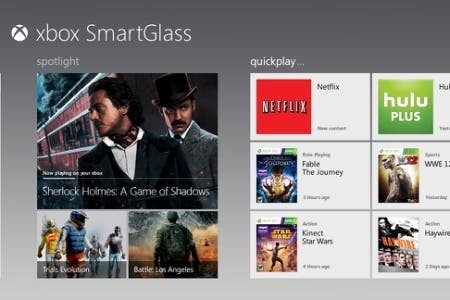 The free Xbox 360 SmartGlass app arrives this week and lets players stream and share content across Microsoft devices.
The app brings SmartGlass functionality to Xbox 360 on 26th October, Microsoft's Major Nelson stated, the day Windows 8 launches. Apps for other platforms - Windows 8 PCs, tablets and smartphones - will follow.
Initially you can hook up your Microsoft device while using the new Xbox Video and Xbox Music services. These are widely available from today, when the new Xbox 360 dashboard update begins the next and final stage of its roll-out.
SmartGlass functionality will soon be added to games such as Dance Central 3, Kinect Sesame Street TV and Forza Horizon.
"Explore the open roads of Colorado with the Forza Horizon SmartGlass Experience," an official product description reads. "Explore and interact with the complete map of the Forza Horizon game world through intuitive gestures on your tablet or mobile device while seamlessly playing the game on your TV screen. No pausing required - keep the pedal down no matter where your destination lies."
SmartGlass is also coming to apps such as Halo Waypoint, MSN, Now TV, and more US-centric offerings such as HBO, NBC, NBA and ESPN.
The technology is widely seen as Microsoft's answer to the dual-screen possibilities of Wii U. Digital Foundry recently asked if SmartGlass could change gaming and detailed exactly what Microsoft's second-screen system can - and can't - do.
Watch a smiling Microsoft employee demo Xbox Video, Music and Internet Explorer using SmartGlass below.