Worms Rumble is a real-time take on the classic formula, includes a battle royale mode
Coming to PS4, PS5, and PC this year.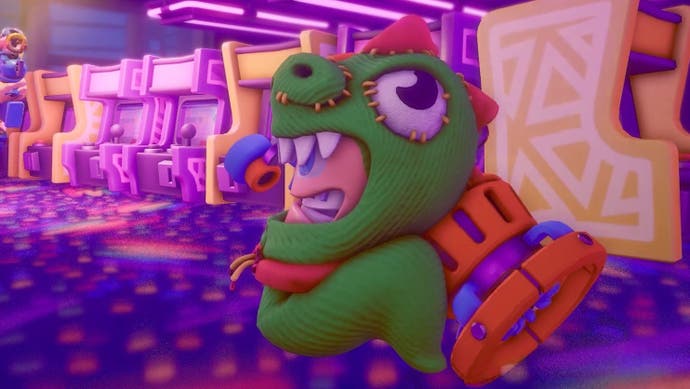 Team 17 has unveiled the latest entry in its long-running Worms franchise: a 32-players, real-time spin on the classic turn-based battle formula called Worms Rumble that's coming to PS4, PS5, and PC later this year - and, yes, it has a battle royale mode.
While the shift to real-time combat is a significant one, the classic Worms DNA is still very much evident in Worms Rumble, based on the announcement trailer below.
Slapstick battles are, for instance, still viewed from a side-on perspective as players hurl themselves around a series of colourful, partly destructible arenas - and it sounds like plenty of classic weapons will be returning too (alongside a variety of new additions), with Team 17 making reference to the likes of the Bazooka, Shotgun, Sheep, Holy Hand-grenade, and Banana Bomb in its announcement material.
The big change comes in terms of pacing, with the slow, deliberate movement of previous titles making way for worms with considerably more acrobatic prowess. Players are now able to dodge, roll, and wall jump their way across three separate modes: a classic Deathmatch skirmish, plus battle-royale-style Last Worm Standing and Last Squad Standing variants.
Team 17 says to also expect seasonal events, daily challenges, and community collaborations that will grant players additional XP - which can be used, along with in-game currency, to unlock rewards including weapon skins, outfits, accessories, and emotes.
Worms Rumble will be coming to PlayStation 4, PlayStation 5, and PC "later this year" (Team 17 says its focussing solely on those platforms for now), and cross-play will be supported too. Additionally, those curious to see how Worms Rumble's new real-time action plays out will be able to sign up for the PC beta on Steam, which gets underway on 15th July.