World of Warcraft: Legion release date leaked - report
UPDATE: Confirmed for summer, new cinematic trailer released.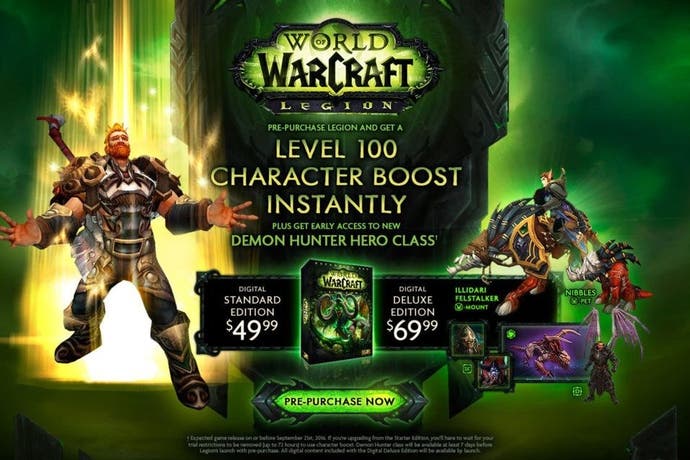 UPDATE 06/11/2015 8:19pm: World of Warcraft: Legion is confirmed for a summer release.
Blizzard made the announcement during its BlizzCon keynote where it premiered the following cinematic trailer for the upcoming WoW expansion:
Pre-orders for World of Warcraft: Legion are available now on Battle.net.
ORIGINAL STORY 06/11/2015 3.27pm: Sixth World of Warcraft expansion Legion will be released "on or before" 21st September 2016, according to small-print on an image dug up on Battle.net.
The image was shared on Reddit, saved on Blizzard Watch and circulated by VG247.
The image also showed a level 100 character boost for players who pre-purchase Legion - similar to the level 90 character boost Blizzard offered with Warlords of Draenor - and said those people will get seven days early access to the expansion's new Demon Hunter hero class.
The Standard Edition will cost $49.99, the Deluxe Edition $69.99. The latter comes with an Illidari Felstalker mount and Nibbles pet that looks a lot like it. It also rewards bone wings in Diablo 3, a Felstalker in Heroes of the Storm, and what looks like Illidan Stormrage in StarCraft 2.
We'll likely get confirmation of a release date for Legion tonight during the BlizzCon opening ceremony. That kicks off at 7pm UK time and we're covering it live. Our man Chris Bratt is at the show.
September will be a long time to wait for a new WOW expansion, although Blizzard has routinely picked autumn - with the exception of the game's first expansion Burning Crusade in January 2007 - for expansion releases. Wrath of the Lich King came out 13th Nov 2008, Cataclysm 7th December 2010, Mists of Pandaria 25th September 2012, and Warlords of Draenor 13th November 2014. So a seventh expansion in 2018 then? Wink wink nudge nudge.